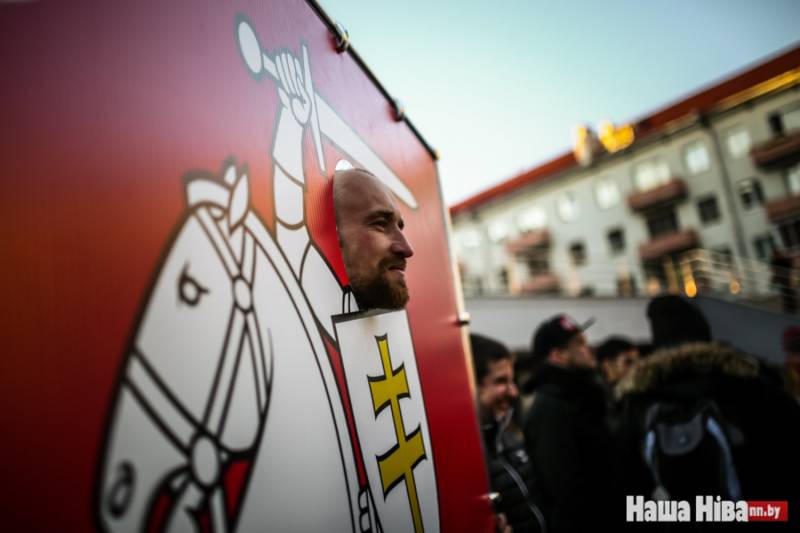 For quite a long time analyzing the "wants and throwing" of the Belarusian authorities and Belarusian society, you come to some interesting conclusions. That is, you begin to gradually understand that some things are not done from evil and not by malicious intent, but from a categorically incorrect understanding of the current realities of the world around us. People have their own picture of the reality surrounding them, on the basis of which they are trying to "come to success." It does not work, in society there is growing negativity and anger. New efforts are being made, once again failing. Negative emotions are growing.
Today, Russia and Belarus differ primarily in the internal, emotional mood of society. That is, it does not mean that "everything worked out in Russia", by no means. But here in Russia there are no "explosives that blow down the roof of sentiments" that our "Western partners" so hoped for. And in Belarus they seem to be there. Moreover, they determine the general political background. For Westerners, Russia, Ukraine, Belarus are practically the same. For many Ukrainians and Belarusians, the difference in the socio-economic situation between the Russian Federation and their countries is also not significant. But. However, it is.
That is, the Russians do not run on the Maidan, not because they are afraid, but because they do not need it. Not relevant. This cannot be understood either in Minsk, or in Kiev, or in Brussels, or in Washington. That is, there is no combustible / explosive material for Maidan in Russia. For Ukrainians / Belarusians, this is totally offensive. That is, it turns out that they have problems, while Russians have no? Well something like that. That is, in fact, the Russians have problems, but these are completely different problems. The Russians have already gone a couple of levels higher. There both monsters are ponagley, and Easter eggs are more interesting ...
The main mistake of the Belarusians, they for some strange reason believe that everything is the same in Russia, just a bunch of "free" petrodollars are coming. Hence the difference in the standard of living. By the way, yes, few people know, but the USA is an old and powerful oil producer ... Standard Oil is from there, and not from KSA. And Americans mine uranium, and coal, and much more. But everyone remembers for some reason about iPhones, which are just doing
not
in America. Strange, yes?
A higher standard of living in Russia compared to many post-Soviet countries is explained by this. The reforms of the economy and finance, plus the preservation of sovereignty. So yes: "we will not catch up." By the way, these very "reforms" Russia persistently imposed on Belarus. What about the "oligarchs and soc. justice ": when a judge asked a US gangster why he wouldn't do something else, he replied:" Perhaps there are other ways to make a living, Your Honor, but I don't know them. "
As the saying goes: "The richer we are, the more happy ..." That is, if reforms were carried out according to the "improved Russian model" in the well-fed 0-s, Belarus would have a higher standard of living than the Russian Federation today ". Rationale: in 2000, the Republic of Belarus is a small, homogeneous country that has saved the economy from wild privatization with relatively popular leadership and the lack of internal confrontation of someone there with someone. The economy is of the same type as the Russian (that is, the Russian experience can and should be used), the economy is interesting for Russians and, in fact, is part of the Russian one.
RB has neither space, nor the Caucasus, nor
fleet
. Russia is ready to help and helped! Who else had
such
conditions for reform? Russia carried out reforms "stupid and brutal," but it did. Lukashenko was horrified by the course of the reforms, but did not notice that, following the results, Russia was already "on that" shore. That is, the smart option is to study and use the experience of Russia, avoiding its mistakes (they are obvious to ourselves today). Lukashenko (and the entire leadership of the Republic of Belarus) decided differently: no reforms! No "gangster privatization." The decision, of course, is a very wise one ... only from a certain moment the negative consequences began to increase sharply
this
solutions.
The economy of Belarus is becoming more and more unprofitable. The attempt to "stop the hands of the clock" didn't bring it to good. By the way, the Republic of Belarus is to some extent a model of what would have happened to the USSR if it had not been reformed, but simply tried to keep it "in the crystal casket". Bad option.
Hence the following error: for some reason, Belarusians are sure that
now
they have a whole range of possibilities and need to decide something ... This is not true. The worst thing that Lukashenko did (and his entourage) - he wasted ten years. The time for reform has been lost, and it is absolutely irrevocable. The economy of the Republic of Belarus in recent years has only degraded, and debts were collected. If you "open the black box", then suddenly you will find that everything is not just bad, but very bad.
"In a hurry," it will not work out with these debts - the small and poor Belarusian economy will have to work them off for decades. No, "write off" them will not work - you are an independent state, you must pay your debts. For some reason, everyone thinks that an independent state is, like, our own company. And this is good when the "firm" makes a profit, but in this case the firm is overloaded with debts. The company is bankrupt. A kind of "Polissia Greece."
No, "changing the vector" will not help anything here: Ukraine has changed the vector drastically, but this did not save it from its debts. This, by the way, is the most common "Belarusian illusion": that by "pereobuvaniya in the air" you can easily part with old debts and problems. Those debts that Belarus has managed to collect by this time, Belarusians will be forced to pay in any case. In any. Anyone who claims the opposite is blatantly lying. Belarusians will have to pay "Lukashenko's debts" indefinitely. In any case.
No, this does not concern Russia at all. Leaving the "union state" by hanging debts on it will not work. The Union State is not the USSR even once, and it was Belarus, not Russia, who took the debts. In general, attempts to somehow make Russia "guilty" in the internal problems of the Republic of Belarus are a common point in the Belarusian political discourse. However, Belarus is an independent state. It has not obeyed Russia in any way since 1991, and Russia cannot bear any responsibility for the current plight of Belarus.
This "paradoxical" thinking of the Belarusians is absolutely incomprehensible in Russia: at the same time people are proud of sovereignty and do not even want to listen to Russia's opinion even in trifles, however, with the appearance of problems, they look to the east with hope ...
not
It is a normal form of interstate relations and cannot exist for a long time. So, "as before," it will never be, primarily because Russia is totally uninteresting.
The conflict between Lukashenko and Putin is interpersonal. This is also one of the characteristic errors in Belarus. Rather, inter-elite or interstate: this conflict is a direct result of Minsk's attempts to simultaneously maximize aid received from Moscow and the degree of independence from Moscow, it would inevitably have arisen with any other
adequate
ruler of Russia. There is very little personal here, rather a solid "business" - not a single normal head of the Russian state would endlessly endure the "art" of the "best ally".
Problems in relations between Russia and Belarus are inter-ethnic (supposedly Russians do not respect Belarus / Belarusians). Again, the myth, the myth of pure water: a whole bunch of problems, but they are
interstate
. Belarusians are now not one of the peoples of Russia, but inhabitants of their own state. That is, relations are not built within one country, but between two states. Russians have nothing against the Japanese, for example, but there are problems that aggravate relations between official Moscow and official Tokyo. The same with Belarus, to avoid this, we must live in one state (not with the Japanese, of course). That is, if the Belarusians "pulled together a common strap", all these questions would not exist. But they are only interested in the "common pot", hence the scandals.
This is another problem in the attitude of Belarusians - they sometimes feel themselves inside Russia, sometimes outside. The most annoying thing is that this "location" is determined by the criteria of benefit / disadvantage. That is, if the price of hydrocarbons, then inside, if "go to war", then strictly outside. At the same time maintaining full confidence that this "childish trick" every time should work with a bang.
Hence the following myth - about the allegedly insidious plans of Russia for the forcible annexation of Belarus (the Crimea is given as an example). Those who reason like this demonstrate complete anti-democratic character. From their point of view, there are rulers (who have gained power from above) and crowds of slaves / herds of rams that can be simply stolen. As with such views, the Belarusian elite talks about some kind of "European vector" - it is absolutely incomprehensible, her views are purely Central Asian. By the way, Lukashenko's fundamental unwillingness to work "for the public" in Russia (and his terrible negative rating in an ally) is explained by just this. There are leaders, there is a crowd. And he wanted to spit on the Russian people, all his gestures and "bright statements" were addressed to the Kremlin. And this country has gathered in Europe ...
By the way, this destroys another myth about "EuroBelarus" and "Asian Russia" - we have somehow not taken to make cardinal decisions, without consulting with the people. Well, "EuroUkraine" this myth also applies (so as not to get up twice). Ask the Minsk or Kiev "intellectuals" about "where Europe is, and where are Asian steppes," and the answer will be unequivocal. However, there and there the "European integration" is seen according to the scenario: we do not have to ask anything about the "cotton cattle". That is, the default "comrade Mauser" is assumed as the main "Euro-argument".
And about the "forced accession" - who needs openly problematic territories on the balance sheet? And the fact that Belarus is such a territory is self-evident. Such "automatic" joining made sense back in the 19 century ... Today, in the era of a highly developed economy and mass social insurance, the inclusion of Ukraine, Belarus or Estonia into Russia is a bullshit ... Not profitable, stupidly not profitable.
A vivid example is the joining of the GDR to the Federal Republic of Germany in the 1990 year. The Germans are still quietly cursing. "Compilation" was very crooked and
insanely
expensive. According to the results, those and others are dissatisfied. Terribly unhappy. Make East Germany a continuation of the West did not work. Berlin has become a crap financial hole ...
From here you can safely destroy as many as two Russian-Belarusian myths: the unification with the Republic of Belarus will pass quickly, easily and with a bang, it is worth playing the money out of Lukashenko. Will not pass. It was easy in 1996. Over the next 20 years, a lot has changed. Both in the Russian Federation and in the Republic of Belarus. Today, complete unification is hardly realistic (even without any "jumping Litvin in white armor"). It is easy to merge two medieval agricultural domains into one. To unite Russia and Belarus today ... I don't know, I don't know ... I don't believe, honestly, that it is generally technically / economically feasible. The second myth: Belarusians allegedly want it. No, they get money for this myth. But I don't want to want, never (otherwise we would have united a long time ago). In fact, they would like to live in the European Union, but with Russian money. True unpleasant, scandalous, so a frank conversation does not work and will not work. Some "heroic chants" that, they say, we love Russia very much, but we value our independence ...
Regarding the "Western vector". Firstly, the Germans do not offer Belarus to enter the Federal Republic of Germany, neither by regions, nor by districts ... Secondly, the exotic Belarusian economy with European standards is not compatible in any way. Theoretically, it is possible to turn Belarus into something between Latvia and Bulgaria, but why? And what kind of population can live there? And most importantly, the EU has already "eaten" new "euro members". Moreover, there is no need for a country whose foundations are based on Russian subsidies. The absurdity of such an idea: the European integration of a subsidized Russian region (and from an economic point of view it is just that way) is beyond the reach of only Belarusian economists and politicians.
This, by the way, is another Belarusian myth: it's enough to "accept" European values, and the economy will add on itself. Do not follow. Verily I tell you. I checked (like all the "Young Europeans"), no one "attached". Looking for investment, technology and markets.
Well, let's take a hint about the myth about a certain "special" morale of the country of Belarus, about its social justice, peacefulness and non-conflict. Sounds beautiful. However, a hint of "social justice" was at the time of eating away the Soviet heritage / Russian subsidies. Ended
external
Soviet-Russian (imperial!) resource - the praised Belarusian "social justice" has ended. Belarus itself was unable to earn any kind of "justice", and therefore the animal contours of the "third world" appear brighter and brighter in the country. Socialism is, you know, not only a "moral choice", but also a lot of money for a "social network".
So Belarus outside the empire is rather not Austria, but closer to Morocco. What we have seen before is "independent RB on imperial grubs". After 2008, this booth turned its activities. We saw the face of "true Belarus" quite recently.
As for "non-conflict": A. Lukashenko most actively tried to participate in the very intra-Kyrgyz conflict. What for? Where is RB and where is Kyrgyzstan? Ambitions, however ... The same goes for active voyages in Baku and harsh statements on the "internationally recognized" borders of Azerbaijan. What for? Justice, speak? Well, in an ideal world, yes, justice, in the current world - this provokes a mass slaughter on the line of demarcation in Karabakh. With the filing of a "peace-loving, non-conflict" Belarus.
Why does he do it? And out of spite! Spite damn Moscow! Russia is making tremendous efforts to "plug" this very "Karabakh hole into another dimension". It is clear why - in the case of a big war there, Russia will also be hurt, like the whole region. But Alexander G. is actively shaking the situation. It is clear that in the event of war, no one is going to send Belarusian soldiers to the Caucasus in Minsk. And the relevant laws are adopted. Then why rock the boat? And in order for Moscow to take revenge for the unpicked "pocket money" ... Here there is both "peacefulness", and "alliance", and "independence" in one bottle ...
Belarus together with Armenia is in the CSTO, but is actively working in the interests of Azerbaijan, which is not part of this organization ... By the way, one of the main Belarusian myths collapses here - that it is fast to change shoes in the air and to get money from both sides is extremely profitable: In a critical situation for the country (as it is today), the Belarusians were strangers for both Russia and Europe. That is, the country urgently needs help, but no one is in a hurry to help ... Even with Ukraine, oddly enough, the relationship is also very difficult (despite the active "help" of the Ukrainian Armed Forces in the fight against "Russian separatists"). That is, the Belarusians turned a blind eye to the rise of fascism in Eastern Europe (sponsored by someone!) And thus spoiled relations with Russia (for Russia, attitude to fascism is their own marker — someone else's), but in the West they did not for some reason ...
Thus, the Belarusian elites played, played "on a large scale" - putting everything at stake (of course, it was not Russia who relied on - our Minsk friends also understand little in geopolitics!). And lost. Now it is already obvious. "Trampetz" and the collapse of the Kiev junta - this is their loss (they put it on the globalists!). Notice how much
different
the reaction to Trump's victory was in Moscow and Minsk (Lukashenko reacted very nervously), allies, you say? Oh well. But what does Moscow have to do with it? Why should Russia pay for their "bad luck"?
From the point of view of the Belarusian elites, the Moscow-Minsk relationship is of the most mythical nature: first, Belarus is a country for Russia No. XXUMX and all attention and all resources should be focused only on it, since Russia cannot live without Minsk - well-being of the "main ally", Russia is as successful as Lukashenko can sponsor); secondly, the Belarusian leadership can infinitely deceive and expose Moscow - the fact that "in the first place" this does not affect in any way. Recently, these comrades, with horror in their voices, have started talking about the Kremlin preparing Russians for a conflict with Belarus ... (The whole Russian foreign policy is being built
strictly
around Belarus). That is, the desire to resolutely go to hell from this endless whirlwind of continuous lies and triple standards is presented as a "provoked conflict" with the "most faithful ally".
The main trouble of Belarus, in the opinion of the author, is above all not at a very high level of elites. In Ukraine, these elites had a higher level, but turned out to be corrupt and comprador (the dream of serving the white sahib as the goal of life). And in Belarus there is another misfortune: the people who determine the "charge of the information field" simply do not understand what is happening in Eastern Europe, what the risks are and what policies it makes sense to carry out (but at the same time defiantly ignore Russian assessments). The Belarusian information space is filled with endless myths, legends and tales (this is characteristic of both the authorities, the "neutrals" and the opposition). Unfortunately, Belarus and the Belarusian people do not live in a fairy tale.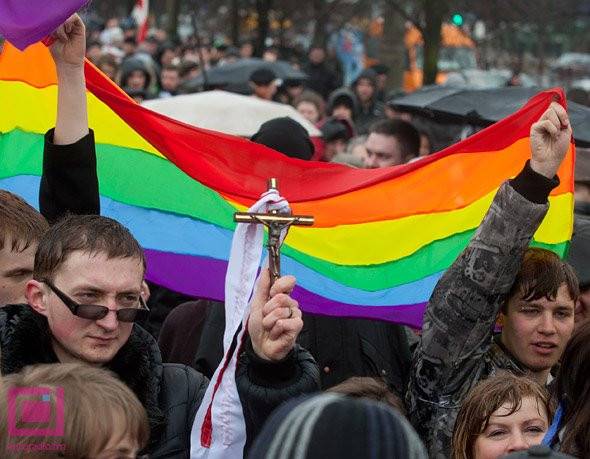 Articles from this series:
Friendship with Minsk on gas
Big problems of "small democracy"
Pure american look