The Russian Defense Ministry and the leading enterprises-developers of military equipment in 2016 r have increased the purchases of means of imitation and disguise of weapons almost 2 times, reports
Interfax
a message from the head of the marketing and sales of military products of the Rusbal company, Aleksey Komarov.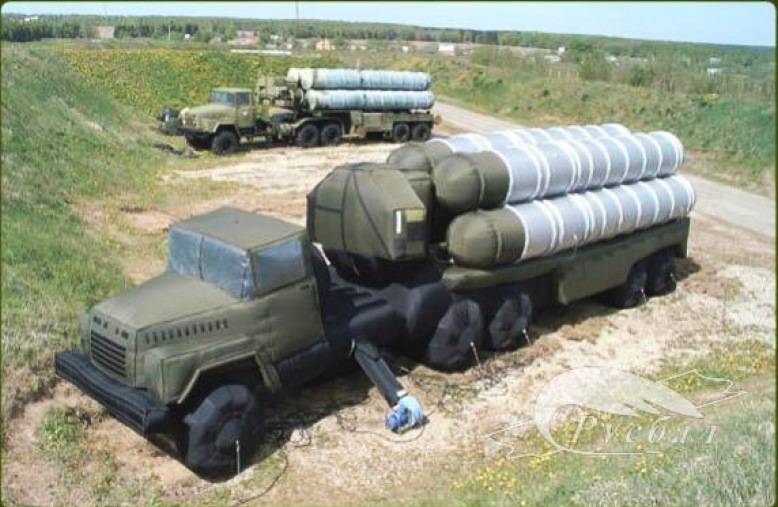 Today, almost the entire range of products manufactured by the company is ordered. These are mock-ups of aircraft, military-type land equipment
tanks
,
missile systems, said Komarov.
According to him, "in 2017, the order for the supply of camouflage and imitation tools will increase, and in the whole range of products manufactured by the company," said the representative of Rusbala.
He stressed that "now a completely new technique is being created to disguise and imitate engineering weapons on the most advanced scientific, technical and technological basis."
In 2017, the company will continue research and development work on promising masking and imitation techniques. Such work is carried out on an ongoing basis with funding commissioned by leading enterprises - developers of equipment and weapons, or commissioned by the Ministry of Defense,
Komarov added.
It is reported that "a pneumatic beacon is a frame covered with an airtight shell that imitates samples of military equipment with a high degree of detail." In the production of layouts using conventional sewing technology. On tailoring a tank, for example, it takes an average of a day's 3.
"Each pneumatic model of military equipment contains a shell, thermal and radar simulators, a power unit, a fan and other parts. The composition of the layouts may also include elements of the rigid frame. All models are transported by road, sea and air without restrictions - the mass of one model, depending on the type, ranges from 30 to 100 kg, "said the company.
Earlier, the Defense Ministry reported that "to disorient the enemy's reconnaissance, the deployment of imitation tools — inflatable pneumatic models of various weapons", including airplanes, C-300 complexes, tanks and ballistic missile launchers, is practiced.