Immediately after Donald Trump signed a decree restricting the entry of migrants from Muslim countries, the border services began to implement it, detaining people on the first day before the 200. This provoked demonstrations at airports, criticism of several international leaders and other influential people. During this confrontation, the courts began to block the execution of the presidential decree.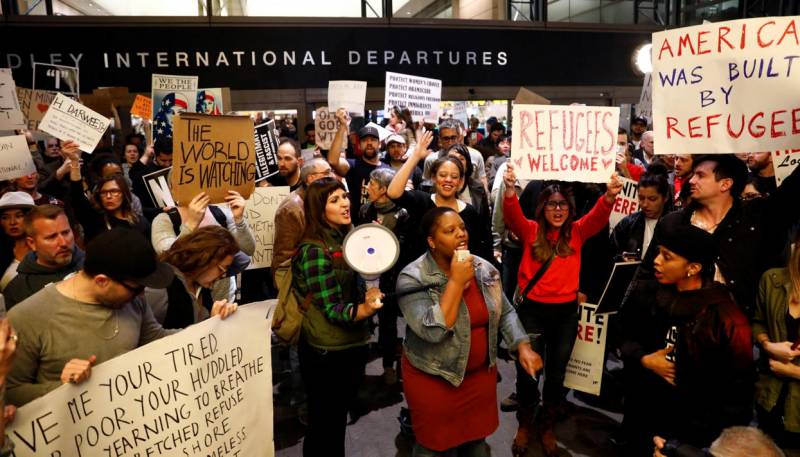 27 January Donald Trump signed a decree restricting the entry of refugees into the United States. According to its provisions, admission of all refugees is suspended for four months and it prohibits citizens of Iraq, Syria, Iran, Sudan, Libya, Somalia and Yemen from entering the country for three months, despite the presence of visas and "green cards" giving residence permits and right to work in the USA. The publication of this order, the President associated with the need to combat terrorism.
The US Border Guard, having begun to execute the decree, is already 28 in January, according to TheNewYorkTimes, at the airports in the country were detained up to 200 people. The presidential administration explained that entry permits to green card holders will be issued on an individual basis.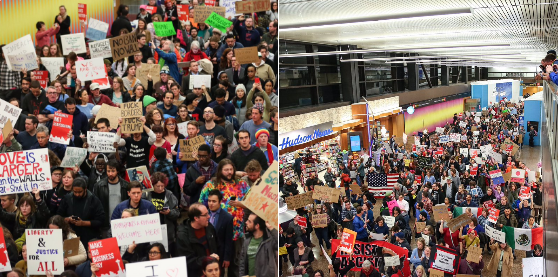 The implementation of the order provoked demonstrations at airports in New York, San Francisco, Chicago, Seattle and other major cities. Thousands of protesters demand that the president's actions be unconstitutional. International organizations, leaders of a number of states, including German Chancellor Angela Merkel, British Prime Minister Theresa May, former politicians, for example, former US Secretary of State Madeleine Albright, spoke out with sharp criticism. Canadian Prime Minister Justin Trudeau offered to take people detained at US airports. They were supported by some members of the business elite, such as Facebook's Mark Zuckerberg and Google's co-founder Sergey Brin. A number of associations of Americans approved the decision of the president, for example, the association of lost relatives as a result of the attacks.
On the night of January 29, the courts began to block the execution of Donald Trump's order. A lawsuit was filed with the federal district court in Brooklyn by human rights defenders representing the interests of two Iraqi citizens with issued visas who were detained at the airport in New York. The judge ruled that the refusal of entry to these and other people causes "irreparable damage", and therefore decided to suspend the execution of the decree for 90 days.