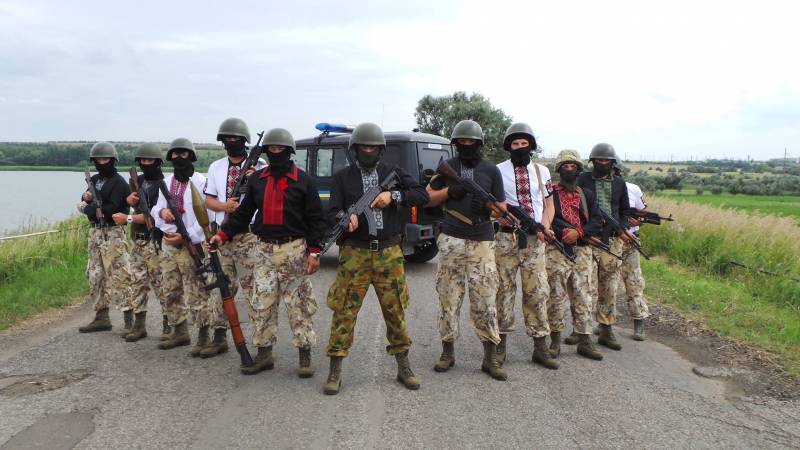 The fighters of the volunteer battalions of Ukraine announced the beginning of an indefinite trade blockade of the territories of the Luhansk and Donetsk people's republics. The reason for this action was the failure of the exchange of prisoners allegedly due to the fault of the leadership of the DNR and the LC.
It all started with the fact that a few weeks ago, pseudo-patriots from the battalions "Aydar" and "Donbass" issued an ultimatum to the authorities of the LC and the DPR demanding the release of all Ukrainian prisoners of war. Otherwise, they threatened to organize a total blockade of the Donbass.
Naturally, the authorities of Donetsk and Luhansk did not fulfill these requirements, since in Novorossia they insist on exchanging prisoners according to the "all for all" formula, which today amounts to 527 and 42 people held by Kiev and Donbas, respectively. We will remind, earlier the People's Deputy of Ukraine Nadezhda Savchenko called such an exchange unacceptable and proposed her own version, according to which the Kiev authorities would return only half of the illegally detained citizens of Donbass. Naturally, the side of the militia did not support the proposal.
A distinctive fact of the organization of this blockade is that the leaders of the action did not consider it necessary to coordinate their actions with the official authorities, thus openly demonstrating who owns the real power in the country.
The main goal of the fighters of the punitive battalions is to ensure complete economic isolation of the Donbass by blocking road and railway lines on the demarcation line by "stationary observers". At the same time, the nationalists are not at all worried that such actions will entail a worsening of the social situation and a sharp aggravation of the economic crisis throughout Ukraine.
Today, Ukrainian radicals openly intend to destroy the citizens of the Southeast who are disagreeable to the current leadership of Ukraine, and they use the same methods that Bandera used during the Great Patriotic War against their own people and their neighbors, following the instructions to the "holy cause" of one of their ideological leaders Roman Shukhevych: "Do not be afraid that people will curse us for cruelty. Let half of the 40 million of the Ukrainian population remain - nothing terrible about that. "
As a result of the foregoing, a rhetorical question arises: what future can a state have in which nationalist movements and armed formations are actively and uncontrollably developing and conducting independent activities?