Johns, James, Olivers and other Floors! Gentlemen, well, right, what are you! Is it really worth it to immediately fall into frank paranoia because of such trifles as a couple of notes in the media?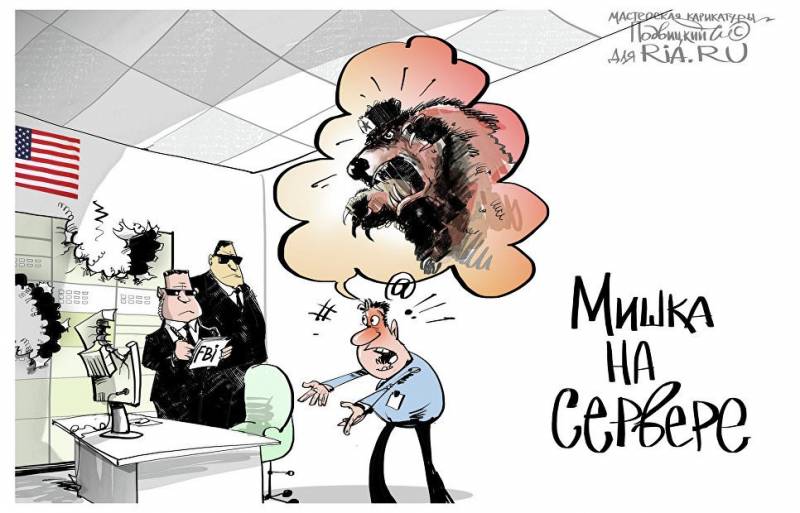 Of course, these terrible and merciless Russian hackers who are attacking America round the clock are scary. It's as scary as Putin. Putin, of course, is worse because he is Putin, but Russian hackers are also scary. Everybody knows Putin in person, but Russian hackers don't. Their name is legion, their faces are hidden, but their deeds are black and sinister!
It is clear that everybody is alone, Russian hackers are wearing black T-shirts with the image of Putin, and Putin has all of them securely taken them under his wing for a long time. In short, Lucifer and his faithful army. Under the wings of Darkness.
And if this army has taken on America, then nothing good can be expected from it. No one in America expects anything good from Putin, but from phantom hacker legions and all the more.
God protect America! Better yet, share your firewall.
But on the other hand, gentlemen of the Americans, in any situation you can find positive aspects. For example, you can now dump everything on Russians. If someone does not understand, I repeat: ON RUSSIANS IT IS POSSIBLE TO NOW ALL IN NOW!
And all the trouble (or vice versa, pleasantness) can be explained by the interference in your life of Russian hackers. Well, Putin - as the supreme hacker.
Americans, you think about this. Your photo on the dating site in the section "short-term dating without commitment" is not you. At the very least, it is under your stolen photo that Putin's agent collects information about American women who have not had a personal life. Or, a more interesting option, this is a way of blackmail. Blackmailing, of course, you.
By the way, blackmailing Russian hackers is quite possible to justify small systematic spending, which was not planned by the family budget. So what to do? If you don't pay, tomorrow you may be on the list of wanted lists for non-payment of alimony or somewhere else in a not less pleasant place. Or a link to a dating site may be in the mail from his wife. Her mail to Russian hackers is not difficult to find on the Pentagon site.
And those 1000 dollars that disappeared from your card after a trip to Reno or Vegas can also be explained by hacking. They, hackers, and more would be removed and brought to offshore, if you did not tense in full.
Americans (and American), you think.
If it really happened that Russian hackers cracked the whole of America, then maybe it's worth taking this with the humor of the cowboys and just find nice moments in it?
Does the eye camera of your apple miracle turn on at the wrong time? Illogical behavior of a computer, laptop, tablet, smart TV tell you that you are "under the hood"?
Well, yes, if you do not have (yet) paranoia, this does not mean that you are not being watched. NSA, CIA, FSB, GRU and other terrible abbreviations for three letters. The most terrible, of course, from the AHR - the association of hackers in Russia. Of course, you are being watched. Keep track of you, your pages and accounts, your correspondence with your grandmother from Oklahoma and your parrot's doctor.
Watch and will follow. And no chance at least to change something. Russia came to the Crimea (although some argue that the opposite is true, but who will listen to such people in the United States?), And, as Putin said, "this is for a long time." If not forever, as they say in Russia. Now Russia has come to America with the help of its hackers.
And this, too, I fear, for a long time, if not forever.
And never again will America be the same. Did you not understand this after the elections?
Dear partners, think, all of a sudden my advice will be useful to you and will brighten up your dark and hopeless existence under the hand of Russian hackers. Hackers, believe me, this is not the worst thing that could happen in a calm and measured American life.
You can even see some benefit in this.
So maybe you should not stick the camera lenses? It will not help anyway ... We are already here ...
2: 5025 / 73.117