Heads of Donetsk and Luhansk People's Republics arrived in Crimea with a visit. Alexander Zakharchenko and Igor Plotnitsky were invited to the peninsula by representatives of the Russian community of Crimea in connection with the anniversary of the Pereyaslav Rada (January 18, 1654). It is expected that during the visit a number of political statements will be made. At least, that's how the visit of Zakharchenko and Plotnitsky was announced by State Duma deputy Andrei Kozenko.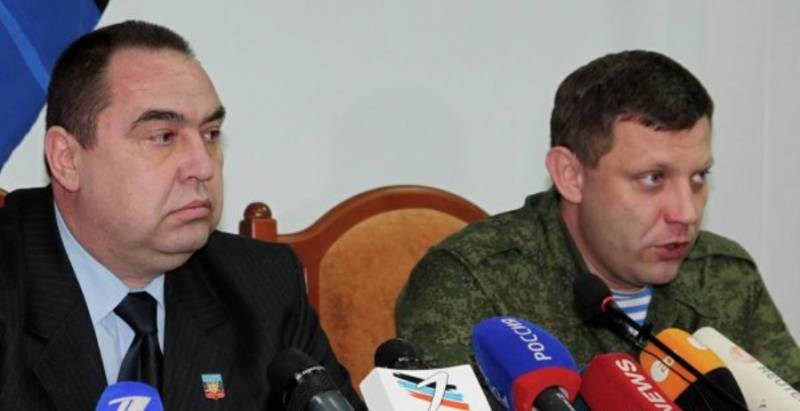 The heads of the DPR and the LPR, as well as the chairmen of the people's councils of the republics, Denis Pushilin and Vladimir Degtyarenko, will take part in the forum "With Russia Forever." From the statement of Andrei Kozenko, who is deputy chairman of the Russian community of Crimea:
At the forum we will make a number of political statements, where the Russian community of Crimea will sign an agreement on cooperation with the public association "World of Lugansk Region".
In Kiev, they have already managed to respond to the visit of the heads of the people's republics of Donbass to the Crimea, calling the purely humanitarian mission "a Russian provocation against the territorial integrity of Ukraine." And does not Kiev itself provoke provocations against Ukrainian integrity by attempting to blockade the Donbass and constant shelling of the LDNR territories?
According to the military command of the Donetsk People's Republic, Ukrainian security forces again fired on the territory of the DPR in the southern direction, and also attacked the western suburbs of Gorlovka. According to Eduard Basurin, for the first time in several months, military helicopters were transferred to the airfields at the contact line of the Ukrainian Armed Forces. The number of attacks with the use of mortars, artillery and grenade launchers in the last 24 hours exceeded one thousand. Apparently, the APU thus "saluted" Joe Biden ...