Today, the vassal Ukraine paid a farewell visit to the deputies of the United States Vice President Joseph Biden. Attention is drawn to the fact that the first meeting was held with the Prime Minister of Ukraine, Vladimir Groysman, at the beginning of the seventh morning in Kiev. As on the eve of his program "News of the Week" Dmitry Kiselev noted, not without irony, Ukraine is preparing to live according to American time ...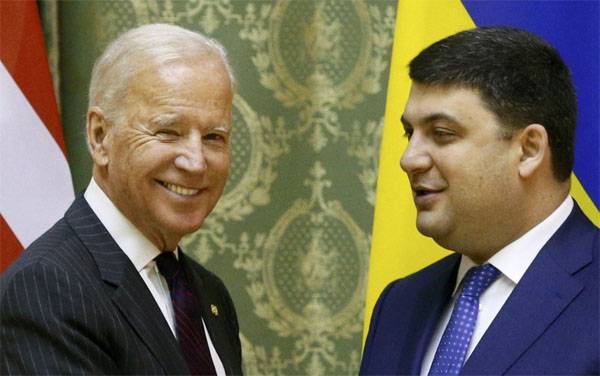 During the meeting, Biden said that "the United States will continue to support Ukrainian democracy," then added that Kiev needs to make great efforts to get rid of corruption and nepotism. According to Biden, "Russia uses Ukrainian corruption as an instrument of pressure." The fact that the Ukrainian political elite is mired in corruption and is trying to use it to promote certain interests (according to evidence, for example, a runaway deputy Onishchenko), Biden did not specify.
From a statement by Joe Biden, who recently received the highest US civilian award from Obama:
John F. Kennedy said that it is impossible to postpone the flight to the moon, and that it is necessary to achieve this, not because it is easy, but because it is difficult. According to this principle, Ukraine should fight corruption in order to create a new democratic state.
Given the fact that Biden spoke these words during a joint briefing with Poroshenko, the analogy of the fight against corruption and the flight to the moon for modern Ukraine is particularly eloquent.
Against this background, it became known that Ukraine filed a lawsuit against Russia in an international UN court in The Hague about the "three-year illegal annexation of the Crimea." Poroshenko:
Three years the Russian Federation grossly violates international law, three years carries out the illegal annexation of the Crimea, the illegal occupation of the east of our country on the territory of the Donetsk and Lugansk regions, implements a policy of extermination and discrimination in the Crimea. Those who remained in the Crimea and in the Donbas are subjected to torture and persecution. The activity of the Mejlis of the Crimean Tatar People is prohibited and other crimes are committed that cannot go unpunished.
At the same time, the authorities of Crimea are ready to file a lawsuit against Ukraine itself, as follows from the document, for two decades of robbery.
RIA News
cites the statement of the State Duma deputy from the Republic of Crimea Ruslan Balbek:
Crimea is ready to file a counterclaim and demand compensation for the robbery from Ukraine, which has been carried out on the peninsula for two decades, when, under the "patronage" of the Kiev authorities, squandered the Crimean lands, real estate, collected all taxes collected, while developing infrastructure and the economy nothing was invested in the region.