Russia responded to the demands of Poland "to immediately transfer recordings of voice recorders from the cockpit of the Tu-154 pilots". We are talking about the so-called "black box" of the aircraft of Polish President Lech Kaczynski. Recall that the crash occurred in the area of ​​the Smolensk Severny airfield in April 2010. The Polish demand was voiced after a big press conference by Vladimir Putin, when the Russian president, in response to a question from a Polish journalist, called on the official Warsaw not to speculate on the tragedy.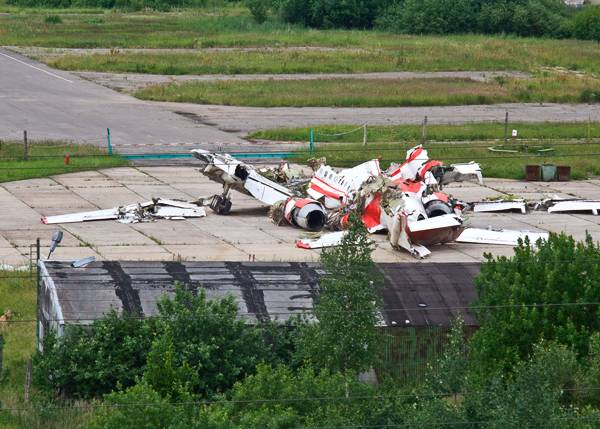 From the statement of Vladimir Putin:
It is still clear, why speculate? The tragedy is terrible. We did everything to investigate this, it is not necessary to use this for some kind of forcing in interstate relations, everything is clear there. If something is not clear, let the investigating authorities dorazbirayutsya.
Moscow notes that all the black box entries were transferred to the Polish side long ago.
And this is the official response to the demands of Warsaw:
In his statements on the topic of the catastrophe, the President of the Russian Federation relied on known facts that corresponded to the results and conclusions of the investigations of this incident, carried out by official Russian and Polish commissions and bodies. Records of the voice recorder of the Polish presidential aircraft were repeatedly checked in the presence of Polish representatives with the participation of Polish experts, after additional noise cleansing were transferred to the Polish side for phonoscopic examinations and transcripts of negotiations.
It should be recalled that, on the basis of the decoding of the onboard samopitsy, information was obtained about the presence of unauthorized persons in the cockpit at the time of the airliner's decline. In particular, they talked about the commander of the Polish Air Force, in whose blood alcohol was later found. The crew commander received a directive from him about the need to land, even despite the warnings of dispatchers about bad weather conditions in Smolensk.
It is worth adding that not so long ago, the Polish prosecutor's office initiated the exhumation of the remains of the bodies of Lech Kaczynski and his wife. The results of the exhumation were not covered in the press as actively as the preparation for the exhumation, which can only say one thing: the conspiracy versions of the current Polish authorities were not confirmed, since by definition there was no conspiracy in the Tu-154 crash.