The press service of TsNTU "Dynamics" shares information about the development of a promising universal UAV with vertical takeoff and landing. The report says that the work on the unmanned aviakomleksom completed:
At the early stages of the project, world experience in the field of existing analogs and prototypes was generalized, relevant patent studies were carried out, and the concept of using UAV complexes was defined. The analysis of critical technologies for project implementation was carried out, the appearance of a promising complex and the appearance of technology demonstrators - experimental samples of UAVs (aerodynamic layout, power plant, onboard systems, target load, etc.) were substantiated, programs for ground and flight experiments were developed.
In the material of the press service
TsNTU "Dynamics"
stated that a unique scientific and technical reserve has been created in the field of creating promising UAVs with vertical takeoff and landing. These drones can be used for a variety of purposes - both military and civilian. For their launch and landing, runways are not needed, and additional equipment is not needed (starting pulse tables) in order for the UAV to fly into the sky.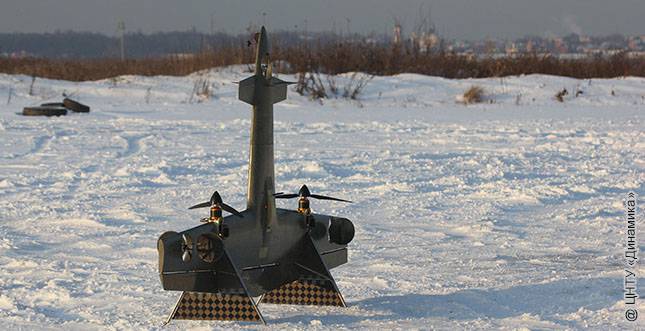 From the report:
Within the framework of the project, computational and experimental studies of UAVs of vertical take-off and landing of various aerodynamic schemes: helicopter, aircraft and various versions of the convertoplan were carried out. Experimental samples of UAVs of vertical takeoff and landing of various aerodynamic schemes were made, bench, ground and flight tests with experimental samples of UAVs were carried out, the appearance and requirements for the prospective complex and its components were refined. Finally, flight experiments were successfully conducted with UAV samples of all aerodynamic schemes created during the project.