Before the official visit to Japan, the President of Russia gave an interview to the Japanese television company Nippon TV and the newspaper Yomiuri. Almost immediately we were talking about a "territorial dispute" between Japan and Russia. That is how the question was posed by a Japanese journalist. The president of the Russian Federation answered that Russia has no territorial problems with Japan.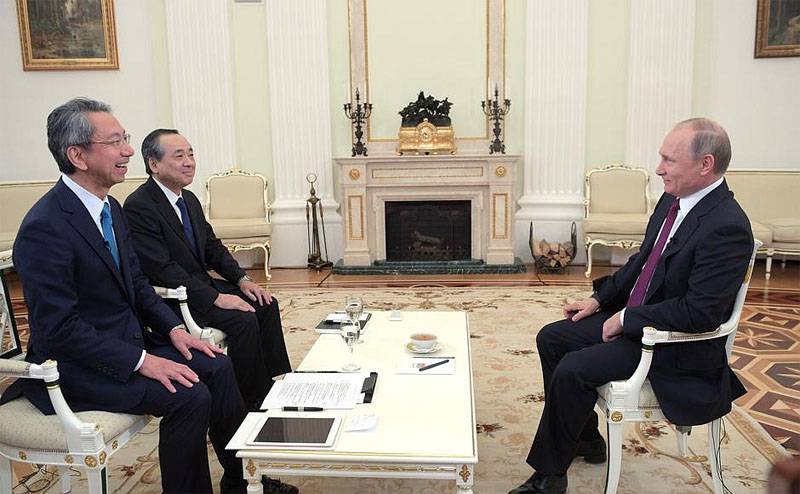 Vladimir Putin quotes
Kremlin press service
:
Russia has no territorial problems with Japan. It is Japan that believes that it has territorial problems, but we are ready to discuss it.
Vladimir Putin:
You now recalled the 56 agreement of the year, and I recall that, at the initiative of Japan, these negotiations were later terminated. And at the request of my Japanese colleagues in 2000, we returned to discussing the possibility of concluding a peace treaty based on the agreement of 56. But in the 56 agreement of the year, two islands are mentioned, and now you yourself said that the prime minister raises the question of four islands. So, we have already gone beyond the agreement of the 56 year, this is a completely different situation and a different formulation of the question.

According to Vladimir Putin, it is necessary to build an atmosphere of trust, friendship and cooperation between the two states. In addition to trade and economic ties, according to the Russian leader, we can talk about the application of joint efforts in the field of international security.
Vladimir Putin noted that the situation in which there is no peace treaty between the two neighboring states, he considers an anachronism.
The Russian president added that Russia would sign a peace treaty on the basis of its own interests.
Recall that the Russian president will make his visit to Japan on December 15-16.
By the way, Vladimir Putin's meeting with Japanese journalists began with the fact that they inquired about the health of the Yume dog. This Akita Inu dog in 2012 was presented to Vladimir Putin by the governor of the Japanese prefecture Akita. Vladimir Putin showed the Japanese guests Yume, who was in a great mood ...