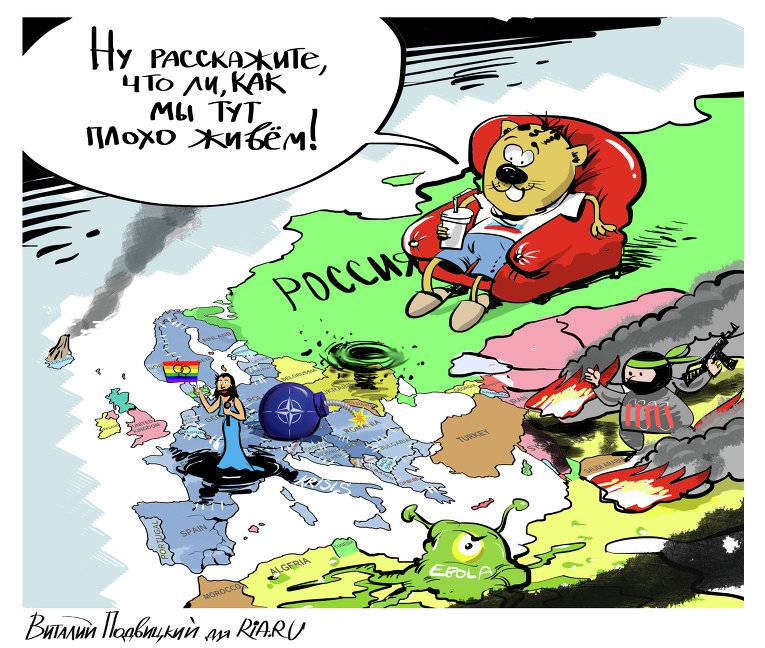 In the comments to my posts in LiveJournal, newly created citizens of the United States periodically appear, sarcastically speaking out about the standard of living in Russia. From their point of view, there is nothing worse than the lives of ordinary people in the Russian Federation. And they believe in this nonsense frantically and selflessly.
However, in reality it is not. There are countries in the world where millions of ordinary citizens have their lives many times worse and harder than the lives of Russians. For example, such a country is the United States of America adored by all Ukrainian "svidomies" and Russian liberals.
This is evidenced by FACTS.
Many of us have become accustomed to old patterns and stereotypes. Some people enjoy life that way. But in fact, Russia has long been inconsistent with the gloomily-terrible image of twenty years ago, which is now trying to exploit the Western and Ukrainian propaganda. In the same way, the United States no longer corresponds to the bright and attractive image that was once created by American propaganda for foreign "Papuans", and now it is constantly taking root into the consciousness of Ukrainian citizens.
At the moment, poverty in the United States reaches unbelievable proportions. It seems that this is why migrants from Russia demonstratively despise on social networks the "impoverished Rashka", from which they once happily "dumped". Otherwise, their migration is utter nonsense. And they cannot admit to themselves. Then they will have to admit the obvious fact that they themselves have flushed their lives down the toilet.
Let me give you 21 fact, showing a catastrophic explosion of rising poverty in the United States, indicating that a significant part of the United States actually lives in the conditions of the Third World countries.
Fact number XXUMX. According to the US Census Bureau, about 1 million Americans are currently living below the poverty line.
Fact number XXUMX. Every fifth child in America lives on a food stamp system, according to the same census bureau. The figure is for comparison: every seventh American child lived on 2 on this system.
Fact number XXUMX. According to Catherine Edin and Luke Schaefer, authors of the book "3 Dollar Per Day: Living on Nothing in America" ("$ 2 a Day: Living on Almost Nothing in America"), in America there are about 2.00 million households that day earn less 1,5 dollars. The number of such farms has doubled since 2.
Fact number XXUMX. 4 million Americans live on food banks. The line for groceries begins to form at 46 in the morning: people want to get food before food runs out.
Fact number XXUMX. The number of homeless children in the United States has increased by 5% over the past six years.
Fact number XXUMX. 6 million American children have spent the night at night shelters over the past year.
Fact number XXUMX. New York police have found more 7 special places for homeless people, the crisis of homeless people in America is now called an epidemic.
Fact number XXUMX. More than half of public school students are so poor that they cannot afford lunch at the school cafeteria.
Fact number XXUMX. 9% of American children live in homes that receive different types of financial state support.
Fact number XXUMX. A third of children in the United States live in families with incomes below 10% of the average income in the country.
Fact number XXUMX. In the ranking of the most affluent countries of UNICEF, which had a 11 position, the United States occupied the 41 position.
Fact number XXUMX. Since 12, the number of people living in the poorest areas of America has doubled.
Fact number XXUMX. 13% of African-American children live in areas of concentrated poverty.
Fact No. 14. 40,9% of children are raised by a single parent who lives in extreme poverty.
Fact number XXUMX. 15% 48,8-year-olds Americans still live with their parents.
Fact number XXUMX. 16% of US workers earn less per year than 51 30 dollars.
Fact number XXUMX. 17 million able-bodied Americans are "officially unemployed," and 7,9 million Americans do not work for one reason or another. If we add up these figures, then in total we get 94,7 million - this figure is equal to the number of able-bodied Americans who are not working at the moment.
Fact number XXUMX. If you own a house in America, then you are automatically referred to as the "middle class." Over the past 18 years, the number of Americans owning real estate is plummeting.
Fact number XXUMX. 19% of Americans believe that debt is an absolute necessity in order to survive.
Fact number XXUMX. 20% of Americans have a so-called "negative capital". This means that the total amount of what they owe exceeds the sum of what they have.
Fact number XXUMX. 21% of American families have so much property as 0,1% of other American families combined.
Migrants along with Native Americans, of course, can tell a lot about the fact that they are the best-off. But at least the fact that every second level of poverty among US citizens is growing like a cancer tumor, can debunk all the myths about the infinitely high standard of living of the liberal svidomitskoy "promised land."
The above facts are taken HERE http://www.prisonplanet.com/21-facts-about-the-explosive-growth-of-poverty-in-america-that-will-blow-your-mind.html