Russian President Vladimir Putin is voicing his 13 message to the Federal Assembly of the Russian Federation. In total for
history
The new Russian president's address is announced for the 23 time. A significant share of the president's speech concerns the economic development of the country, which should be reflected in the development of other spheres.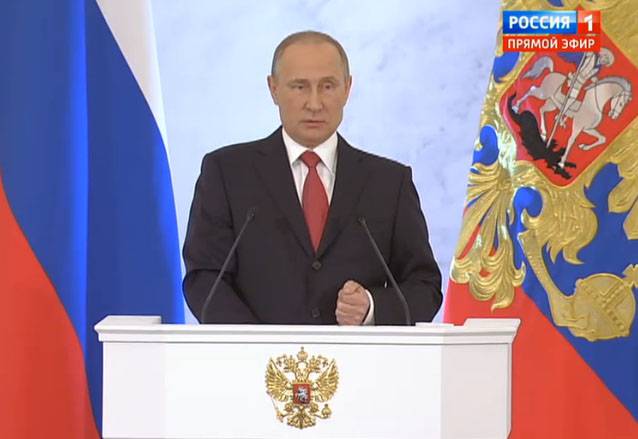 The President focused on the fact that the next 2017 year was declared the year of ecology. The president said that next year the state will allocate billion rubles to 20 for improvement programs, including the improvement of single-industry towns. At the same time, Vladimir Putin called for the careful treatment of the country's natural wealth.
The same 2017 year, according to Putin, is also the year of the 100 anniversary of the revolution. According to the president, it is necessary to conduct an honest analysis of those events.
The president touched upon the subject of education. Stating that when reforming the education system it's impossible to break wood, Vladimir Putin noted that in this area, at the same time, it's impossible to mark time. The President made it clear that he would provide assistance to talented children and improve the educational system.
Vladimir Putin spoke of the need for a phased reform of the health care system with an increase in high-tech assistance to citizens.
Vladimir Putin spoke about the financial reserves of the Russian Federation. So, 389,4 billion dollars is the reserves of the Central Bank. The reserve fund and the National Welfare Fund as a whole - more than 130 billion dollars. The expected inflation for the year is 5,8%. At the same time, Vladimir Putin recalled that in 2015, inflation was 12,9%. The target indicator of the Russian economy is 4%.
According to the president, it is necessary to find reserves for economic growth. One of the growth points is the development of agriculture. Exports from agricultural products exceeded arms exports in terms of income: 16,2-16,9 billion dollars against 14,5 billion dollars in the defense line.
President urged to support business development. One of the most developed areas is the IT industry. Today, income from this area - 7 billion dollars.