The representative of the Central Military District, Colonel Yaroslav Roshchupkin, told the media that the armament formed in the Urals
tank
divisions received the latest armored personnel carriers. We are talking about the BTR-82A, which in the amount of more than 50 units delivered to the new tank division of the Central Military District.
Information Agency
TASS
cites the statement of Colonel Roshchupkina:
More than 50 armored personnel carriers BTR-82A entered service with a tank division, the formation of which is completed in the Urals. Combat vehicles are distinguished by enhanced firepower, which is provided by the 30-millimeter automatic 2А72 automatic gun, paired with a PKTM 7,62-mm machine gun, increased combat survivability, new air-conditioning systems, communications and orientation.

The BTR-82A has been equipped with vertical and horizontal pickups with electric drives. In addition, the armored personnel carrier is equipped with a digital two-plane stabilizer. The armored vehicle has digital crypto-protected communication devices of the 5 generation, a topographic orientation system, as well as combined observation tools. On the BTR-82A installed the latest fire extinguishing system.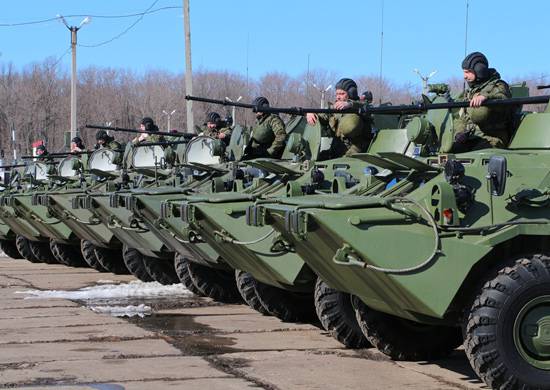 According to the official representative of the Central Military District, the formation of a new tank division in the Urals will be completed by December 1 of the current year. At this stage, an inspection check of the condition and staffing of the unit has been carried out. In addition, the command inspected the preparation of directors (landfill sites), tank divisions and tactical fields in the Sverdlovsk and Chelyabinsk regions. It is in these regions that the unit of the new Ural tank division will be located.