Mass protests continue in the United States of America against the election of Donald Trump as president. The police in Portland (Oregon) will report that the protests have moved into open clashes between protesters and the police. Law enforcement officers through loudspeakers informed those gathered in the city center that they were breaking the law by carrying out a mass event without the sanction of local authorities. In response, the police threw stones and garbage bags.
Information Agency
Associated Press
writes that the protesters turned over and set on fire several cars, garbage cans, smashed shops in the city center.
In the account of the American user Bradley Parks on Twitter, it is reported that representatives of those segments of the population who believe that President-elect Trump could infringe their rights take to the streets of various US cities. On the streets you can see processions under the flags of sexual minorities, various religious and pseudo-religious organizations. Many on the streets of the representatives of the African-American population of the country and the so-called Latinos. The latter express anger at Trump's promises to build a "blank wall" on the border with Mexico.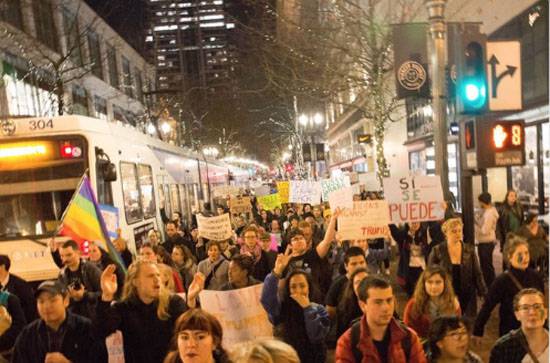 Meanwhile, a petition is gaining popularity, in which electors, despite their political preferences, are invited to vote for Hillary Clinton. The petition scored more than two million votes. The petition states that electors must "ignore the November 8 vote results and cast their votes for Clinton." Recall that the vote of the electors, which, in fact, is formal, will be held on December 19.