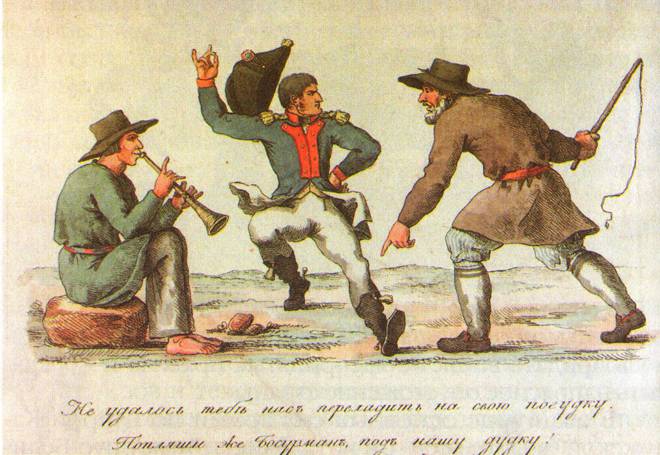 Ivan Terebenyov. Napoleon dance. Xnumx
Ivan Ivanovich Terebenev (1780 – 1815) was a gifted sculptor and a brilliant graphic artist. Without Terebenev caricatures it is difficult to imagine a popular war against Napoleon. Terebenev worked tirelessly in 1812 – 1813 for years, and his satirical "volatile sheets" were immediately recognized both in the army and in the rear. He knew Russian folklore well and created truly folk art. His drawings did not need an explanation. Terebenyov himself wrote signatures to the drawings, some of which became winged. Here and in the "Napoleon dance" the impression is supplemented by simple poems:
You didn't manage to cross us on your beep,
Dodge, basurman, under our tune!
And Napoleon is dancing. Dancing rompachski, dancing Russian. Only joyless turns dance: the famous cocked hat trembles over his head, and in the eyes there is no joy. Clearly defined images - you feel the hand of an experienced engraver. Long before Leo Tolstoy Terebenev shows the true winner. This is a Russian peasant. The peasants raised the "club of the people's war", the peasants were the basis of the army. And they recognized Terebenev's drawings, because in the spirit of his caricature they resembled popular splint. Means for agitation and counter-propaganda in those years was not enough. Newspapers and magazines remained the elite entertainment. People received information about the political course of a belligerent state only in a church sermon and from such pictures. Terebenyov sheets actively reprinted for a hundred years. The demand for them did not disappear. In such caricatures we learned patriotism and humor. And today, when we reflect on the victorious times of Russia for our Napoleonic wars, Terebenev's drawings help us understand the soul of that era.
Popularly known drawings did not bring Terebenev "stone chambers." He died soon after the end of the Napoleonic Wars, in 1815, in poverty. But the artistic tradition created by him, did not die. Evidence of this - the work of Russian artists during the First World War and the Great Patriotic War. Prints, posters, newspaper cartoons that have become a phenomenon in
stories
military and agitation opposition.