Information Agency
TASS
reports that the last of the defenders of the Brest Fortress, Boris Fayerstein, passed away at the 97 year of life. Boris Efimovich lived in the Israeli city of Ashdod. TASS cites the statement of the President of the Israeli Union of Warriors and Partisans - war invalids with the Nazis Efraim Paperny:
Ashdodts, the last fighter from the defenders of the heroic Brest Fortress Boris Fayershtein, was not. He was buried very decently, a lot of people came, the whole family of Fayerstein was present, his relatives came from Russia.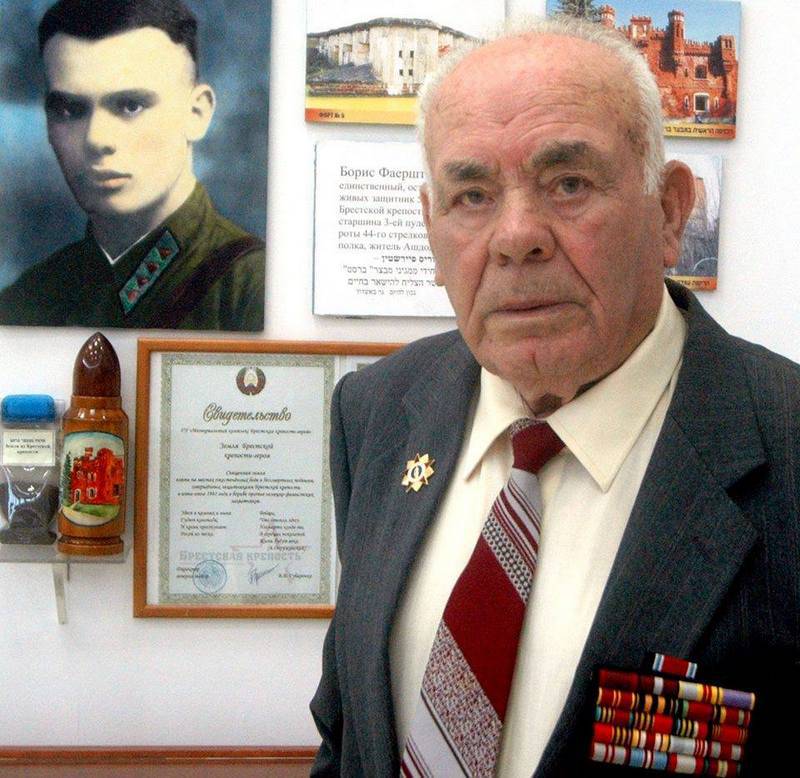 Boris Fayershtein was born in 1920 year in Smolensk. After some time, his family moved to the Crimea, where Boris Yefimovich graduated from school and a pedagogical institute. He worked as a teacher of physics and mathematics in Dzhankoy.
In 1939, he was drafted into the Red Army. Participated in hostilities in the Finnish War, then was transferred to Belarus. A few days before the beginning of the Great Patriotic War from the Pruzhan area as part of a small detachment on foot was sent to Brest. By the time the Nazi invasion in the USSR began, Boris Fayershteyn was in the rank of foreman of the 3 machine-gun company of the 44 regiment in the 5 fort of Brest Fortress. He had the post of deputy political instructor.
Received a concussion, was in captivity. To hide his origin, he called himself Tatar Boris Nesterov (knowledge of the Tatar language helped). He was sent to a camp in Finland, then (in 1944 year) in Norway.
After the war, he returned to the Crimea. In 90, he moved to Israel with his family.