Just a few hours ago, the Ukrainian ambassador in Germany announced that a new document had been created, on the basis of which the parties to the conflict would be diverted from the contact line in the Donbas. And now - the utter contradiction to the words of the Ukrainian official from the president of Ukraine. Poroshenko, while in the Kharkiv region, handed over an 141 unit of military equipment to the needs of the ATO.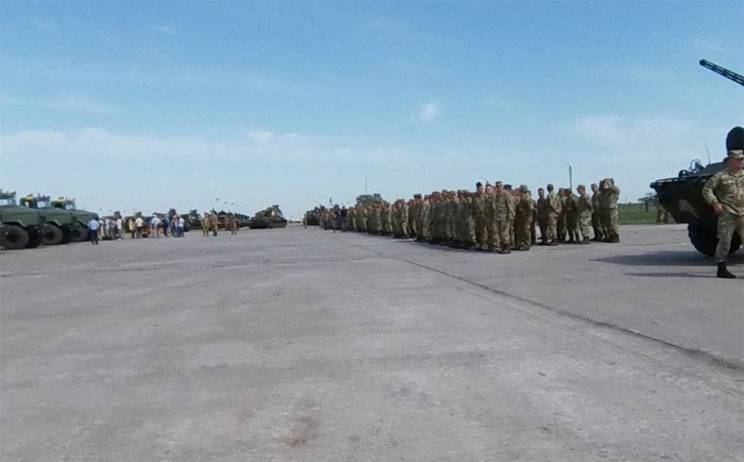 The transfer of equipment took place in the Kharkov city of Chuguev. Among the weapons transferred, according to the president's press service, the "independent" ones are repaired Su-27, MiG-29 aircraft, Mi-8 helicopters,
Tanks
T-80 and T-64BV, armored personnel carriers BTR-80, BTR-3DA, infantry fighting vehicles BMP-2, artillery and MLRS, anti-aircraft self-propelled guns ZSU-23-4 "Shilka". In addition, Poroshenko announced the transfer "for the needs of the ATO" of military vehicles and kits for radio communications.
Poroshenko:
In 2016, enterprises of the military-industrial complex manufactured, modernized and transferred about a thousand units of weapons and military equipment to the troops. Today we will send another batch to the front.
According to the President of Ukraine, this technique will be involved in the exercises in Bashkirovka, after which it will go to the Donbass. With this statement, Poroshenko himself confirms the fact that Ukraine does not comply with the Minsk agreements. At the same time, in the West, they are still trying to pretend that Poroshenko believes "to fulfill his part of the obligations".
The question of the number of victims to which the new Kiev militarization in the Donbas will lead, none of the Ukrainian journalists did not ask Petro Poroshenko.