The coastal missile system (DBK) "Bal-E" is intended for: control of territorial waters and torrential zones; protection of naval bases, other coastal facilities and coastal infrastructure; protect the coast on landing-dangerous directions.
Combat use of the complex is provided in simple and complex weather conditions day and night with full autonomy of targeting after launching into enemy fire and electronic countermeasure conditions.
DB Bal-E is a mobile (based on the MAZ 7930 chassis) system, which consists of: self-propelled command and control and communications centers (SKPUS) - up to 2 units; self-propelled launchers (SPU) - up to 4 units, carrying anti-ship missiles (ASM) of type X-35E (3М-24E) in transport-launch containers (TPK). On the standard version of the SPU is 8 TPK. transport and handling machines (TPM), designed to form a repeated salvo - up to 4 units.
The command and control center provides target reconnaissance, target designation and optimal target distribution between launchers. The presence of active and passive high-precision radar target detection channels as part of a complex allows for a flexible strategy for detecting targets, including secretive ones. Launchers and TPM can be placed in hidden positions in the depth of the coastline. At the same time, the secrecy of combat positions and the presence of artificial and natural obstacles in the direction of firing do not limit the combat use of the complex.
Shooting can be conducted with single missiles or a volley from any launcher. It is possible to obtain operational information from other command posts and external means of reconnaissance and target designation. A volley complex can include up to 32 missiles. Such a volley is capable of disrupting the performance of the combat mission of a large shipboard attack group, airborne detachment, or enemy convoy. The presence of the TPM in the complex allows you to re-launch a volley in 30-40 minutes. The combat management system of the complex's facilities is implemented using digital methods for transmitting all types of messages, using automated communication systems, processing messages, and classifying information with guaranteed durability.

The presence of night vision devices, navigation equipment, topographic referencing and orientation allows the complex to quickly change starting positions after completing a combat mission, as well as redeploy to a new combat area. The deployment time of the complex in a new position is 10 minutes. Formation of a coastal defense system based on the Bal-E ballistic missile system in combination with the use of the unified Kh-35E anti-ship missiles (3M-24E) on patrol ships in the near sea zone equipped with Uran-E missile systems and on
aviation
combat complexes, is able to ensure the solution of operational and tactical tasks with minimal economic costs by building a unified system for the operation and repair of anti-ship missiles.
The tasks of creating defensive systems for important coastal zones, port facilities, naval military bases, and other coastal territories were set and solved from time immemorial. We can recall examples from
stories
naval fleets of the past and the previous century, when such systems were created on the basis of developed fortifications and equipped with powerful artillery installations.
However, for modern means of destruction, which are based on high-precision
weapon
such systems are very vulnerable, and therefore they are a thing of the past. Today, they are being replaced by mobile defense systems, which, from an unexpected direction, can deliver an accurate and massive strike on enemy ships and, in a short time, having changed their position, be again ready to launch a striking strike. The coastal missile system "Bal-E", designed to control pouring zones and territorial waters, protect naval bases, coastal targets and coastal sections, belongs to such systems. It has high mobility, necessary power and accuracy of destruction. It consists of a self-propelled command and control and communications center (SKPUS), a self-propelled launcher (SPU), carrying anti-ship missiles in transport and launch containers, and a transport and reloading machine to form a re-salvo.
It is no secret that when changing the firing position most of the time is spent on referencing to the terrain, to determine their coordinates in a new place. Night vision devices, navigation equipment, topographic reference and orientation allow the complex to quickly prepare for the combat mission. The deployment time of the Bal-E in the new position is 10 minutes.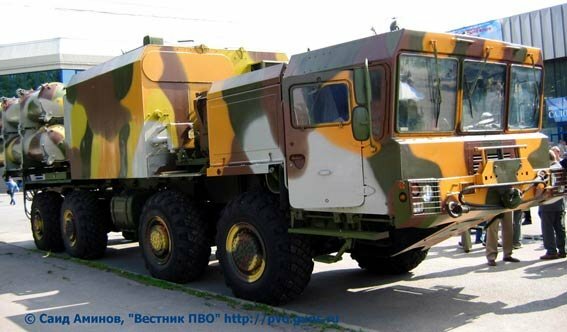 When operating on light-tonnage ships, firing can be done by single missiles. It is clear that during operations on large ships (such as a destroyer, etc.), launching a single missile against such an enemy will not make any special changes in its combat capabilities. The designers tried to make life as difficult as possible for the potential adversary. The fire salvo of the Bal-E complex can make up to 32 (!) Missiles with a launch interval of no more than 3 seconds, and given the maximum ammunition load, up to 64 rockets! In short, the adversary will need to think hard before entering into combat with such a complex.
In addition, the complex has a number of other advantages, allowing it to withstand a wide class of enemy maritime attack weapons. Centralized firing control, carried out by SKPS, provides target designation and optimal distribution of targets between SPU. At the same time, high-precision radar detection channels operating in active and passive modes make it possible to secretly find, classify, and accompany marine surface targets, including against the background of active and passive interference.
It is possible to obtain operational information from other command posts, reconnaissance and target designation. In other words, "Bal-E" can act as an independent combat unit, as well as be part of a centralized defense system.
The complex uses the X-35E anti-ship missile (ASM) (3М-24E), which is a unified guided missile, which, in addition to the Bal-E mobile coastal missile systems, can be equipped with Uran-E missile systems, combat aircraft complexes tactical and naval aviation, as well as search and patrol aircraft and helicopters. RCC is designed to destroy surface warships with a displacement of up to 5.000 tons and sea transports.
Main tactical and technical characteristics
Range of destruction, km to 120
Remoteness of the starting position from the coastline, km to 10
The number of missiles on each SPU and SST to 8
Missile launch interval in salvo, s. no more than 3
Maximum speed of the movement, km / h:
- on the highway 60
- off road 20
Missile launch mass, kg ~ 620
Total complex ammunition, the number of missiles to 64
Power reserve (without refueling), km at least 850
The X-35E rocket (3М-24E) can be used in simple and complex meteorological conditions, day and night, under fire and electronic countermeasures of the enemy. Small dimensions, extremely low altitude of the flight path, as well as a special guidance algorithm that ensures maximum secrecy of the use of an active homing head by a rocket, cause a low level of visibility of the rocket.

In the Bal-E complex, the X-35E (3М-24E) missiles are housed in sealed transport and launch containers, which ensure high reliability of the complexes in difficult climatic conditions with a low level of labor costs for their maintenance.
Bal-E and X-35E (3М-24E) are export options. The Armed Forces of the Russian Federation will receive them not only without this index, but with several other possibilities, which are too early to talk about. According to Interfax-AVN, state testing of the complex was completed in 2004 year. As the head of the Directorate of orders and deliveries of ships, naval armaments and military equipment of the Ministry of Defense of the Russian Federation, Rear Admiral Anatoly Shlemov, explained, now the Ball complex is undergoing a corresponding clearance. The new equipment will go into service with the coastal forces of all four fleets.