The Russian Defense Ministry has begun testing the REM-KS wheeled repair and recovery vehicle capable of towing damaged vehicles weighing up to 38 tons at a speed of more than 30 km / h off-road, according to
News
.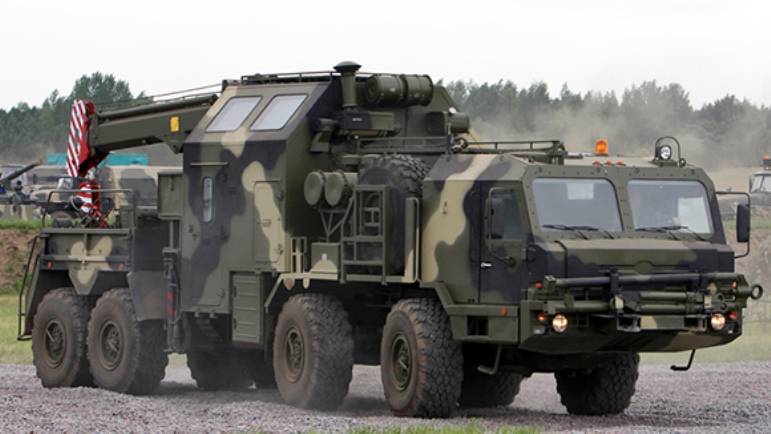 "The newest product, developed and manufactured by the Project Technique corporation, is equipped not only with towing and evacuation devices, but also with a special cabin where there are tools and spare parts, thanks to which the REM-KC crew can carry out simple repair of equipment on site", - writes a newspaper referring to a military source.
"In general, product testing is almost complete. There are only a few stages left. First of all, REM-KS is considered as a repair and evacuation tool for divisions and regiments of the newest C-400 anti-aircraft missile systems (ZRS), "the source said.
The publication replies that "several dozens of vehicles of various types and purposes are included in one rocket battalion of the latest ZRS — the launchers themselves, transport-charging vehicles and mobile radars mounted on wheeled chassis made by the Minsk factory of the MWT and Bryansk Automobile Plant management, as well as various auxiliary machines, mounted on trucks "KAMAZ" and "Ural". "
According to Leon Podobeda, director of the Project-Technika corporation, the company presented to the Ministry of Defense REM-KS in two versions - regular and protected (armored) versions.
The "four-hundred" technique is not only diverse, but also quite heavy and at the same time requiring extra caution when evacuating, as shocks and shaking can damage complex electronic stuffing. Until recently, there were no evacuation vehicles in the Russian army capable of coping with such tasks, "said Vitaly Moiseyev, the editor of the Internet project" Courage-2004 ".
According to Izvestia, the REM-KS was created on the basis of the BAZ-6910-021 "Voschina" tractor made at the Bryansk Automobile Plant. It takes the crew only 10 – 12 minutes to fully prepare and start evacuating the failed machine.