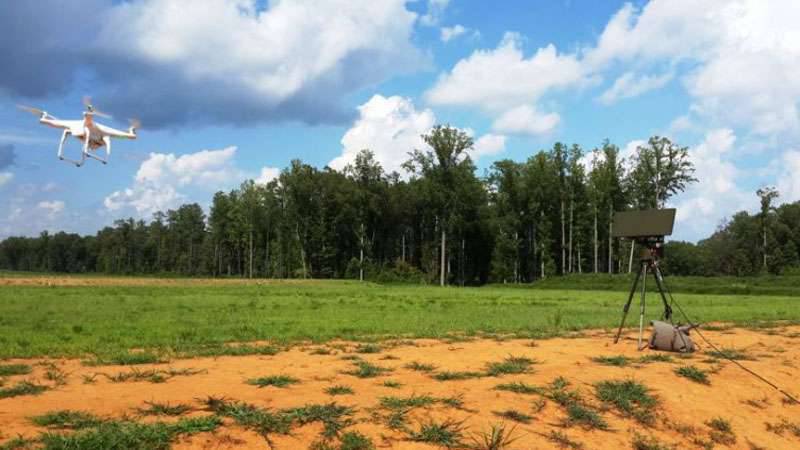 The Israeli company IAI has recently developed several ground-based DRONE GUARD systems (pictured) for detecting, tracking and disabling UAVs in response to growing global security concerns related to the increasing proliferation of low-cost and easy-to-use remotely operated aircraft.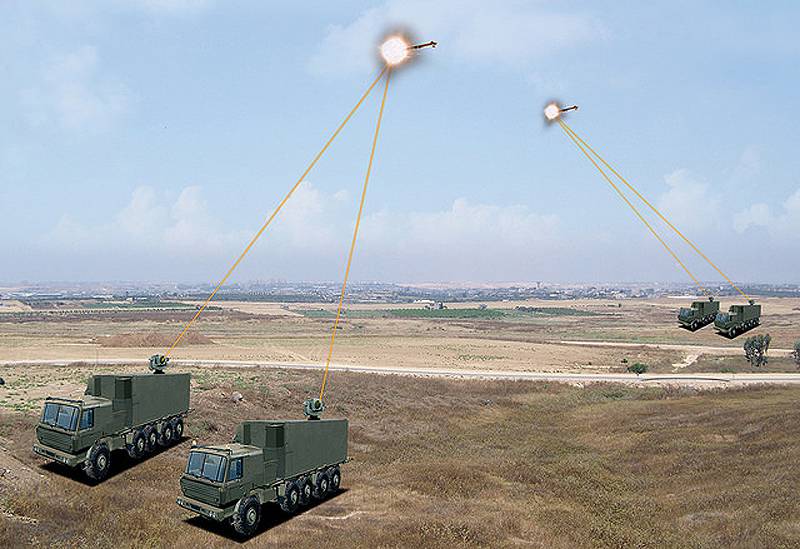 Rafael Advanced Defense Systems recently introduced its IRON BEAM HEL as a system for intercepting unguided missiles, artillery shells and mines and fighting drones. In addition to developing UAV systems, the PATIOT Israeli Air Force's air defense unit is changing its training programs to prepare for this new threat.
Given the variety of possible threats and scenarios in which a person does not take direct part, technologies to combat unmanned aerial vehicles (UAVs) are increasingly interested in the armed forces, security forces, the police and even private security structures, as the increasing use and availability of UAVs is of concern to higher military leadership, security and law enforcement.
Sensational events in various countries around the world related to UAVs, from dropping a drone on the lawn of the White House to mystical vehicles flying around the Eiffel Tower, brought the UAV technology and some of their associated risks to the center of attention. We are witnessing a sharp increase in interest in solutions to combat drones (hereinafter referred to as anti-drones solutions), since potential threats range from mini-UAVs (less than 20 kg) and small-sized UAVs (20-150 kg) to tactical UAVs. The availability of small UAVs creates security problems, as they sometimes interfere with the daily activities of airports, pose a threat to important infrastructure and public events, either due to the irresponsible behavior of operators, or as a means of deliberate harm.
UAVs, even without weapons, can be very dangerous, as they can be used to gather intelligence information for criminal or terrorist purposes, while the payload can be used to transport improvised bombs and similar devices (for example, PaketKopter and UAV drone pilots offered by DHL. Amazon's online store Prime-Air Delivery drone can carry up to 2 kg of cargo). The so-called self-proclaimed Islamic State (prohibited in Russia) has already used conventional mini-UAVs to provide real-time aerial surveillance of target areas and coordinate attacks. The video frames of these strokes were even used for promotional video and are widely distributed on the Internet.
Quadcopters for delivering Prime-Air Delivery and PaketKopter products (below)
The UK took this threat so seriously that in 2012 the British Air Force and Selex-ES (now Finmeccanica Airborne & Space Systems) developed and deployed an integrated anti-unmanned system in London to protect the Olympic Stadium. This system was further refined and used to protect national leaders at the 8 G2013 summit in Northern Ireland and then at the 2014 NATO summit in Wales.
It is important to note that different scenarios have a huge impact on possible solutions. While tactical drones are not so different from conventional aircraft and helicopters and, as a rule, they can be fought with traditional anti-aircraft weapons, smaller Class-I UAVs define a completely different set of requirements. Often, two different approaches are implemented: either attributing the UAV to the same large family of small rotary-winged vehicles (according to the foreign classification LSS - low slow small - low-flying slow-flying small), or instead using the technique, one way or another connected with the interception of unguided missiles, artillery shells and min C-RAM (Counter-Rockets, Artillery, Mortar).
The NATO Working Group SG-170 conducted a series of studies on the subject of "Intercepting ground defense of low-flying and slow-flying small-sized air targets", the last of which was published in 2013 year. It evaluates the available means of detection, classification and executive components that can cope with such goals (for more details, see below).
Triangulate and track
Small UAVs are characterized by low visibility and very limited signatures in most areas: optical, acoustic, radar and infrared. The definition of these signatures can be implemented by electronically monitoring the frequencies used to control the drone or to transmit the video signal from its camera. In fact, a crowded electromagnetic spectrum, often found in cities, seriously complicates the recognition process. Countermeasures can include both functional damage (jamming the control channel, jamming or simulating a GPS signal, blinding sensors or disrupting the electronics), and direct damage (laser beam or intercepting with fire from a cannon or rocket).
However, detection and counteraction should be developed in accordance with the tactical scenario. Protecting deployed units at an advanced base station is different from providing protection to a civilian airport, and the solution for an overcrowded stadium is quite different than a solution for a sea vessel at sea. The ongoing protection of critical infrastructure requires more complex decisions than a temporary fence around a political event at the highest level.
Federal Office of Civil
aviation
The United States (FAA) is currently focusing its efforts on securing airports from potentially dangerous drones. In May 2015, CACI International was awarded a contract under the FAA's Pathfinder Management Program to develop and demonstrate the SKYTRACKER automatic detection, identification and tracking system. The system is a set of sensors installed around the perimeter of the guarded object and determining the location of unauthorized UAVs flying into the restricted area (5 miles from the airport), performs triangulation (a method for determining the position of geodetic points by constructing on the terrain systems of adjacent triangles in which the length of one side is measured (on the basis) and angles, and the lengths of the other sides get trigonometrically) and tracking the position of ground-based drones operators.
SKYTRACKER system of combat drones
In February, CACI deployed its SKYTRACKER system for testing at the international airport of the American city of Atlanta for one week in February of 2016. For the first time, a similar system was deployed at a civilian airport, where 140 test interceptions of various UAVs were conducted. The company reports that SKYTRACKER can also force an uninvited guest to fall without adversely affecting electronic and communication systems, which has always been a serious problem for airports.
Detection using a combination of radar and optical electronic equipment is another area that is well suited to open areas outside urban areas. Saab recently tested the capabilities of its mobile anti-aircraft radar GIRAFFE AMB (Agile Multi Beam), which is designed to counter small targets, such as UAVs, for example. During the extended 2015 test in Scotland in April, the ELSS (Enhanced LSS - Advanced LSS) mode of this radar detected over 200 objects, some with an effective reflection area (EPO) of all 0,001 м2 (10 cm2!), While distinguishing mini-UAVs from birds.
Another important step is the combination of detection, classification and timely response. Most of the proposed solutions include a detection system based on optical-electronic / infrared sensors, often connected to Ku- or X-band radars, plus an electronic countermeasure system for disrupting the operation of the control channel. The means of counteraction seem to be unnecessarily "wise" here, but in the urban scenario you cannot simply launch a missile against a UAV, since this can cause panic with far-reaching consequences.
However, some armed forces use kinetic solutions as a temporary solution before new technologies provide new opportunities even for small-caliber weapons. The French police and army chose the ALDA (Anti Light Drone Ammunition) kit to hit the UAV from the ground or from the air. The Nobel Sport-Securite ALDA kit, unveiled at MILPOL 2015, includes a Benelli long-barreled rifle, a high-precision collimator sight, a laser range finder and special Nobel Sport ALDA special ammunition, either in the short-range version on 80 meters, or long-range on 120 meters. According to the company, this solution allows to reduce or completely eliminate indirect losses, because the cartridge that has flown past by losing energy without damage falls to the ground.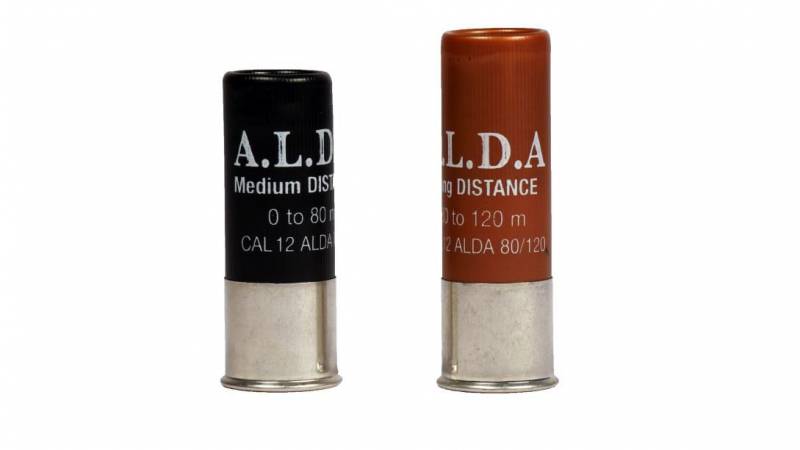 ALDA Nozzle Sport-Securite Anti-Shoulder Cartridges
The US Army tested several new kinetic solutions, some of them during the Black Dart series of exercises, for which the rocket from the AGM-114 HELLFIRE helicopter was specially modified for air-to-air tasks with the installation of a remote detonator.
Other improvised solutions were tested in France, Japan, and the Netherlands, for example, using a UAV as a drones hunter or a UAV that could harass and stop other people's drones with a catching net. These solutions reduce the risk of indirect damage, but require systems for early detection and classification, as well as the use of a fairly fast and maneuverable pursuing UAV.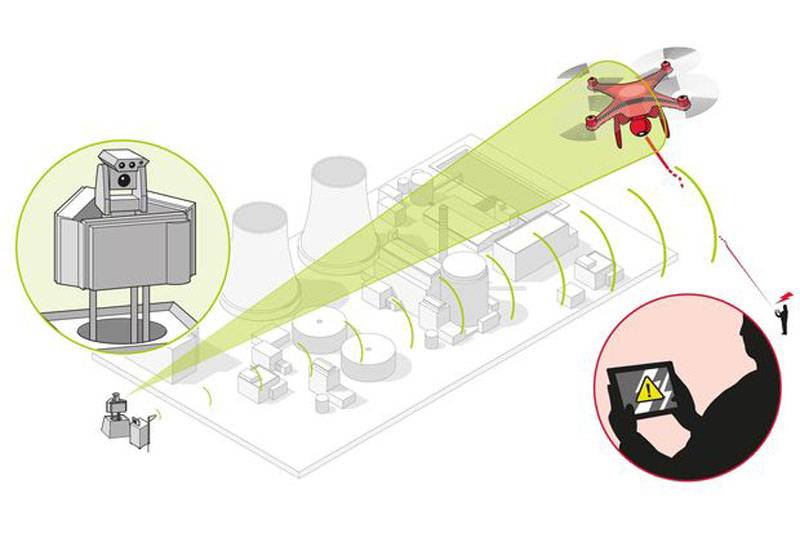 In connection with the spread of drones, companies devote resources to technologies capable of fighting them. Airbus DS offers high-performance solutions that combine data from various sensors, analyze and develop solutions. The UAV identification and threat potential assessment systems at 5-10 km ranges use radars, infrared cameras and direction finders from this company's portfolio.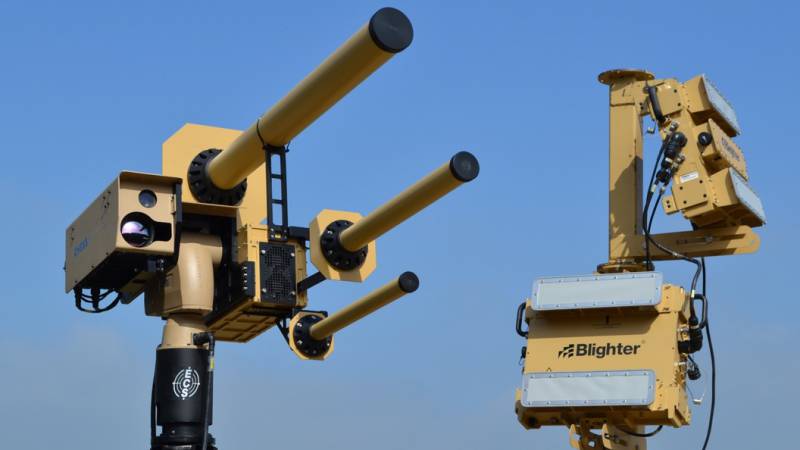 AUDS (Anti-UAV Defense System) UAV control system is designed to neutralize UAVs and remotely operated vehicles conducting aerial surveillance and ready to cause damage.
Electron beams
Three small British companies have teamed up to create an effective system for dealing with drones, which was designated AUDS. These companies are Blighter Surveillance Systems (a manufacturer of ground-based radar stations), Chess Dynamics (a manufacturer of optronic surveillance systems) and Enterprise Control Systems - a specialist in jamming technology. The fruit of their joint activities was the UAV control system, which uses radar for jamming, optical-electronic tracking devices and a directional radio-frequency silencer that interrupts the flight of the drone. The AUDS system scans in a sector of 180 degrees.
Survey-search system Hawkeye from Chess Dynamics is installed in one unit with a radio-frequency silencer and consists of a high-resolution optical-electronic camera and a cooled medium-wave thermal imager. The first one has a horizontal field of view from 0,22 ° to 58 °, and a thermal imager from 0,6 ° to 36 °. The system uses a digital tracking device Vision4ce, providing continuous tracking in azimuth. The system is able to continuously pan in azimuth and tilt from -20 ° to 60 ° at a speed of 30 ° per second, accompanying targets at a distance of about 4 km. The multiband RF silencer is distinguished from ECS by three built-in directional antennas that form a beam 20 ° wide. The heart of the AUDS system is the operator control station, through which you can manage all the components of the system. It includes tracking display, main control screen and video recording display.
After identifying a potential threat, the jamming system disrupts the RF control channel between the operator and the drone, allowing it to be brought under control. The results of the initial tests showed that micro-UAVs can be detected about two kilometers, while mini-UAVs can be detected at a distance of 8 km. Although the AUDS system can disrupt the operation of only one UAV at a given time, it can simultaneously monitor several vehicles. Although the system has a high degree of automation in a number of aspects, especially when it is detected and accompanied, human participation is key to the functioning of AUDS. The final decision to neutralize the goal or not, and to what extent, falls entirely on the operator.
Selex-ES (now Finmeccanica Airborne & Space Systems) FALCON SHIELD, designed to detect and neutralize micro and mini UAVs, uses a scalable and modular architecture to protect objects of any size. The development, funded by the company, took over three years. In 2015, at the Defense Security Equipment International 2015 exhibition in London, the Falcon Shield anti-unmanned system from the Selex ES division of Finmeccanica was shown. The modular scalable system includes radar and optoelectronics to "search, detect, track, identify and defeat" an anticipated threat. The FALCON SHIELD system includes the NERIO family of advanced long-range optoelectronic stations, the OBSERVER 100 mast combined radar and optoelectronic surveillance system, the VANTAGE Framework C2 operational control system with a human-machine interface and the HORIZON HD thermal imaging camera.
In October, 2015, Israel Aerospace Industries (IAI), unveiled a new DRONE GUARD system for detecting, identifying and interfering with UAV flight. It uses a combination of three-dimensional radar and optoelectronics, which allows the object to be detected and identified, after which the jamming system knocks the BLAH off the flight along its course. The jamming interferes with the flight of the drone so that it either automatically returns to the starting place or crashes. IAI uses spatial radars such as, for example, EL / M-2026D, EL / M-2026B, and EL / M-2026BF, to detect at near (10 km), medium (15 km), and large (20 km) ranges. The company confirms that Drone Guard was "a lot of and successfully tested against different drones and in a variety of scenarios, including the simultaneous penetration or attack of several drones." According to the president of the company ELTA: "We began to demonstrate new systems to potential customers in response to new threats. We believe that in the near future, every important object and public place will require security systems capable of protecting against hostile drones. "
To be continued ...