The American press is sounding the alarm about the publication of informational brochures concerning the operation of Chinese-made Xian MA60 aircraft. These are turboprop passenger airplanes, which were created on the base model of the An-24 simultaneously with its deep modernization. The first operational Chinese MA60 took off at the beginning of the 2000's.
The essence of the "alarm" of American journalists is that a recently published brochure describes the Xian MA60 not only as a civilian, but also as a military transport aircraft. It would seem, but what is the essence of the claims? The fact is that the Chinese Xian MA60 aircraft use PW127J engines of the American-Canadian company Pratt & Whitney Canada (P&WC), as well as North American avionics. And since 1989, the United States and Canada have supported sanctions on the supply of equipment to China that can be used for military purposes (engines are included in the list). The official reason for the decision on sanctions is the events in Tiananmen Square.
Now in the United States they say that the Chinese have deceived Washington. Starting to create a civilian aircraft, the Chinese company Xian Aircraft was able to easily reorient the aircraft to military needs.
Journalists
DefenseNews
P&WC management was asked to comment on the situation. The answer of the representative of the company's management Maria Mandato was as follows:
We manufacture and supply our engines to the Chinese market for civilian aircraft. The data on the availability of our engines on the military versions of the aircraft MA60 are false.
At the same time
DefenseNews
gives a photo from the sensational brochure. The photo shows exactly the Canadian-American
aviation
an engine, which is allegedly used in the military transport version of the aircraft.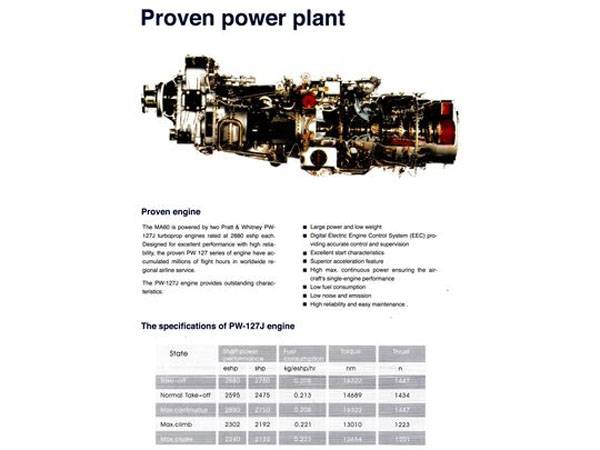 The same brochure states that MA60 can be used not only as a military transport aircraft, but also as a maritime patrol aircraft.