Once again, a delegation of French parliamentarians visits the Crimea. News agency
RIA Crimea
reports that the delegation has arrived on a three-day visit to attend Naval Day celebrations
fleet
Of Russia. On the first day of the visit, the head of the delegation Thierry Mariani, along with other French politicians, visits the Red memorial complex in the Simferopol region, reminiscent of the victims of the fascist occupation of the peninsula. At one time, German invaders created the largest death camp in Crimea on this site.
Photo
RIA News
(E.Martynnenko):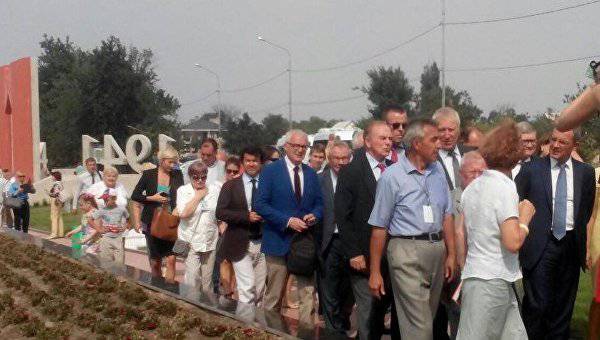 Guests from France are accompanied by the head of the Duma Committee on CIS Affairs, Eurasian Integration and Relations with Compatriots Leonid Slutsky. From his statement:
I am glad and happy to receive guests in the Crimea. This year the delegation is more representative than in the past. These are the very senators and deputies who promoted resolutions on the abolition of anti-Russian sanctions in the chambers of parliament. These are the people who last year for the first time told the world the truth about the Crimea and Sevastopol.
French parliamentarians also intend to visit Yalta and Sevastopol, after which they hold a briefing in front of numerous journalists covering the visit.
Official Kiev, according to the established "tradition," has already protested in connection with French politicians visiting the Crimea "without coordination with the Ukrainian authorities". Thierry Mariani delicately remarked that he did not see the need to coordinate his visit with the authorities of a country that has nothing to do with Crimea.