RIA News
with reference to sources in the government of the Russian Federation, reports that an agreement has been approved with Damascus on the permanent deployment in Syria of a group of Russian aircraft and helicopters of the Russian Federation Air Force. This agreement has been sent for ratification to the State Duma. It is noteworthy that the government approved this agreement almost a year after it was signed in Damascus (it is reported that the agreement itself was signed back in August of 2015). Given that we are talking about military time in Syria, when every day in this country at the hands of terrorists people die, the bureaucratic delays look very strange.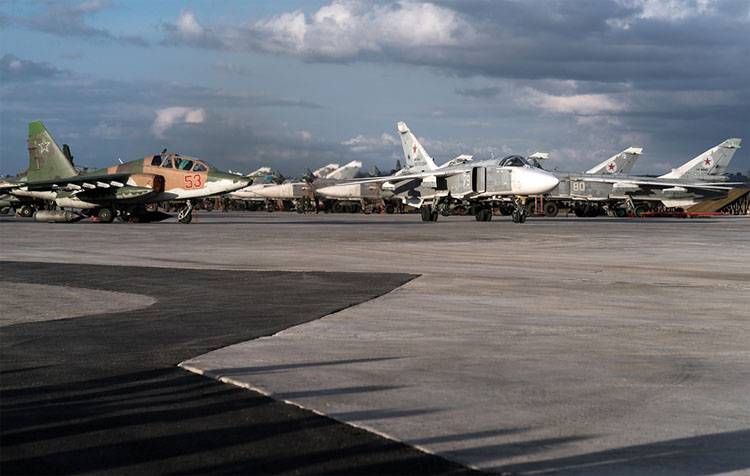 The agreement says that Syria provides the Russian military
aviation
the possibility of being at the Khmeimim airbase on a permanent and free basis.
Against this background, the discussion continues on the issue of responsibility of Turkey for the Russian bomber Su-24 shot down in November last year. Ex-deputy of the Bundestag and ex-deputy chairman of the PACE Willie Wimmer in his interview to the news agency
"Sputnik"
He expressed the opinion that Turkish military aircraft struck the Russian bomber with the help of other "partners". In particular, we can talk about aircraft of the USAF and Saudi Arabia.
From an interview with Wimmer:
According to my information, one American and one Saudi AWACS aircraft participated in this. Such a plane as this Russian bomber, just do not shoot down: you must send a fighter to the target. This can only airplanes ARLO. The American board started in Cyprus, another flew from a base in Saudi Arabia. What happened there does not correspond to generally accepted international rules. They shot down a Russian plane because they wanted to shoot it down.

Again, this is a statement
the former
western official. As soon as individual officials receive the prefix "ex", they can afford to express sound thoughts. As acting officials do not always work.