Official Ankara continues to publish data on the "cleansing" of power from supporters of Fethullah Gulen and his political movement "Hizmet". According to the latest information published by Turkish
Anadolu
, from the Land Force, Navy and Turkish Air Force fired 149 generals and admirals from 325 and 1099 officers from 32189. In total, 1684 officers, generals and admirals were fired from the ranks of the Turkish armed forces after an attempted coup d'état, most of whom are accused of having links to the organization of Gulen, who now lives in the United States.
The official Turkish authorities say that all the dismissed servicemen are involved in the death of 250 people on the night of the attempted state coup in the country.
At the same time, "Anadolu" publishes a map of the United States of America, on which states with the presence of Fethullah Gulen educational institutions are marked in red.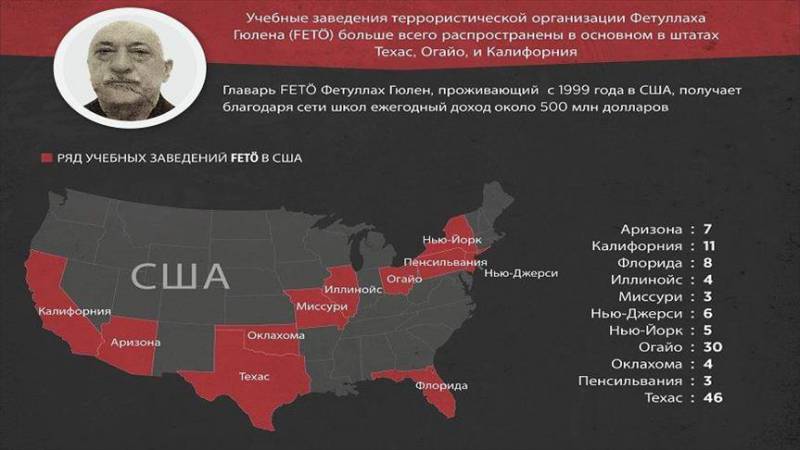 If you believe the information published, the last such educational institution in the United States was opened on the territory of a military base near Las Vegas. The largest number of educational centers of Gulen, called Ankara terrorist, operate in the states of Texas and Ohio (76 objects). Ankara claims that maintaining Gülen centers costs the United States annually half a billion dollars.