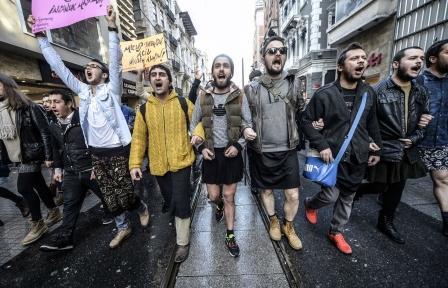 Russia has become one of the main springboards of the gender-juvenile war unleashed by transnational corporations ...
An unprecedentedly large-scale and simultaneous introduction of a gender-juvenile ideology is taking place in Russia, threatening the country's demographic, spiritual and moral security.
On the Day of Family, Love and Fidelity 8 July 2016, the debut of the Russian "flash mob" entitled "I am not afraid to say."
The so-called "flash mob" (literally - "instant crowd") - is one of the social technologies, which is a pre-planned mass action in which a group of people gather at a designated time in a designated place and performs a predetermined action.
The run-in of this technology began in 2000-ies, initially in the physical space, when, for example, by a signal distributed in social networks, those who wanted (a group of students or schoolchildren) gathered in the central square or avenue of a particular city, did something together (shouted made the same gesture, movement) and immediately dispersed.
After socializing the senseless, but amusing for the undemanding performer, the content of the shares began to change, acquiring a very specific, often provocative content, such as the simultaneous sending of multicolored balloons to the sky by lesbians on Nevsky Prospect in St. Petersburg or mass applause of "passers-by" on Independence Avenue in Minsk.
Now the number of options and models of flash mobs increases in a progression and depends only on the flight of imagination of the authors, whose personalities and goal-setting is a key element in understanding the essence of the phenomenon.
Flashmob Attack
Flashmob #I'm FearSkazat was created on July 5 in the Ukrainian segment of Facebook, when a theme with this hashtag appeared there.
A hashtag is a keyword or phrase preceded by a #; it is used in publications on social networks, facilitating the user, depending on his interest, access to pages to which he was not even subscribed, or, conversely, indirectly forming this interest in him.
The media is actively spreading the legend about the moment of the birth of a new flash mob: "Ukrainian journalist Anastasia Melnichenko has published her diary, which describes several cases of violence and harassment to which she has been exposed since 6 years. Melnichenko urges both women and men not to be afraid to talk about violence and not feel guilty for what happened. She hopes that this will make it possible to heal not only society, but also everyone who has become a victim of harassment. "
Three days later, a Russian flashmob appeared in Russia. # ЯНЕ I'm afraidTo say, and the media began to rapidly replicate
stories
women who were subjected to "the most heinous harassment and violence."
National formations did not stand aside: July 7 on the Daptar Internet portal devoted to the problems of Dagestan women was picked up by the journalist Svetlana Anokhina: "Of course, you are to blame for everything. And most importantly - was born a girl. Which itself is a provocation. "
On July 8, the former head of the Azerbaijan Women's Crisis Center Matanat Azizova addressed the residents of Azerbaijan with a call to participate in the flash mob campaign: "Don't be silent, don't be afraid, talk about it".
12 July, the author of the blog at the Caucasian Knot, senior researcher at the Center for Civilizational and Regional Studies of the Russian Academy of Sciences Naim Neflyasheva picked up the baton: "You shouldn't seek a solution yourself, you shouldn't hide, you shouldn't be ashamed. Do not be afraid to say. Do not be afraid to ask" .
On July 13, a representative of the initiative to help victims of violence, producer Dina Smailova (Tansari), called on women of Kazakhstan to be widely recognized in social networks in the violence she experienced.
On July 14, some "activists" called on social networks to join the action of residents of the North and South Caucasus.
By this time, the social network "VKontakte" had already created 13 communities called #YaneAm afraidTe Say; the number of hashtags also increased: #YanAlfUnable # INeMy to say #YANiSee, etc.
16 July in Moscow at the conference Sexprosvet 18 + Summer held a round table # I am afraid to say about the "flashmob of the same name and the problems that he raised."
All these days, the media choked on the tragic comments: "Ukrainians staged a heartbreaking flash mob", "Facebook broke through from a huge number of monstrous stories", "The most monstrous thing about these stories is that this is real life".
The well-known pseudo-Orthodox resource habitually screamed in a liberal way: "We do not know how to talk about experiencing violence. Not everyone understands that feminism is not only unshaven armpits and hostility to masculinity. Learn how to relate to the statement about the pain of others without prejudice. Without thinking that this is godless feminists. "
The stories themselves, repeatedly repeated by different information resources, hysterical, viscous and grotesque, immerse the reader into a nightmare exceeding the possibilities of human perception, leaving in the brain only a feeling of uninterrupted irrational horror - something akin to a fable from the folklore of the pioneer camp about the "black hand".
Attacking harassment
So, the "change operator" is the author of the hashtag # I've told Anastasia Melnichenko, a Ukrainian feminist, the head of the public organization "Studena", which is funded by the Soros Foundation and implements the social adaptation of "veterans of the ATO"; mother of two children, unmarried. There is enough information about her and her activities in social networks, so there's no need to dwell on it - you just need to understand that this is just another statistician in another scenario, which has already been implemented a lot in this field.
For example, in September, 2012. 25, a Belgian RITS film school student from SITS Peters, shot a video called Woman in the Street with a hidden camera about the harassment of migrants from Africa and the Maghreb during their walks in Brussels ), posted it on social networks, and this video "suddenly" became the basis for the swift adoption in the country of the law "On the protection of women on the street" with fines from 75 to 250 euros.
In 2014, in New York, 24-year-old actress Shoshana Roberts, in tight jeans and a T-shirt, walked the streets of Manhattan for ten hours, also in places where migrants were compact, accompanied by a friend with a camera hidden in her backpack. Many men simply wished her a good day, and even asked to smile, but these wishes were presented by her colleagues from the American organization Hollaback, "fighting against harassment to women in the streets," to harassment.
In Argentina, in June 2015, student Aisha Rizzo shot a video about how electricians working in her district molested her every day and posted it on the Internet, after which a country suddenly appeared a bill banning street harassment.
You don't even have to try hard to find out the succession of strategies and customized character of 2016's year launched by Melnichenko, to understand the purity and redundancy of призн confessions 'in the social network that make the world for their reader a" nightmare of Elm Street ", where everything is only and guarding you to outrage.
But this is not all: with the light hand of the authors, even touches, phrases, views, hints are attributed to sexual violence in these stories - all that has long been the content of the notion of "harassment" fashionable in Europe and America and terrible in its absurdity and punitive .
Harassment is "prosecution for violence", a relatively recent and contrived legal concept, the essence of which is not defined by the legislator, why the enforcement of this norm, as a rule, contains a personal view and individual values ​​of a particular policeman or judge: a crime that violates the privacy ", someone -" sexual harassment ", and someone -" courtship, jokes, compliments, "etc.
But the main result of this intervention in the public consciousness is the promise of the new imposed on society of guilt, which is that "all men are dirty animals who live only to commit violence against a woman and use any opportunities for this." It is important to note that harassment is aimed only at men - women do not relate to sexual harassment.
In the European Union, the law on sexual harassment in the workplace entered into force in 2005. In 2006-2008 Israel was shaken by a scandal with President Moshe Katsav, who resigned in the middle of 2007, admitting harassment was true. In France, in August 2012, in the wake of the famous scandal with the former head of the International Monetary Fund, Dominique Strauss-Kahn, a law on sexual harassment was passed, which provides for up to 2 years of imprisonment and 30 thousands of euro fines, and under special circumstances a prison sentence can be extended up to three years, and a fine - up to 45 thousand euros.
Gender Intervention

In Russia, attempts to push through the new norms of the so-called "sexual behavior" began with 2005, with the adoption by the State Duma in the first reading of the draft law "Gender Equality" introduced by Deputy Yekaterina Lakhova (Federal Law No. XXUMX-284965 "On State Guarantees of Equal Rights and Freedoms of Men and Women and equal opportunities for their realization (On State Guarantees of Equal Rights of Women and Men) ".
The law contains the concept of "gender", that is, "social gender" - a person's own idea of ​​which sex he belongs to, and not what he was born; ideologists of gender theory argue that sex is just a "social construct": what the child is accustomed to, so he will consider himself; the adoption of gender ideology (gender mainstreaming) as the main vector of public policy has become for countries an entry ticket to the European Union.
This draft law is a model one, uniform for all states, and already on its basis the corresponding national legislation is then formed. After its adoption, "gender" should become a new norm in Russia, a marker of trustworthiness and adequacy of a citizen, and society will have to legitimize distortions and give priority to the rights of so-called "gender groups", which the media are now "politically correct" called "LGBT community"; for the current majority, "positive discrimination" is provided until the moment when traditional and non-traditional parts of society equalize quantitatively; For "discrimination" of sodomites, criminal liability and fines ranging from 500 thousand to 1 million rubles in favor of the "offended" (not in the budget); sexual harassment (harassment) is also subject to mandatory punishment; and for authorities, political parties, judges, the government, the institution of the presidency, mandatory "gender" quotas are prescribed (the allocation of seats is strictly in accordance with the existing "gender" groups) and much more.
In 2011, the law E.Lakhova was supplemented and prepared for the second reading by deputy Elena Mizulina, but public resistance did not allow him to push through, so another year later the lobbyists attempted to adopt it in parts, namely, to push the "harassment" (p. 3 Art.4, Chapter 1, p. 3, p. 2, Art. 4, ch.1, p.4, Art.2, ch.5 of the Federal Law No. XXNX-284965).
In September, the already well-known scenario was used by 2012: a certain Yulia Kolyadina filmed and posted a video about social networks about her at Kursk railway station, Chistoprudny Boulevard and other crowded places in Moscow, where she walked around in a miniskirt ". How many days she provoked the opposite sex, were there any people who "tried" to meet her, were really unfamiliar to her, no one would know, but in the end she mounted and posted a video clip on the Internet, where "every frame" rushed at her men who see her. Moreover, they behave quite tolerantly in the frame - they just offer to meet or take a walk, but a competent installation puts emphasis on the right key.
Following this, Kolyadina announced the creation of a "new social movement" in Russia called "Rosnakhal" and with September 19 came with friends to the State Duma on a picket demanding to adopt a law to protect women from sexual harassment. These demands were immediately publicly supported by State Duma deputies Maria Maksakova-Iggenbergs, Gadzhimed Safaraliev, Irina Rodnina and Sergei Kalashnikov, and Russian media reported that a bill was being prepared in the Duma that would provide for penalties for harassing women in the amount of 50 thousand rubles.
Thanks to the efforts of the public, this attempt failed, but the intentions of certain forces to destroy traditional norms in Russia remained. And 7 March, 2014, MP Oleg Nilov, in his own words, "made a gift to women" and introduced the State Duma bill N467782-6 "On Amendments to the RF Code of Administrative Violations in Determining the Protection of Women's Rights from Sexual Harassment" fine 30-50 thousand rubles, or compulsory work for a period of from eighty to one hundred twenty hours - not only for harassment, but also for ... "courtship against the will of a woman."
The public repulsed this attempt, and in June 2015 was again remembered of the harassment - the Russian media flew around
news
: "Human rights advocates advocated criminalization of sexual harassment." In the role of the next "agent of change", the head of the so-called "Association of Lawyers of Russia for Human Rights" (the struggle to legalize same-sex marriage and the right to adopt children for homosexuals) was the advocate of "Maria Bast", who is also Yevgeny Arkhipov, periodically changing into a woman's dress married to the press secretary of his Association, Yulia Huseynova, the author of the famous provocation near the Ministry of Internal Affairs (A. Budaladze's film "Litsedei", at 23 minutes), he is also the lawyer of the former State Duma deputy Ilya Ponomarev. But this attempt by the public was prevented.
Information war on values
The initiators of gender changes in their activities are distinguished by their consistency and ability to work on mistakes: it is not possible to fully adopt the gender law - try in chunks; it did not work out with the laws - they work with the perception of citizens with the help of videos and pickets at the State Duma; society has not responded to this - they switch to large-scale changes in public consciousness.
Flashmob model # YaneWould be told to say that they had been tested in 2015 in Turkey, when after killing the 20-year-old student Ozgejan Aslan on the social networks, the hashtag #sendeanlat ("tell your story") was launched, of course, about cases of "sexual harassment and violence" . February 14 (the so-called "Valentine's Day") in Turkey, a protest rally was held, the participants of which demanded the resignation of the Minister for Family Affairs and Social Policy in connection with the death of Ozgedjan Aslan.
And in 2016, a flash mob project was launched through Ukraine to Russia # Yane I am Afraid to Say, and it looks like this time everything worked out for them: besides the nightmarish stories-blanks, a lot of comments-shocks appeared in the action: "I didn't think everything was so scary "," Poor women, what they go through, "" Well done, you, that you dared to talk about the violence experienced. "
This is the very result that the authors went to - to create in society a firm conviction that all men are potential sources of terrible danger, that they do not own themselves, and that they need to be protected from them, that is, ultimately to sow enmity between the sexes, to form primordial contempt for men, to provide for them a punishment only for the fact that they are. According to the authors, harassment should become a new social norm, the notorious universal value, the rejection of which in the future will be fraught with serious sanctions for the individual.
From the point of view of the information technology "Overtona Windows", flash mob # Yane I Am Saying made the "translation of the unthinkable into radical": he abused the forbidden topic of sexual violence (broad discussion includes the mechanism of social infection), brought it to the publicity zone, added a halo of familiarity, routine, prevalence, gave an unexpected opportunity for latent (hidden) rapists to strengthen their positions: how many were not caught, and I can. And to the injured women, instead of turning to law enforcement officers, he proposed a new, illogical way of public exposure, a kind of exhibitionism. At the same time, as psychologists say, women get "secondary benefits" - everyone pities them, sympathize, listen / read, "put likes", and these notorious "likes" positively reinforce the erroneous behavior and allow women to develop a destructive behavioral stereotype.
Apparently, soon there will be stories in the media and social networks that male aggressive sexuality is a mundane thing and the magnitude is unchanged, that in today's "society of sexual maniacs" only women can become real guardians, and only the "values" of feminism are woman's independence from a man (including material), competitiveness or even antagonism with him, can save society, and also that it is feminism that is the most important, original, historically confirmed component of society's life, The sign of its maturity.
The society is already beginning to gradually prepare for this - it was not for nothing that after the murder of a Turkish student, and after the mass rape on New Year's Eve 2016, in Cologne, local men took part in protest actions, wearing ... women's skirts. The incomprehensible to an ordinary person the filling of such an action has an absolutely logical symbolism - this is a demonstration of a costume belonging to a power group, a group of winners; that is, evidence that feminists have already achieved that men voluntarily put on women's clothing as a sign of their superiority. And this is the teaching of society to a new model, in which the floor is just a "social construct", "gender". It is significant that the brutal Turkish men agreed to wear women's clothes, although at all times this was considered to be an indelible disgrace, and mini-skirts are now considered to belong to the wardrobe of a woman of easy virtue.
Another detail: in Egypt, 2014 introduced criminal punishment for harassment and tweeted the hashtag # هنتحرش_بالرالة, which roughly translates as "we will sexually harass men," and this is also a signal that our feminist positions are fixed.
The "skirts" baton was picked up by Azerbaijani social network activists, who launched a new action with the hashtag #ozgecanicinminietekgiy, initially in support of the murdered student - put on skirts, took photos and shared them in their profiles on social networks, and eventually made an unexpected twist in goal setting, saying in this way they support ... "the freedom of women to wear European clothes."
This is undoubtedly a deliberate deformation of the gender-role identity, and the blow is directed primarily at the nation-states, which still stand on the positions of traditional models and values. It is not for nothing that the Heinrich Böll Foundation, known for its efforts in promoting "gender equality", announced in May 2015 the results of a "comprehensive study of the status of women in Chechnya, Ingushetia, Kabardino-Balkaria and Dagestan", whose residents allegedly included "lack of equality, restriction of women's freedom, control by men, strict religious norms and lack of protection against violence or injustice ", which ultimately should convincingly show to the whole world that tradition and cons rvatizm - obsolete trash and prison for the individual.
And finally, the main symbolism of flash mobs is that, for example, a flash mob in Turkey related to the murder of a student, started on the so-called Valentine's Day (Valentine's Day), and in Russia - the Day of Family, Love and Loyalty, that is, the direction of the attack is stated unequivocally: family and love, traditional values ​​and morality.
Juvenile Gender Tomorrow
In order to pre-empt accusations of supporting violence against women, it should be emphasized that any violence has no justification, against whom it would occur - women, men, children, old people. The rapist must always be responsible for his atrocities - according to the law and in full. But in this case, it is not the topic of violence that is being discussed, but the essence of global mystification and manipulation of public consciousness with the help of this topic. And it's not by chance that lobbyists of the juvenile-gender reorganization of the world send their loyal "trolls" to all corners of the information space and launch intelligently tuned "bots" - in this war, the one who forces society to think in the right way, to operate with concepts specially prepared for it, to rush into the enemy that will be indicated. This is the very reformatting of the nation, to which we are persistently led by transnational directors.
Now technology is being developed in Russia, but its goal is to change the spiritual and moral foundations of all mankind. A wedge driven by such a strategy between the sexes is a real anti-demographic measure and a globalist intervention that invariably spreads "different sexes" along different shores and destroys the foundations of national and cultural identity. Men will start to avoid women because of the fear of serious punishment, and they will have nothing left to do but to look for societies of their own kind - after all, there is no punishment for courtship and harassment towards their gender.
But that's not all: among the creepy flash mob stories and illustrations to them, no, no, yes, the theme of "domestic violence" will pop up, which is not yet harassment at all, but which is being made so much under the guise of it. Moreover, to carry out such a transformation is easy enough - you just need to give the status of rapists to their husbands, and mark the family as a place of violence. And if the family is a place of violence, then it is clear that children are the first to be subjected to violence, and then this is the basis for the introduction of juvenile justice, as evidenced by the real juvenile norms adopted by 3 June 2016 of the year in the Russian legal field ( Law №383-ФЗ).
Thus, lobbying the actions of introducing gender ideology in Russia and pushing juvenile justice are locked in a single chain. And judging by the personalities, it looks like this: for example, on the website of Radio Liberty a flash mob Yane is afraid to tell verbally that the lawyer Marie Davtyan, who is also an active member of the State Duma working group under the leadership of Deputy Salia Murza domestic violence. And the petition launched on the website Change.org for the introduction of a juvenile law on family violence of an activist Alena Popova is a business partner and faithful ally of the former deputy Ilya Ponomarev, who actively opposed the law banning the propaganda of distortions to minors. And there are plenty of such "coincidences" in the Russian public and political space.
Combining strategies, lobbyists are working to create a complex juvenile-gender ideology, when new concepts and ideas will become the basis of Russian society and reformat the nation.
The technology is very simple: to exaggerate the size of the phenomenon in the media space a hundredfold, giving it the appearance of a pandemic (a disease that has engulfed the entire globe); reinforce their assessment of an out-of-place and arbitrarily compiled "statistics" that, for example, asserts that "every 40 minutes in Russia one woman dies from domestic violence - over the year it is about 14 thousands of victims", or that "85 percent of children are abused in their family "; conduct a large-scale information campaign, prepare the public consciousness for the adoption of new norms and, as a result, legislate them.