The Central Naval Portal has discussed the next delay in the delivery of the new US Navy aircraft carrier "Gerald R. Ford" with an expert in the field of aircraft carrier
fleet
Prokhor Tebin. The expert said why criticism of this project regularly appears in the press, what are the similarities between aircraft carriers of the Gerald R. Ford type and destroyers Zamvolt, and why Russia can repeat the American experience of trial and error in the construction of new aircraft carriers.
Information about problems with the take-off and landing equipment of the aircraft carrier Gerald R. Ford was made public on Tuesday, July 26, with reference to the US Department of Defense Test and Evaluation Department, Michael Gilmore. In a conversation with TsVMP Prokhor Tebin stressed that criticism from this department should not be taken as evidence of the low quality of the aircraft carrier equipment.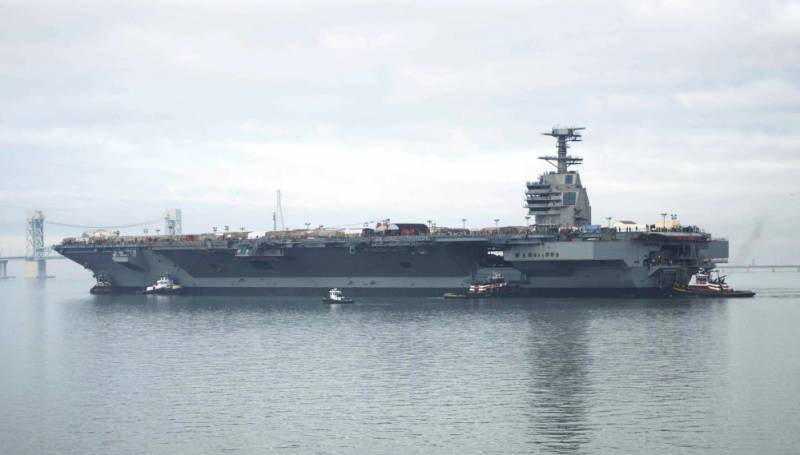 Nuclear aircraft carrier "Gerald R. Ford" US Navy
"Now they like to replicate the retellings of the report of the Director of the US Department of Operational Testing and Assessments, without going into details and details. You need to understand that this division of the Ministry of Defense is engaged in testing new equipment for its suitability for arming. This is analogous to our military acceptance, which includes detection of all faults. If their report consists of criticism, it only means that they have done their job well. But this does not always allow us to say that some type of weapon that they criticized and bad, "- said the expert.
According to Prokhor Tebin, the next postponement of the delivery of a promising US Navy ship may be related to the number of innovations that the designers tried to fit on board the aircraft carrier.
It is worth remembering that "Gerald R. Ford" has not yet been handed over to the fleet and this is the first ship of a new generation, which uses a large number of new technologies. The problem of the American fleet is that at first they wanted to introduce innovations on aircraft carriers of this generation gradually, during the construction period of the first three ships. That is, a couple of new technologies on the first ship, a few more - on the second, and so on. And then they decided to put everything in one head. As a result, we got expensive and complicated unfinished construction. New technologies introduced in this aircraft carrier can provide great opportunities. These are, for example, aerofinisers (turboelectric - Ed.) And electromagnetic catapults. But on the other hand, it is not yet known how they will behave in reality and whether their hopes are justified. In the carrier fleet, Americans are holding the lead, constantly learning something new, and, of course, they run into problems along the way. The faults they are talking about now were two years ago. Whether it is a catapult or an aerofinisher, they must work actively and smoothly during flight operations. There are standards that say that there should be no more than one failure for a certain number of take-offs, which stops the work, for example, of an aerofinisher. And now this figure is much higher. This suggests that the birth of new technologies is a very painful, expensive and lengthy process.
Despite the delay in adopting Gerald R. Ford as part of the US Navy, the US Navy today does not lack aircraft carriers due to operating a series of Nimitz type ships.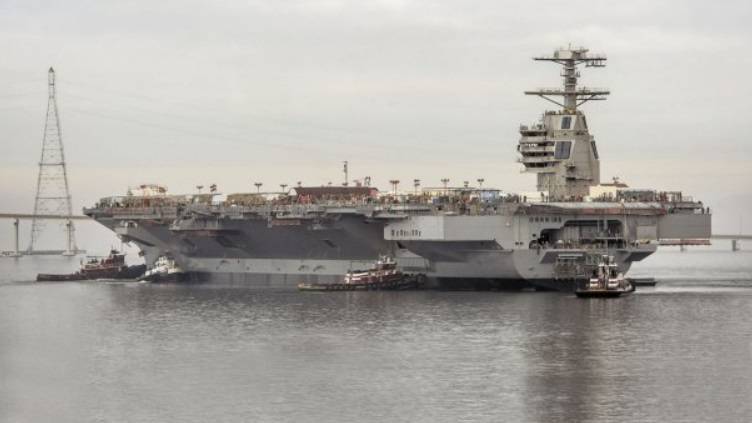 Aircraft carrier under construction "Gerald R. Ford"
"Carriers of old projects, such as the Nimitz, will remain in service for a long time. The newest ship of this series is not even ten years old, and the oldest will serve until 2025 of the year. Now the US congressmen are unhappy that the law 11 aircraft carriers in the fleet, and in fact their 10.When decommissioned "Enterprise" (the first nuclear aircraft carrier of the US Navy - Ed.), It was not replaced immediately. It should be replaced just "Gerald R. Ford", but when he will make, not really clear, "- said Prokhor Tebin.
However, to continue the construction of aircraft carriers such as "Nimitz" just will not, because "Gerald Ford" just is a deep processing of "Nimitz" using a large number of new technologies. Perhaps some of these technologies in the future will seem unnecessarily expensive or not reliable enough, and they will be abandoned in favor of older and proven ones. As an example, a situation from the adjacent field related to the construction of the Zamvolt destroyers in the USA,
weapons
which are the most modern 155-mm guns AGS, which shoot fabulously expensive projectiles at a distance of more than 100 km. This was considered a breakthrough technology project, its main advantage. But for the same critics and scolded him. Technology does not stand on the spot and in the USA they come to the conclusion that it is more efficient to make not expensive rocket-shells and special cannons for them, but simply high-speed shells for standard guns. Perhaps it was the allocation of huge funds for Zamvolt that pushed technology toward an optimal development vector. It can also be with aircraft carriers.
Problems with breakthrough technologies in the construction of an aircraft carrier fleet in the United States have been noted before. In particular, due to technical difficulties, the project of the Enterprise-type ships did not continue.
"If you turn to
stories
, there were very big problems when they handed over the Enterprise. It came out very expensive, very difficult, and because of it for a long time the development of atomic aircraft carriers stopped. There were significantly more reactors on it than on Nimitz, eight to two. This turned out to be unjustified, so the Enterprise was the only one of its kind and for some time in the United States returned to non-nuclear aircraft carriers, "the source told TsVMP.
The problems experienced by American shipbuilders with Gerald R. Ford's equipment can be repeated in the construction of new Russian aircraft carriers, if the equipment is not built up in practice, the expert believes.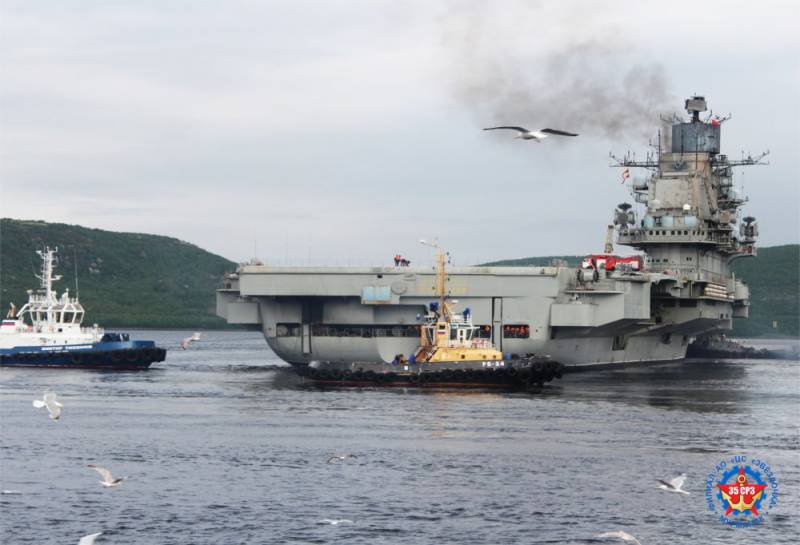 TAVKR "Admiral Kuznetsov" take to the raid with 35-th ship repair plant
"In recent years, we (in Russia - ed.) Had experience of operating one aircraft-carrying cruiser with a small air group that did not take part in real hostilities. And the Americans continued to operate aircraft carriers for almost 100 years, and nuclear ones - more than 50. Build A new aircraft carrier is a difficult task in itself, and when there is not enough practical experience, it's difficult to get something good out of the output. A new Russian aircraft carrier can either be a logical development of the existing operating experience of Admiral Kuznetsov, or something new, but then we will go our own long trial and error, "explained Prokhor Tebin.
The aircraft carrier Gerald R. Ford, whose equipment problems are currently being discussed in the United States, was laid down in the 2009 year. It was supposed to transfer the Navy ship back in the 2014 year, but the dates were shifted first to 2016 and now to the 2017 year. The cost of building an aircraft carrier, which is currently approaching 13 billion dollars, also grew proportionally. It is worth noting that this amount includes expenses in the amount of 3,3 billion dollars for the design of the entire series of aircraft carriers of the new generation. For comparison, the cost of a serial aircraft carrier of the Nimitz type is estimated at 4,5 billion dollars. Compared to its predecessors, ships such as "Gerald R. Ford" will be able to be operated by smaller crews, while providing up to 220 sorties per day.