It became known about when and where the President of Turkey Recep Tayyip Erdogan will hold a meeting with President of the Russian Federation Vladimir Putin. The fact that this meeting will take place, and it will be held in Russia, was previously reported by the press service of both presidents. Now there is a specifics in this question.
Turkish Deputy Prime Minister Mehmet Shimshek said that the leaders of the two countries will meet on August 9 in St. Petersburg. This is reported by the news agencies of the two countries.
Political scientists, "pushing each other", rushed to make predictions about how much the foreign policy of the Russian Federation and Turkey will change in relation to each other after the St. Petersburg meeting of Putin and Erdogan.
Recall that earlier information appeared about the meeting of Vladimir Putin and Erdogan not earlier than in September on the margins of the G-20 summit.
Against this background, the reaction to the attempted coup d'etat continues in Turkey. Thus, the Turkish authorities have published materials that, in their opinion, are evidence of involvement in the attempted coup by preacher Fethullah Gulen. These "evidence" in the form of infographics published on the website of the information agency
Anadolu
: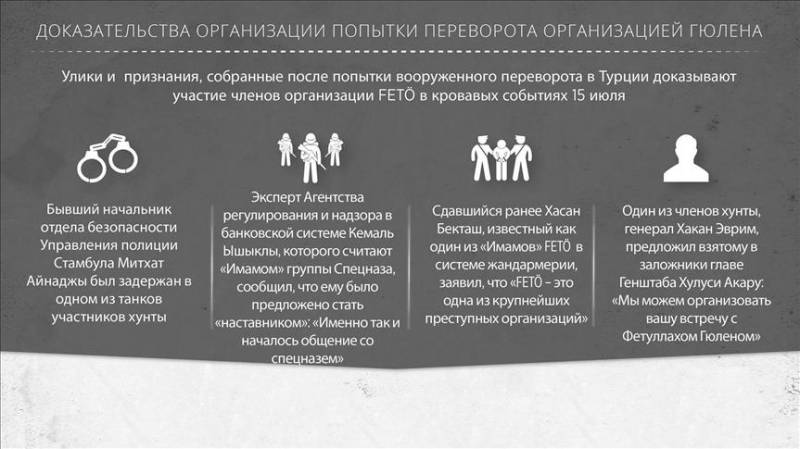 This and other information obtained by the Turkish secret services after interrogation of arrested soldiers of the Turkish army. Meanwhile, supporters of Gülen claim that the testimony of those arrested was knocked out "under torture."