The rocket brigade of the Western Military District, equipped with Iskander-M operational-tactical missile systems, began the planned field exercises. According to the press service of the ZVO, the events will be held at the site located in the Leningrad region.
It is reported that in the framework of training activities, combat calculations will perform both single and group rocket attacks. At the same time, attention is focused on the fact that actual rocket launches will not be carried out. Instead, an imitation of attacks by command posts and a radar of a conditional enemy located at a distance of several hundred kilometers from the location of the Iskander-M OTRK will be carried out.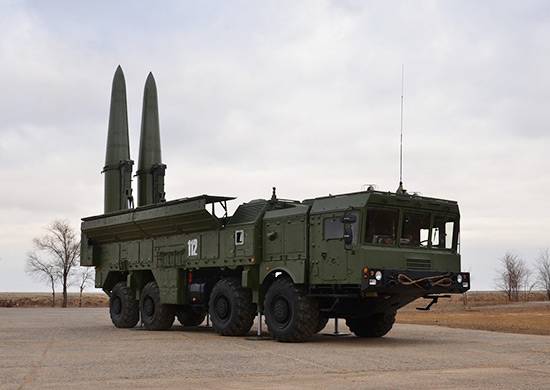 Press Service ZVO
:
The rocketmen carry out a set of activities for the preparation and removal of equipment from the park in conditions of full blackout and radio silence, work out the actions when making a march over rough terrain bypassing public roads and taking a starting position. About 100 military personnel take part in the classes and more than 50 units of combat and special equipment are involved.
Training activities in the Leningrad region once again provoked a strong reaction from the Baltic neighbors. Despite the fact that rocket launches will not be made on the fact, the "counter threat" option is already being discussed in the Baltic mass media.
Today in Estonia it turned out that the threat comes not only from "Russia", but also from ISIS. An unknown person called the security police and, stating his involvement in ISIS, said that he planned to seize one of the planes flying to Germany at the Tallinn airport this week. Security measures at the airport of the Estonian capital strengthened. Reports about it
postimees.ee
.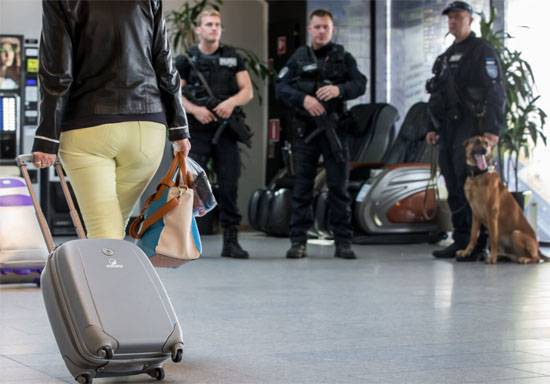 Looking at this photo, it is not entirely clear what exactly the photographer tried to focus on: "reinforcement" in the form of three policemen with a dog or ... well, you understand ...
Recently, in the Baltics, another survey was conducted on where the threats to the security of the region come from. The majority of respondents in Lithuania, Latvia and Estonia (about 62%) stated that international terrorism poses the greatest danger. The "Russian threat", despite all the tricks of NATO, in the Baltics "see" no more than 20% of the population.