A new serial icebreaker project 22220 "Ural" was laid today at the Baltic plant in St. Petersburg, reports
RIA News
.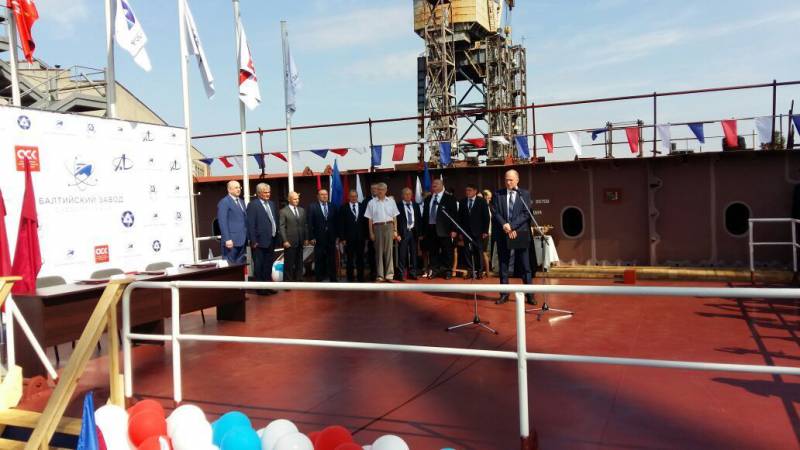 "Ural" will become the second nuclear icebreaker of this project. The lead ship "Arktika" was launched in June of this year.
"We are even laying ahead of the icebreaker. According to the schedule, the Ural icebreaker was supposed to be laid out in about two months. It is fundamentally important for us that the pace that the plant gained, which the staff involved in building new icebreakers did not stop ... We provide accelerated financing for the Baltic Plant, all necessary advances are listed at the end of June, "said the head of Rosatom, Sergey Kiriyenko.
"This series of icebreakers is crucial for the country's defense, for competitiveness in terms of transit along the Northern Sea Route and for developing unique shelf resources in the north of the country",
he noted.
The agency's reference: "Nuclear icebreakers of the 22220 project are necessary to ensure Russia's leadership in the Arctic. They will be able to conduct caravans of ships in arctic conditions, breaking through ice up to three meters thick. New ships will provide wiring for ships carrying hydrocarbon raw materials from the fields of the Yamal and Gydan peninsulas, the Kara Sea shelf to the markets of the Asia-Pacific region. The two-draft design of the vessel allows using it both in the Arctic waters and in the estuaries of the polar rivers. The technical design of the nuclear-powered icebreaker was developed by Iceberg Central Design Bureau in 2009. "