Before you sort the countries by the percentage of positive doping samples (according to WADA):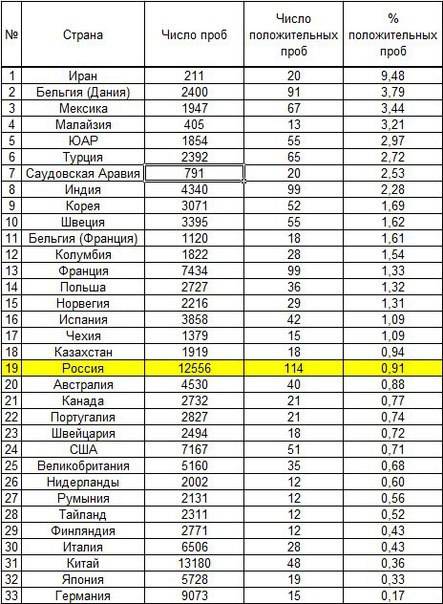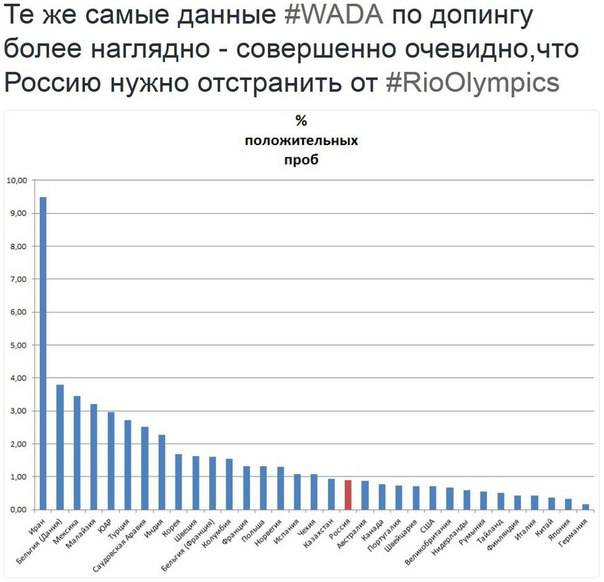 Yes, yes, part of the Russian national team was dismissed for less than 1% positive samples. National teams with higher rates quietly continue to participate in competitions on general terms.
And these 0,91% Western sports organizations and the media, and with them our "liberal" bloggers and "free-thinking" Internet communities, are called "total doping use" and are trying to present the only reason for Russia's victory at the Sochi Olympics and sufficient grounds for exclusion. from future competitions, trying to devalue the honest work of hundreds of our athletes.
They are happy to use the opportunity to justify the unexpected sporting triumph of Russia on OI-2014, creating a template for the Russian athlete as a fraudster, able to win only under the influence of prohibited drugs.
In pursuit of ratings and likes (and therefore profit), numerous entertaining communities gladly pick up pictures about "Russian crooks", voluntarily or involuntarily becoming one more gear in the propaganda machine mechanism and spreading the cliches acceptable to it among a wide audience.
examples: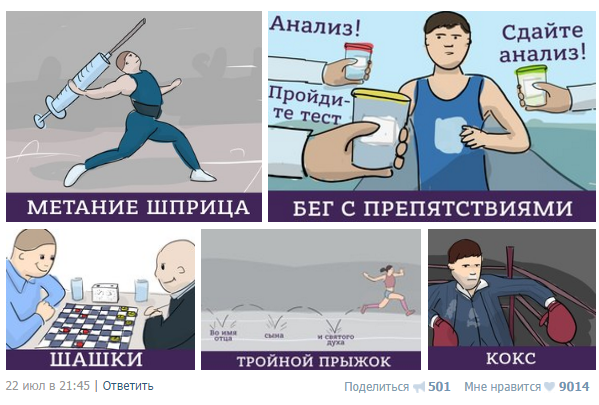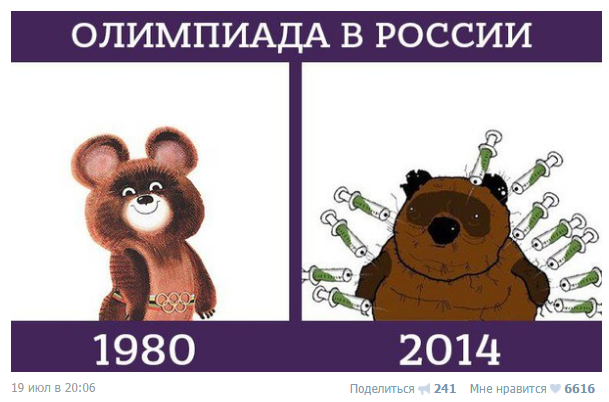 It is noteworthy that many users who usually flaunt their "critical thinking" without any extra questions "hawk" content and actively like and repost new "memchiki", in fact swallowing an insult to their own country (and, therefore, to themselves), and even experiencing pleasure from it. Alas, not everyone is trying to really understand the situation.
We are witnessing how sport, as if during the Cold War, is becoming another element of political and informational confrontation. But now we have no mechanisms capable of effectively resisting it. Any rebuttal always remains in the shadow of the original informational stuffing. Despite the presence of clear evidence to the contrary, the stereotype about the dishonesty of the Russian sport will linger in the public consciousness for a long time.
Link to the report, the data of which are given in the table and graph: https://www.wada-ama.org/en/resources/general-anti-doping-information/2014-anti-doping-rule-violations-adrvs-report.