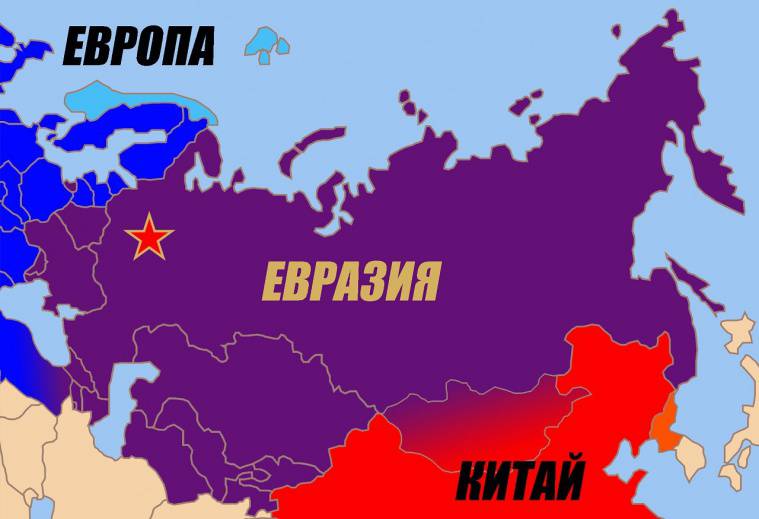 In the wall of disciplined European obedience to the United States, a significant crack suddenly opened. I am not only talking about the possible long-term consequences in US-European relations in connection with Britain's decision to leave the European Union.

But also about the incredible blow to the information war of Washington against Moscow, inflicted by German Foreign Minister Frank-Walter Steinmeier, who ten days ago absolutely terrifyingly accused NATO of "inciting war" with Russia.
Since the Bush administration perverted the events of the Russian-Georgian war of 2008, which the EU blamed on Georgia, the western population was constantly informed that Russia was a "threat" to the West and was guilty of "aggression." This peaked in the fake scenario of events in Ukraine, when clear evidence of Western complicity in a violent coup d'etat disappeared from corporate media reports, and Russia's help to residents of eastern Ukraine who resisted the coup was presented as a Russian "invasion."
The campaign of disinformation has reached the pinnacle of pop culture, including Eurovision and doping scandals in sport, seeking to provide broad popular support for the US intentions towards Russia.
The plot of the Russian "aggression", based largely on silence and lies, paves the way for the United States to deploy missile defense systems with offensive capabilities in Romania and conduct large-scale NATO military exercises as part of the 31 000 troop contingent near Russia's borders. For the first time in 75 years, German troops followed in the footsteps of the Nazi invasion of the Soviet Union.
US plans for Russia
The US is eyeing Russia after Putin's departure, in which a Wall Street-friendly leader, like Boris Yeltsin, would re-open the country to exploiters from the West. But Vladimir Putin is not Yeltsin, he turned out to be a hard nut to the USA. Washington's manner of action is constant provocation and accusations of the opponent until he decides to stand up for himself, as Putin's Russia did, and then accuse him of "aggression" and attack in order to "self-defense".
Thus, Washington is building popular support and resistance to a different interpretation of events. Unfortunately, this is by no means a new device in the American action plan. "Government officials will come up with cheap lies, putting the blame on the country they are attacking, and everyone will be satisfied with these shameless fakes, will diligently study them and refuse to check for any denials; thus, they will more and more convince themselves that the war is about to begin, and they will thank God for a good sleep after this grotesque process of self-deception, "wrote Mark Twain.
And now, suddenly, after many years of a flawless anti-Russian campaign, which hundreds of millions of Westerners believed without hesitation, Steinmeier comes out last week and blurts out the most important truth about Russia, not spoken by Western officials for many decades.
"What we should not do now is continue to escalate the situation, sagging weapons and inciting to war, "Steinmeier deafeningly told the newspaper Bild am Sontag. - Who would not believe that symbolic tank a parade on the eastern borders of the alliance will bring security, he is mistaken. "
Instead, Steinmeier called for dialogue with Moscow. "We are wisely advised not to create pretexts to renew the old confrontation," he said, noting that it would be "detrimental to seek only military solutions and conduct a policy of deterrence."
While adhering to this strategy, the American corporate media virtually ignored comments that should have been on the front pages of newspapers. The New York Times did not report on Steinmeier's statement, but two days later it appeared in Reuters, but only online, followed by the US military's rejection of his remarks.
NATO General: Russia is not a threat
Just a day after the appearance of Steinmeier's statements in the Bild, General Peter Pavel, chairman of the NATO military committee, blew up another bomb. Pavel said at a press conference in Brussels that Russia is not a threat to the West. "The goal of NATO is not to create a military barrier against large-scale aggression by Russia, since such aggression is not in the plans, and no intelligence information of this type confirms," he said.
What? What happened to the "aggression" of Russia and the Russian "threat"? What then do all the fears that pour out on the heads of Western citizens every day mean? Is this all a lie? Two extraordinary official confessions by Steinmeier, the foreign minister of the most influential European country, and the current NATO general responsible for the military committee, and both of them reveal that Western politicians do repeat a lie every day; This is a lie, what they say in private, but never before dared to give a hint about it in public.
Two years ago, I was at a not-so-important briefing with the European ambassador to the UN in New York, and I could hardly believe my ears when he said that the Russian threat to Eastern Europe was "just an advertisement" that was intended to provide NATO with for existence. " But the same ambassador officially at meetings in the Security Council frantically attacked Russia!
But "advertising" is not just designed to save NATO. The fear-spreading campaign feeds the American and European war industries and, most importantly, puts pressure on the Russian government, which the US wants to overthrow.
Have these statements been made because of irritation from the understanding that the Russian threat is an empty advertisement? Or out of sincere concern that the situation could get out of control during reckless and illusive leaders in Washington, leading the case to a "hot war" with Russia with everything that goes with it?
None of these two were punished for what was said. Is this a sign of change in the official thinking of Germany? Will they listen to German businessmen who did business with Russia and opposed sanctions against Moscow because of Ukraine (to which Germany was forced by the United States)?
Were Steinmeier's words rebellious, or was Germany really thinking about resisting Washington's sanctions and regime change in Moscow? Is the German government finally acting in the interests of Germany? Such a move would have caused European resistance to the United States, unprecedented since Charles de Gaulle, in 1966, pulled France out of NATO in order to preserve French independence.
Last time, European governments broke up with Washington on a significant issue in 2003 due to the American-led invasion of Iraq. Then France and Germany in the UN Security Council joined Russia, blocking approval. Britain supported the United States. But then, a few months later, France and Germany voted in favor of the resolution, which, in fact, condoned the invasion.
This is a matter of European society.
The main view is the German public opinion about Russia. Last November, I flew from St. Petersburg to Berlin and discussed this issue with many well-educated Germans.
I first visited Russia in 1995 year, twenty years ago. These were the times of Yeltsin and Jeffrey-Saxon Russia, an unlimited neo-liberal capitalist alliance of Wall Street with the oligarchs who robbed the country, leaving millions of Russians in poverty. At the stations I saw campgrounds of the homeless with a mass of fires. The police stopped the drivers to get a bribe. I ran away from two men intending to rob me, until I lost sight of them at the subway station. Such Russia and want to see again the Washington neocons and rogues and pirates from Wall Street.
Russia, which I saw later in 20 years in St. Petersburg and Moscow, has become neat and prosperous, modern, like any large European city. This indicates Russia's resistance to American attempts to regain its political and economic control. Russia is a capitalist country, but very peculiar. She is fully aware of the American machinations started in order to negatively affect her.
Polls of German public opinion show that most Germans want to improve relations with Russia and consider the USA as a major threat of war. And yet, three times German voters gave the mandate to the pro-American right-centrist Angela Merkel to form a coalition government.
In Berlin, I met with several German liberals who were educated and fully aware, unlike most Americans, of how the United States abused its influence after World War II. But when I asked them why 70 years after World War II and 25 years after the end of the Cold War, American military bases remain in Germany, and from whom the Americans protect them, the general answer was from Russia.
History
shows that European fears of Russia are inflated incredibly. Germany and other Western countries over the past 200 years have invaded Russia three times: France in 1812, the USA, Britain and France in 1918, during the Russian Civil War, and Germany in 1941. This, apart from the invasion of the Russian Empire into East Prussia after the declaration of war in 1914, no longer existed.
In his memoirs, Harry Truman recognized that false fears about Russia were "the tragedy and shame of our time." It was during the Cold War, which he had to deal in part with the goal of restoring the post-war US economy with military spending. George Kennan, the State Department spokesman, who proposed non-military containment of the Soviet Union, came to the conclusion in 1947 that the steps of the Soviets in Eastern Europe were defensive and did not pose any threat. In 1990, Kennan condemned the expansion of NATO to Russia's borders.
With its rich natural resources, Russia for many centuries was considered to be a major "prize" for the West, and it still remains for those controlled by the neocons of Washington. But Germany, in particular, has always benefited from trade with Russia, and she does not need to join the US imperial project.
The decision of British voters a few days after Steinmeier's extraordinary statement probably heralds a significant change in Europe, which, perhaps, is approaching historical unification in its relations with the United States. Growing anti-EU sentiments are spreading across the continent, including appeals for similar referendums in several more countries.
British voters, obviously, looked deep into the empty advertising of the Russian "threat", since the majority did not buy into the British Prime Minister David Cameron's intimidation tactics before the vote - that Brexit would complicate the "fight against Russian aggression."
Britain was called the Washington "Trojan horse" in the EU. The idea is that without Britain, the EU would be more free to choose its own course. But, as Alexander Merkuris explained, Obama, bypassing London, turned his demands directly to German Chancellor Angela Merkel. And yet without the voice of Britain in the EU - although, more importantly, it does not concern NATO - there is more room for more independent votes in Europe.
"It worries me that we will have less influence - in the future we will not have such a strong influence on Europe's response to Putin's abuses, Iran's nuclear ambitions or EU foreign policy and security policy," said Peter Westmacott to The New York Times, until January. British Ambassador to the United States. "And we will be less able to provide a friendly attitude towards the United States."
If German leaders come to the conclusion that the US is pushing Europe toward a disastrous war with Russia, will we not see our Charles de Gaulle in Berlin? Apparently, Merkel does not understand this. Three days after Steinmeier's statement, she favorably stated at a press conference that she would prefer to increase Germany's expenditures to NATO in order to counter Russian "threats."
Instead, it will require a revolt of awakened citizens against both the EU and the elected European governments who refuse to adapt to Washington, mainly because it is in their class interests to act profitably to the detriment of the majority.
Future of the EU
European Social Democracy is probably the best social and political system ever developed on the planet, perhaps the best possible for humanity. Europe could become a model for the world, as a neutral force committed to social justice. Back in 1988, Jacques Delors, the then president of the European Commission, promised the British Congress of Trade Unions that the EU would be a "social market".
Instead, the EU allowed itself to be sold to non-elected and unaccountable neoliberal technocrats, who now rule in Brussels. European voters probably do not quite understand the consequences: elected neoliberal national governments slavishly follow foreign policy orders from Washington. But Brexit shows that these voters are beginning to understand the situation. Unity is fine, but EU leaders refuse to admit that it should benefit all Europeans.
The EU Treaty of Lisbon is the only constitution in the world that contains neoliberal policies. If it is not reformed - and the arrogance of EU leaders suggests that this will not be done - then the European population will have to reduce or dismantle the EU with further referendums. This would give liberated European nations a chance to elect anti-neoliberal national governments that are accountable to voters, who, among other things, can choose a foreign policy independent of Washington.
The danger is that right-wing feelings, which in many ways push the movements in Europe against the establishment (and the US), can lead to the election of governments that will come even closer to Washington and will pursue even more rigid neoliberal policies.
This risk must be taken into account, in the hope that left and right opposed to the establishment will be able to unite around common interests in order to put an end to the "elite" European project.