Long work
A representative of Finmeccanica-Leonardo said that in addition to the resolution and the range corresponding to the task being performed, the optoelectronic systems for border security must be very reliable during the entire time of remote work and have long intervals between maintenance cycles. The company's division of land and marine electronic systems has developed a new generation of thermal imaging cameras that can operate without maintenance for 50000 hours! For comparison, the company notes, conventional cooled thermal imagers, as a rule, require replacement of coolant after 6000-9000 operating hours. Such a long time of continuous work is realized thanks to the new cooling engines that the company offers with its latest infrared cameras, including the Horizon.
The company also recently released a new line of multi-sensor optical-electronic systems under the designation NERIO, which allow you to detect various objects at medium, long and extra-large ranges, respectively, to 10 km, from 10 to 25 km and from 25 to 50 km. The systems include a cooled thermal imager, a color camera and an optional laser range finder on a gyro-stabilized panoramic rotary support, which can be installed on stationary or mobile platforms. The data flow from the sensors can be embedded into operational control systems or processed on-site using VANTAGE or ANTEO software packages developed by Finmeccanica.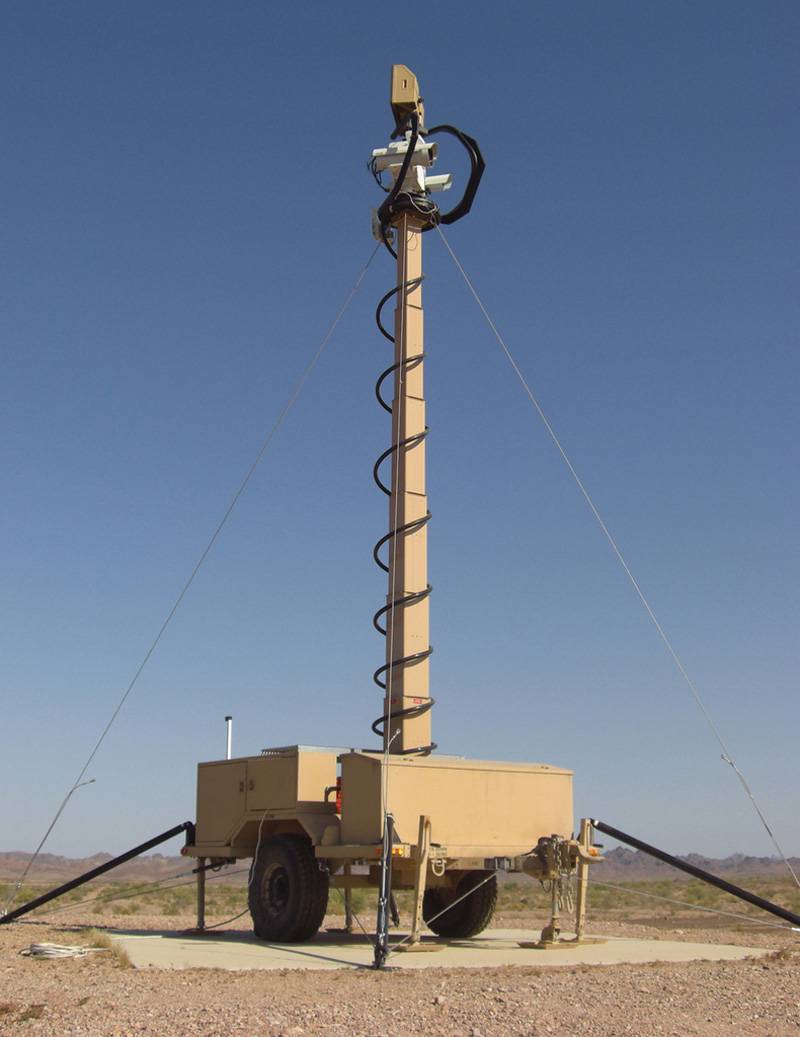 Distant Sentry is a flexible border security system that can be combined with land and sea radars, optoelectronics, automatic hired sensors, wireless communication systems, and mixed power systems.
Spectral bands
Mr. Bahat said that choosing a camera for round-the-clock work is not so easy as one would expect. For example, it does not always mean a combination of daytime television and thermal imaging cameras, because, depending on the external conditions, the latter can work during the day as well as they work at night. "Next comes the choice of infrared bands, which depends very much on local atmospheric conditions," he said. Medium-wave thermal sensors generate, in general, sharper images, but long-wave (operating in the near-infrared region of the spectrum) cameras work better in smoke and other curtains and in scenes with large temperature differences. Shortwave sensors (operating in the far infrared region of the spectrum) offer high resolution and natural-looking black and white images, since this part of the spectrum includes reflected light created by the natural glow of the sky (there are both day and night) or the backlight of the shortwave devices themselves. He explained that most customers are quite conservative in their sensor preferences. "Most of our clients choose daytime, nighttime and maybe shortwave systems, they emphasize image stabilization and enhancement." He added that they want to see the work of shortwave sensors during demonstration shows. "This is not yet a consumer product, although there is already practical work experience over 15 years."
Mr. Bahat drew attention to the trend of integration into the systems of protection and monitoring of the boundaries of multiwave optoelectronic devices. His company already offers an open-architecture solution in the form of a LOROS system (Long-Range Reconnaissance and Observation Solution), which can include a day-time camera, mid-wave and short-wave sensors, a laser range finder and a GPS system. All these sensors are arranged in a gyro-stabilized unit that can be controlled from ground and air workstation. With a mass of 85 kg and power consumption less than 700 W, the LOROS system features automatic object tracking, improved image processing and an extended range channel for transmitting video and data. "Users usually base their decision on economic efficiency," Carney continued. - For short-range tasks up to 2 km, they tend to choose an uncooled longwave system that costs less. For large distances, a mid-wave sensor is often chosen. For poor lighting conditions, a shortwave imager is preferred. For a cold climate, they usually choose cooled longwave devices, and when color recognition is important, then cameras of the visible range are selected. "
A representative of the Italian company Finmeccanica agreed with the combination of sensors, adding that long-wave sensors are also preferable when there is a significant deterioration in visibility from smoke and other curtains. However, he noted that progress in the field of cooled detectors with a matrix of sensing elements located in the focal plane (a matrix of photosensitive pixels used to form a digital image) over the past decade has improved their characteristics in all operating conditions to such an extent that most of the customers in currently chooses large format medium wave sensors. "Due to the increased requirements for detection range, recognition and identification, the choice of cameras shifted from uncooled systems to cooled sensors of the TV format (640 x 512 pixels) and even the high-definition TV format (1280 x 1024 pixels)," said the representative. The American company Flir Systems also works in the border guard business, supplying equipment for these tasks, which includes a large family of thermal imaging systems. The company's products, including for military and security forces, are in great demand in the world. The company offers to ensure the security of borders with cameras with the continuous increase of the HRS series, as well as the HCR MCT series cameras, Thermovision 2000 / 3000MS and PTZ 35x140 MS models. Flir Systems is also implementing joint projects, such as with Copenhagen Sensor Technology, whose border guard systems include a Spectrel PTZI-1000 panoramic thermal imaging camera with continuous zoom. Like her American partner, she has completed a number of major projects in the area of ​​border and perimeter security in recent years.
Mr. Olsen from PureTech also noted an increase in demand for cameras in the visible range, combined with mid-wave sensors, saying that "this gives a better contrast of the object with the background and a greater number of object pixels at the desired distances." He also noted the growing demand for uncommon opportunities, such as hyperspectral perception, which combines visualization with spectral analysis, which allows us to determine the spectral characteristics of individual materials. It is used on all large scales to identify broken ground, which may indicate the presence of various explosive items. Meanwhile, Mr. Chernobrov of Elbit mentioned the influence of local environmental conditions on the spectral ranges of the cameras, noting that sea conditions are very different from those in the desert or high mountains, while within these natural areas there may be significant differences, for example, different humidity in coastal areas. areas. Other requirements that affect the choice of sensor include face recognition, which requires medium-wave thermal imaging cameras or cameras of the visible spectrum, as well as very long detection ranges of military objects at night, which forces operators to switch to cooled medium-wave cameras with high-power optics.
Representatives of the companies mentioned in this article reported that they view radar as an additional technology in these applications, noting their ability to detect objects in dense fog when optoelectronic systems fail, and therefore offer systems that include radar. In addition, Mr. Olsen said that PureTech adds geospatial capabilities to his cameras, which he called "a strong link between the camera and the radar", which allows to get "simple" and "intelligent" automatic targeting capabilities by external target designation commands along with the analysis of belonging object. A simple transfer to a suspicious target is the ability to direct the camera to a specific point in latitude, longitude and elevation. Here it is also necessary to take into account the compensation of the speed of a moving object. "When an intellectual transfer occurs, the presence and type of the object is checked using video analysis and then measures are taken on the basis of this assessment," Olsen continued. "It could be tracking an automatic camera behind an object and marking it with an invisible laser beam or issuing a visual or audible warning."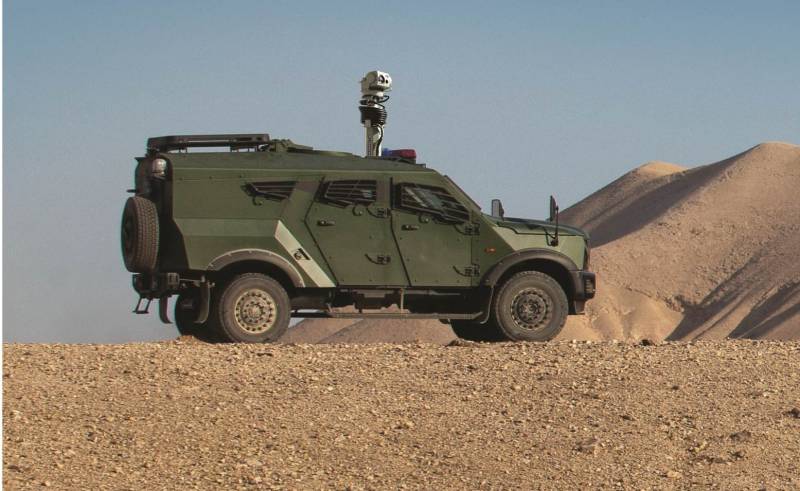 Industry representatives are talking about the growing need for multi-sensor surveillance systems that could be installed on various vehicles, aircraft, as well as in stationary positions. On the photo is the observation vehicle Spider C-1 of the Israeli company Plasan.
Future trends
Mr. Karni from Controp pointed to conflicting trends that could affect the future expansion of the market for border surveillance and border surveillance systems. On the one hand, the massive influx of refugees is a powerful stimulus for the development of this market, and on the other hand, the growth of the market is hampered by economic difficulties, as well as low oil prices affecting the defense budgets of oil-producing countries. As for the sensor technology, according to a representative of Finmeccanica, there is a clear tendency to reduce the size, weight and power consumption of cameras and the cost of ownership, which makes them available even for not very rich countries. According to Olsen, today there is a transition from fragmented, unsystematic deployment in the direction of joint work of sensory complexes, both stationary and mobile, generating a large amount of shared information, allowing more quickly and accurately detect unwanted intrusion. Elbit is targeting customers who need multi-touch, continuous monitoring systems that are monitored from a single operational control center for extended border areas. There are several countries already considering the implementation of such decisions and in a few years it will become the standard. Finally, Mr. Bahat from the Israeli company IAI agreed with the existence of these trends, adding only David Bowie's definition of the ultimate "unknowability" of the future. "I don't know where I'm going from here, but I promise you won't be bored."
Materials used:
www.iai.co.il
www.puretechsystems.com
www.elbitsystems.com
www.controp.com
www.leonardocompany.com
www.flir.com
www.wikipedia.org
en.wikipedia.org