Turkish Foreign Minister Mevlüt авavuşoавlu, commenting on the situation in the country after the attempted military coup, said that "the greatest support to Turkey from among foreign states was provided by Russia." This is reported by the Turkish News Agency.
Anadolu
. At the same time, Cavusoglu declined to comment on what exactly Russian support consisted of.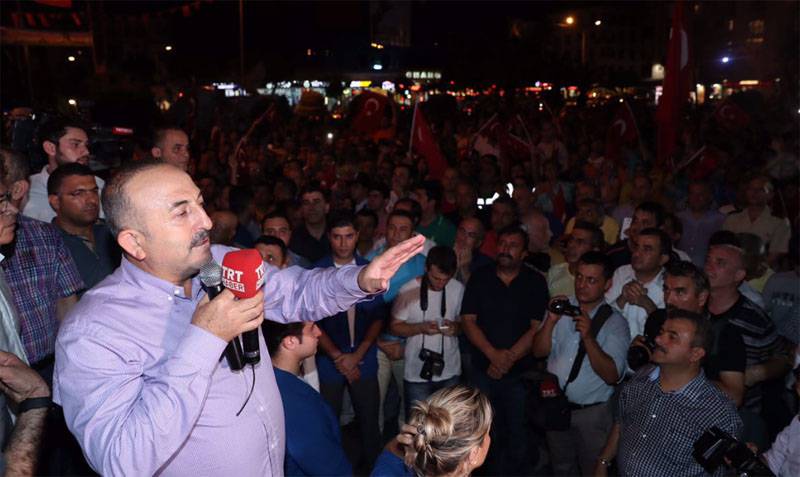 Recall that the other day the Iranian news agency FARSNews published a material stating that the Russian military intercepted the coded information of those who were preparing a coup d'état in Turkey. This information was transmitted to the Turkish authorities, and Erdogan managed to escape from the hotel in the resort of Marmaris.
Against this background, Cavusoglu criticized the actions of the Turkish special services, which, according to him, "having fragmentary information about a possible attempt at insurrection, should have been done so that the president knew about it."
A spokesman for the President of Turkey, Ibrahim Kalyn, said that at this stage, work is underway to "identify gaps in the intelligence system." According to Kalin, this should make Turkey "even stronger." It should be recalled that in Turkey, after a coup attempt, the presidential guard was dissolved.
The head of the Turkish Foreign Ministry, Cavusoglu, said that he hoped that 8 would be issued to the Turkish military, who are now in Greece. Now their fate is being considered by a Greek court.
The presidential decree 15 July in Turkey declared the "Day of democracy and the memory of the Martyrs."