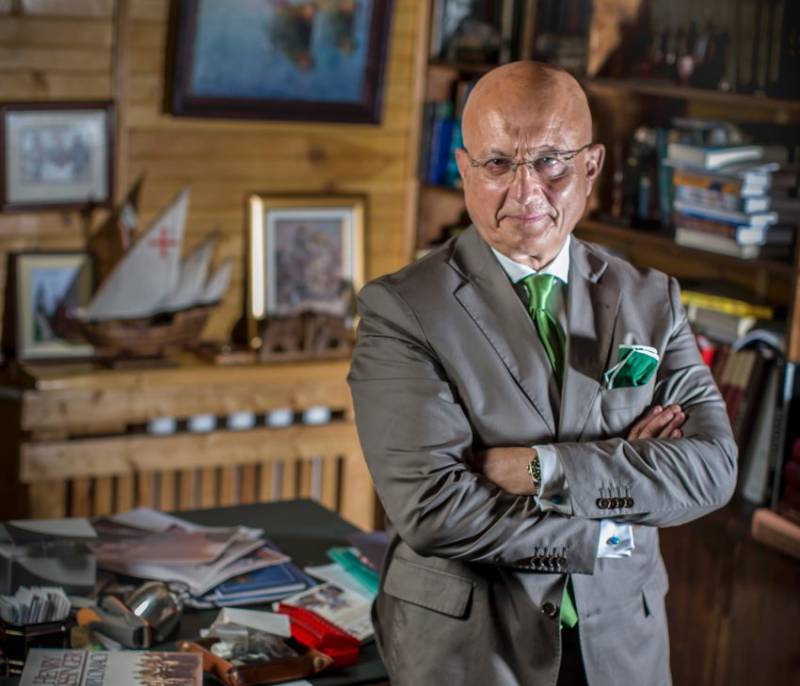 Kremlin adviser Sergey Karaganov about the threat of war in Europe, the revitalization of NATO and the inability of the West to understand the fundamental values ​​of Russia.
Der Spiegel: Sergey Alexandrovich, NATO plans to expand its activities in the Eastern European region in response to Russia's recent actions. Western politicians warn that both sides may find themselves in a situation that will lead to war. Is it an exaggeration?Sergey Karaganov:
Eight years ago I was talking about a situation close to war.
- ... when did the war in Georgia start?
- Even then, the trust between the major powers was close to zero. Russia began the process of rearmament of the army. Since then, the trust situation has only worsened. We warned NATO that it was not necessary to approach the borders of Ukraine, since this would create an unacceptable situation for us. Russia has managed to stop the advancement of the West in that direction. Thus, the danger of war in Europe in the medium term is eliminated. But the propaganda that is taking place now suggests a thought about the time before the new war.
- I hope these words of yours also apply to Russia?
- Russian media are more modest than Western ones. Although you should understand: in Russia the awareness of the need for defense is very strongly expressed. We have to be ready for anything. This explains the massive - sometimes - the nature of propaganda. And what is the West doing? He only demonizes Russia, he thinks that we are threatening with aggression. The situation is similar to the crisis that was observed at the end of 70, at the beginning of 80.
- Do you mean the placement of Soviet medium-range missiles and the reaction of the Americans to these actions?
- In Europe, then there was a feeling of weakness, and she feared that the Americans would leave the continent. But the Soviet Union, although inside it was completely "rotten," felt strong in military terms and did something stupid when it decided to deploy SS-20 missiles. Thus began a completely senseless crisis. Now it's the other way around. Countries like Poland, Lithuania and Latvia are supposed to be reassured by the fact that NATO places there
weapon
. But this will not help them at all, we regard it as a provocation. If a crisis happens, it is these weapons that will be destroyed. Russia will never again fight on its own territory ...
- ... but will you proceed, if I understand you correctly, to the "advanced defense"?
- NATO is now on 800 kilometers closer to the Russian borders, weapons are completely different, strategic stability in Europe is changing. Everything is much worse than 30 or 40 years ago.
- Russian politicians, including President Putin, are trying to convince their people that the West wants war — to destroy Russia. But this is absurd.
- Of course, there is an exaggeration. However, American politicians openly say that sanctions are designed to change power in Russia. It is quite aggressive.
- Evening TV news in Russia seems far from reality. One Moscow newspaper even wrote the other day about the "ghost of an external threat."
- Political elites in Russia are not ready for internal reforms, the threat to them is very helpful. Do not forget, Russia is built on two national ideas: this is defense and sovereignty. Here, security issues are much more reverent than in other countries.
- Even Russian experts do not see a real threat to Russia in NATO expansion. Before the annexation of Crimea, NATO was a paper tiger.
- Its expansion was perceived as a betrayal of Russia.
- Your Council presented theses on foreign and defense policy. There you are talking about the return of leadership in the world. The message is clear: Russia does not want to lose influence. But what does she suggest?
- We want to prevent further destabilization of the world community in the future. And we want the status of a great power. Unfortunately, we can not refuse it: this status over the past 300 years has become part of our genome. We want to become the center of a great Eurasia, a zone of peace and cooperation. The subcontinent Europe will also be part of this Eurasia.
- Europeans consider the current Russian policy ambiguous. The intentions of Moscow do not seem obvious to them.
- At the moment we are in a position where we do not trust you at all - after all the disappointments of recent years. And because the reaction is appropriate. There is such a thing as a tactical surprise tool. You should know that we are smarter, stronger and more resolute.
- For example, the partial withdrawal of Russian troops from Syria was unexpected. You deliberately gave the West to guess how many troops you will take, and whether it will turn out that you will secretly bring in some of them again. Such tactics are not conducive to building trust.
- It was done masterfully, this is the highest class. We use our superiority in this area. Russians are bad merchants, they don't like to do business. But we are great fighters and excellent diplomats. You have a different political system in Europe. One that cannot adapt to the challenges of the new world. The German Chancellor said that our president lives in an illusory world. In my opinion, he lives in a very real world.
- It is impossible not to notice Russia's gloating over the problems that Europe is facing today. What is the reason for it?
- Many of my colleagues look at our European partners with a grin. I always warn them against arrogance and arrogance. Parts of European elites need confrontation with us. And therefore we will not help Europe now, although we could do it in the current situation with refugees. What is needed now is joint closure of borders. In this respect, the Russians are many times more efficient than the Europeans. But you are bargaining with Turkey, and this is a shame. In the face of our problems, we pursued a clear, tough political line towards Turkey, which was crowned with success.
- You say that you are disappointed with Europe, which has betrayed its Christian ideals. Say, in the 90-s Russia certainly wanted to Europe - but to Europe Adenauer and de Gaulle.
- Most Europeans, too, want the return of this Europe. In the coming decade, today's Europe will no longer be a model for Russia.
- In its "Theses", the Foreign Policy Council calls for the use of military force under the condition of "an obvious threat to the important interests of the country." Was Ukraine such an example?
- Yes. Or the concentration of troops, which, we believe, threatens war.
- Is the deployment of NATO battalions in the Baltic countries not enough for this?
- Talking about the fact that we want to attack the Baltic countries is idiocy. Why does NATO move weapons and military equipment there? Imagine what happens to them in the event of a crisis. NATO assistance is not a symbolic aid to the Baltic states, it is a provocation. If NATO goes to aggression - against a nuclear power, which we are, - the alliance will be punished.
- On Wednesday, for the second time since the beginning of the Crimean crisis, a meeting of the Russia-NATO Council should be held. You do not think that you need to restore the dialogue in this format?
- He lost his legitimacy. In addition, NATO itself has become qualitatively different. When we started a dialogue with this organization, it was a defensive alliance of democratic powers. But then aggressions were committed against Yugoslavia, Libya, the majority of NATO members attacked Iraq. The NATO-Russia Council served as cover and legalization for the expansion of NATO. When we really needed the advice, in 2008 and in 2014, it did not work.
- You are talking about wars in Georgia and in Ukraine. In your "Theses" there are such concepts as national dignity, courage, honor. Are these political categories?
- These are the decisive values ​​of Russia. In Putin's world and in my world, it's simply unthinkable that women should be pawed and raped in a public space.
- Are you hinting at Cologne events on New Year's Eve?
- Men who would arrange something like that in Russia would simply be killed. The mistake is that the Germans and the Russians in the last 25 years did not speak seriously about their own values ​​- or did not want to understand each other when it came to this topic. We, too, in Soviet times, asserted that there were only universal values ​​- exactly the way the West is doing today. It scares me when Europeans say: give us more democracy. It reminds me, as we once said: let's more socialism.
- In your opinion, what mistakes did Russia make in foreign policy?
- In the past years, we did not have a political strategy regarding our immediate neighbors - the former Soviet republics. We did not understand what was actually happening there. The only thing we did was subsidizing these countries, that is, bribing the local elites with money that was stolen later - I suspect that together. Therefore, in particular, it was not possible to prevent a conflict in Ukraine. The second problem: our policy was too long aimed at correcting the past, the omissions of the 90s.
- In the Russian press it is suggested that after the parliamentary elections in September, Russia will send signals of detente. Are they reasonable?
- We believe that Russia - unlike the Soviet Union - is morally right. Therefore, there will be no fundamental concessions on our part. Mentally, Russia today has become a Eurasian power - I was one of the intellectual fathers of the turn to the East. But today I do not think that we should turn away from Europe. We must (in the Russian version of "we will" - ed.) Look for ways to breathe new life into our relations with Europe.