President of Ukraine Petro Poroshenko commented on the decision of the Polish Parliament regarding the recognition of the Volyn massacre as genocide by representatives of the Ukrainian Insurgent Army. According to Poroshenko, he regrets the decision of the Polish parliamentarians and at the same time hopes that Poland and Ukraine "will move along the path of reconciliation."
From the statement of the Ukrainian president:
I regret the decision of the Polish Sejm. I know many will want to use it for political speculation.
However, we must return to the commandments of John Paul II - we forgive and ask for forgiveness. Only by joint steps can we come to Christian reconciliation and unity. Only together we can find out all the facts of the tragic pages of the common
stories
.
And I believe that we will continue to move along this path.
It is noteworthy that Poroshenko, "regretting" of recognizing the events in Volyn as genocide, just recently fell to his knees in front of a memorial to the victims of the Volyn massacre erected in Poland.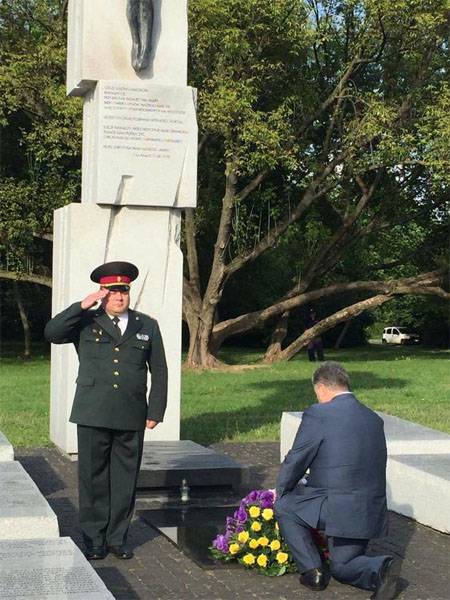 The decision of the Sejm and the Senate of Poland was criticized in the Verkhovna Rada of Ukraine. The VRU Foreign Affairs Committee stated that the recognition of the Volyn events of the 1943 model as the genocide of the Polish population "negates all constructive political and diplomatic developments and efforts of the two states and peoples aimed at mutual forgiveness and reconciliation."
Recall that historians still can not accurately assess the scale of the Volyn Massacre. The numbers of victims in reports and historical references range from 60 to 200 to thousands of people.