In the United States, the USS "Jackson" coastal stability ship was tested, which was handed over to the customer in August 2015. According to the portal
DefenseNews
a few tens of meters from the ship, an explosive device with a capacity of about 4-4,5 t (10 thousand pounds) was activated. Reportedly, the ship received minimal damage after the explosion.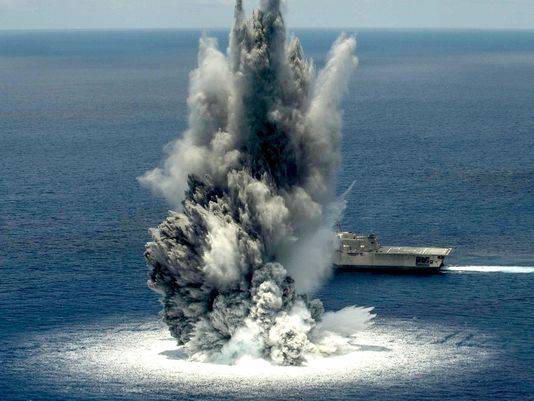 During the tests on the coastal zone warship, 260 of various sensors were fixed, which were supposed to monitor the Jackson reaction to charge detonation. The sensors measured the temperature, the force of the shock wave, the roll of the ship, the degree of deformation of certain sections of the skin and other parameters.
From the statement of the official representative of the US Navy:
The ship passed these tests exceptionally well. He survived the explosion, receiving minimal damage. At the same time, he returned to the port on his own.
After testing, the American ship actually went to Mayport (Florida), where experts will analyze data from all sensors, conduct a visual inspection of USS Jackson, on the basis of which they will draw conclusions and present a report to the US Navy Command.
The test takers stated that the result was better than expected. At the same time in the Florida seismic service they reported that an earthquake of magnitude higher than 3 points was recorded in the test area. It is checked whether the earthquake was caused by the explosion of an explosive device during tests of the USS "Jackson" or not. Experts are inclined to the version that it was the testing of the US Navy that led to the emergence of seismic shocks.
The US Navy announced that similar tests of another new coastal ship, the USS Milwaukee (Milwaukee), will be conducted next week.