The South African arms and ammunition company Denel Pretoria Metal Pressings (PMP) has developed a new 20-mm automatic gun iNkunzi Strike, reports the blog
bmpd
with reference to the magazine "Jane's Defense Weekly".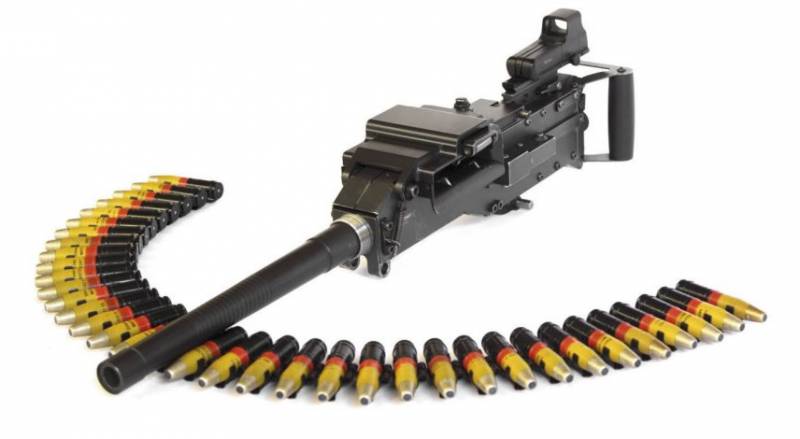 According to the magazine, "iNkunzi Strike uses small-sized shots of 20x42 mm low ballistics caliber (160 g shot weight, 110 g projectile weight)."
It is reported that the gun itself "has the weight of the entire 13 kg and the total length of 850 mm (i.e., the barrel length does not exceed 30 calibers) and can be installed on standard machine guns 7,62 mm or 12,7 mm machine guns."
The iNkunzi Strike cannon has a practical rate of 300-350 shots per minute and an effective range of 400 m for small targets, 600 m for large targets, and 1000 m for squares (fire suppression). The maximum firing range - 3000 m. Power tape ", - leads the publication characteristics
weapons
.
It is also noted that these munitions were developed by the company itself and are currently used "in a serially produced anti-personnel seven-charge anti-personnel grenade launcher iNkunzi PAW-2015 from 20".
"Two types of combat shots are offered (high-explosive and semi-armor high-explosive-incendiary), both of them have combat equipment VV Hexal P30 (based on RDX) and a contact fuse. There are also two types of practical round-ups, "the publication says.
According to the developers, "the iNkunzi Strike cannon with a 20x42 mm shot compared to standard automatic anti-personnel grenade launchers with 40x46 mm shots has much better accuracy due to a more flat trajectory and a higher projectile flight speed."
As the magazine was told in the company, "the development of options for installing iNkunzi Strike guns on armored vehicles has begun."