The Minister of Internal Affairs of Kazakhstan, Kalmukhanbet Kasymov, during a briefing, reported on the restoration of the full picture of the attack in Almaty. According to the minister, the identity of the attacker was also established. It turned out to be 26-year-old Ruslan Kulikbayev from the Kyzylorda region.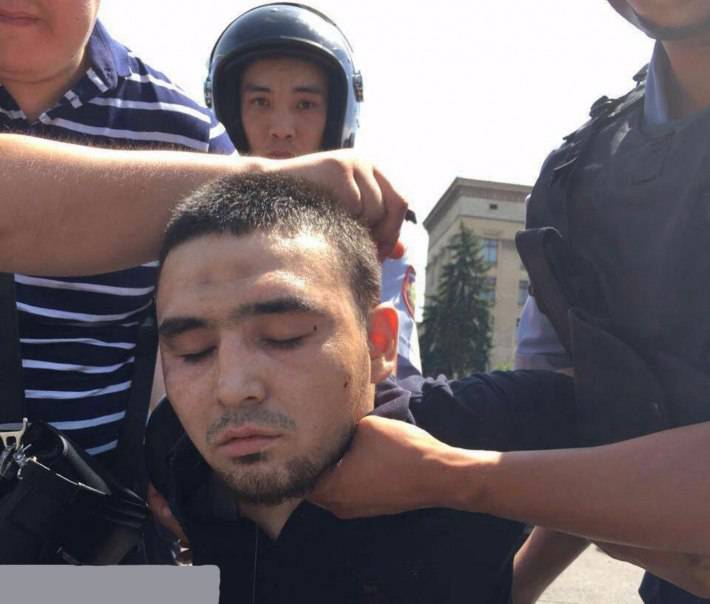 Around 10: 45, he killed a citizen of Uzbekistan "because of her profession" (it is not reported what exactly a citizen of Uzbekistan had a profession), then seized a car and started his bloody adventures against police officers.
Портал
bnews.kz
gives the text of the statement of the Minister of Internal Affairs of Kazakhstan:
He (Kulikbayev) realized that he would be detained anyway, and decided to take revenge on the organs. In 10: 54 entered the checkpoint of the Almalinsky District Department of Internal Affairs, fired at the guard when he asked for documents.
The murder of a woman from Uzbekistan and a police officer suggests that the attacker initially had
weapon
.
Kasymov:
He captured his (policeman's) weapon and began to fire, wounding 3 policemen and 1 civilians. On the street I ran out of the building and, under the threat of using weapons, ordered the driver of the parked car to go to the DKNB building. As they drove, he injured 2 police in a passing car. Upon arrival, he started shooting at a car with two policemen, one of them was injured, the second was killed. At this time, the driver of the car ran away. Kulikbayev also ran, tried to seize the border guard's car, and killed him. At the same time wounded a civilian.

After that, he captured the Lada car and made the driver drive along Shevchenko to Abylay Khan, the driver deliberately drove through a red light so that the patrol outfit began to pursue. The police pressed and forcibly stopped him, while Kulikbayev injured 2 policemen, one of whom was fatally wounded. In the DGD, policeman Ayan Galiyev caused the Department of Internal Affairs, he also ran to pursue himself, inflicted four wounds, but he himself was fatally wounded. The second cop of the criminal caught up.
According to Kasimov, the injured terrorist was taken to a medical facility, where he gave his first testimony.
It is known that Ruslan Kulikbayev was convicted twice - for robbery and illegal possession of weapons. Now a criminal case has been initiated against him under several articles of the Criminal Code of the Republic of Kazakhstan, including the article "Terrorism".
In Kazakhstan, the names of the deceased police officers are named: captain Bauyrzhan Nurmakhanbetov, junior sergeant Maksat Salimbayev, foreman Ayat Galiyev.
According to the police, Kulikbayev was associated with Salafi structures operating in Central Asia.
Acting head of the Chechen Republic, Ramzan Kadyrov appealed to the President of Kazakhstan, Nursultan Nazarbayev, with a proposal to assist in countering terrorist threats.