In Ukraine, found another zrada. An adviser to the country's interior minister, Mikhail Apostol, who was on a business trip in the Poltava region, was horrified to find a mural depicting Peter the Great on a façade of one of the local churches, trampling a blue-yellow flag on a horse. The apostle, by virtue of education, first decided that this was the flag of Ukraine, and turned to the SBU. Then on Facebook they began to explain to the adviser to the minister that the flag of Sweden was on the fresco.
From Avakov's advisor's post to
Facebook
:
A point regarding the picture on the church of the Moscow Patriarchate (Moscow Patriarchate), where the blue-yellow flag is under the hoofs of Peter the Great's horse, will be delivered in the coming days. According to certain structures of law enforcement agencies of Ukraine, the flag is drawn with possible provocative signs. After my publication of this fact, a decision was made (there is already an agreement with the artist, and the paint was purchased) to correct this "purely technical error."

Continuing the theme with the blue and yellow flag under the hooves of Peter the Great's horse I. Did the painting appear on the temple several months ago, in my opinion? with signs of provocation or challenge, because the majority of parishioners and visitors to the temple can not distinguish such subtleties and differences between the Swedish and Ukrainian flags, as some clever correspondents sites.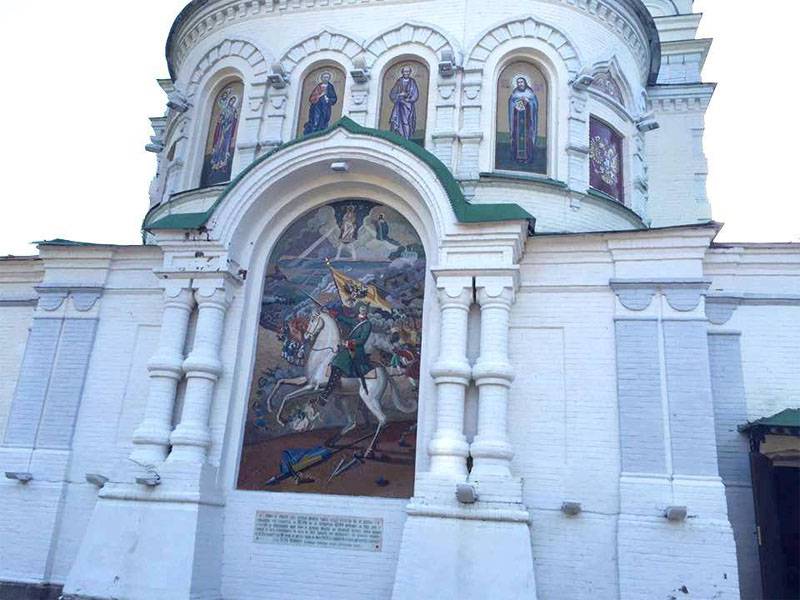 In general, the reason is that the Ukrainian bureaucrat himself was not able to distinguish the Swedish flag from the current Ukrainian one, clearly due to the fact that he simply did not know the truth about the historical event. To the apostle in no uncertain terms, even Ukrainian journalists made it clear that in 1709, Peter I could not trample on the Ukrainian flag, since such a flag simply did not exist.
An intelligible text for Mr. Apostol was published by a Facebook user named Elena Bloha:
Illiterate assholes!
Advisor to Minister Avakov is not aware that under Peter I there was no independent Ukraine with the national flag, and the Russian Tsar at Poltava defeated the Swedes, therefore Peter's horse tramples on the Swedish yellow-blue flag))). It turns out that this picture on the temple introduces people into fornication, because the parishioners did not study at school and
history
did not study. Well, according to Ukrainian textbooks, it is really useless to learn, there is nothing written about the battle of Poltava.