American edition
The New York Times
reports that the commander of the Turkish airbase Incirlik Bekir Erkan Van, accused by official Ankara of involvement in the attempted coup, sought asylum from Washington. The US authorities refused asylum to the Turkish general. Recall that General Van was detained the day before, after all departures from the Incirlik airbase were blocked.
Van was not the only Turkish general who tried to find refuge outside Turkey. Thus, Mikail Ihsanoglu, a military attache of the Turkish embassy in Kuwait, was detained on the territory of Saudi Arabia, after which he was extradited to Ankara on the basis of an official request. Several people were detained in Greece.
Meanwhile, in Turkey itself continues to take measures related to the events of recent days. Information Service
Anadolu
reports that a state of emergency has once again been imposed in Istanbul. The head of the Istanbul police, Mustafa Chelishkan, ordered the deployment into the largest city of the country of about 1,8 thousand soldiers of the special forces police. The duties of special forces will include control of the most important objects in the city and the protection of order. At the disposal of Chelishkan there is a clause that the police have the right to shoot down any helicopters, the take-off of which was not authorized by the official authorities.
At the moment, more than 6, thousands of people accused of attempting a coup, are detained. Most of the detainees are ordinary soldiers.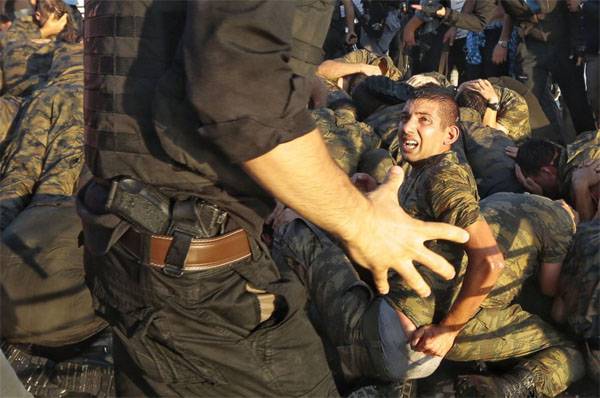 Erdogan continues to claim that the Turkish preacher Fethullah Gulen, who is in the US, tried to organize a coup in Turkey. Gulen himself denies all the charges against him. Erdogan demanded that the United States extradite "the leader of the terrorists, Gulen."