Tayyip Erdogan appealed to the American president with a request to extradite preacher Fethullah Gülen to the Turkish authorities, accused of Ankara of organizing a failed military coup, reports
RIA News
.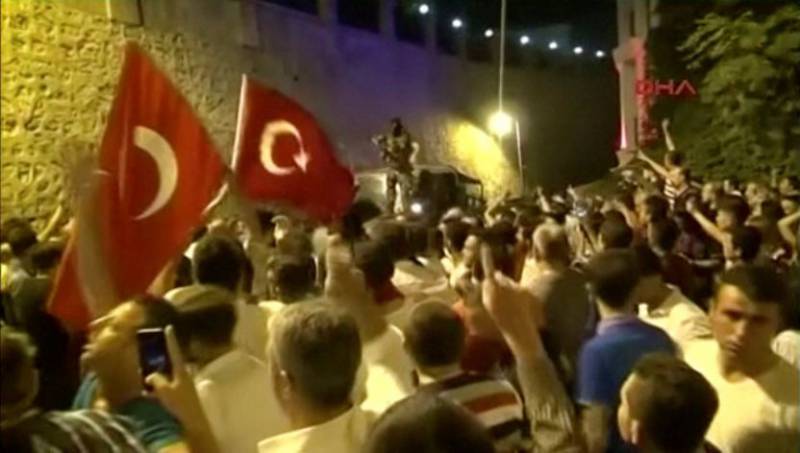 "I am addressing the head of the United States. I have always said: who is in Pennsylvania or deported or extradite to us. But they did not hear me. Now, after this attempted coup, I again appeal: finally deliver it to Turkey. If we are strategic partners, then fulfill our requirement. After all, we gave out the terrorists you asked for. Now give us someone who is on our list of terrorists ",
said the Turkish leader, speaking at a rally in front of his supporters.
Meanwhile, the Greek authorities reiterated that they condemn the attempted coup in Turkey, however, the issue of extradition of Turkish citizens to 8 who sought political asylum will be resolved in accordance with international and Greek law.
On Saturday, a second telephone conversation took place between the Foreign Ministers of Turkey (Mevlut Cavusoglu) and Greece (Nikos Kotzias) about the extradition of coup participants to Ankara, who fled to Greek Alexandroupolis by helicopter.
"Kotzias repeated to his Turkish colleague the point of view of the Greek government, according to which an attempt to overthrow the democratically elected government of Turkey represents a coup and, therefore, a punishable act. In connection with the request for asylum, Kotzias stressed that this issue would be considered as provided for by the relevant Greek and international legislation, and the procedures provided for by international law would be followed, and very seriously, those arrested in their country were accused of violating constitutional legality and trying to undermine democracy ",
- says the release of the Greek Foreign Ministry.
According to analysts, the extradition of coup members could be hindered by Ankara's intention to return to the legislation the institution of the death penalty. After the attempted coup, many citizens and deputies of the Turkish parliament demand this.
The Greeks themselves do not hold the helicopter, and it will be transferred to the Turkish side in the near future.