On Wednesday, foreign bloggers managed to photograph the Russian rocket boat "Ivanovets" during its passage through the straits into the Mediterranean Sea, reports
Rossiyskaya Gazeta
.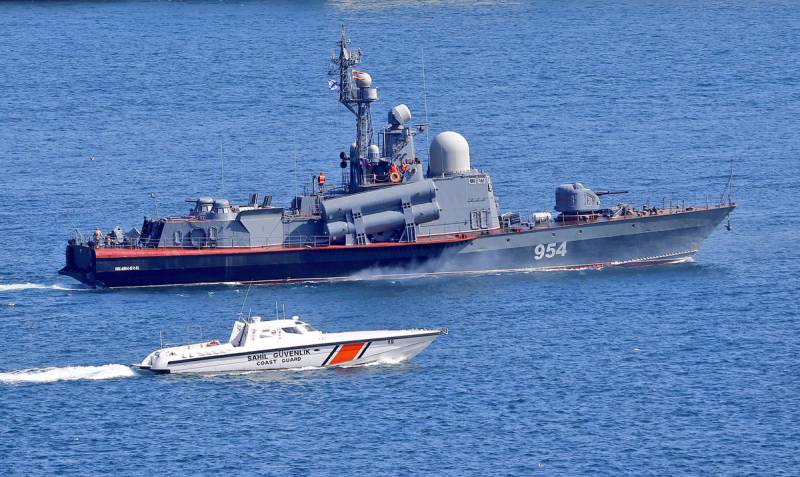 "Military experts suggest that the rocket boat Ivanovets should replace the small rocket ship Serpukhov located in Tartus, the 21631 project, which is part of the Russian grouping in the Mediterranean," the publication said.
The newspaper notes that the "large rocket boat" Ivanovets "(12411" Lightning "project) is intended to destroy enemy surface warships and landing craft at sea and in basing sites, as well as to cover their ships and vessels from surface and air threats."
The main
weapon
boats - four launchers of anti-ship missiles 3М-80 "Mosquito".
"The anti-ship winged supersonic homing missile Mosquito makes a slide after launch, and then decreases to a mid-flight flight height of about 20 meters, approaching the target, it drops to seven meters. The rocket's flight speed is Mach 2,35. Due to the high speed and impressive warhead (150 kilograms), the Mosquito is capable of sinking not only the middle-class ship, but also the cruiser. The rocket has a range of destruction up to 120 kilometers, "writes the newspaper.
The AK-176M automatic caliber 76,2 mm caliber is located in the bow of the boat, and two 30-mm AK-630M automatic rapid-fire artillery mounts are located on the superstructure in the rear part.