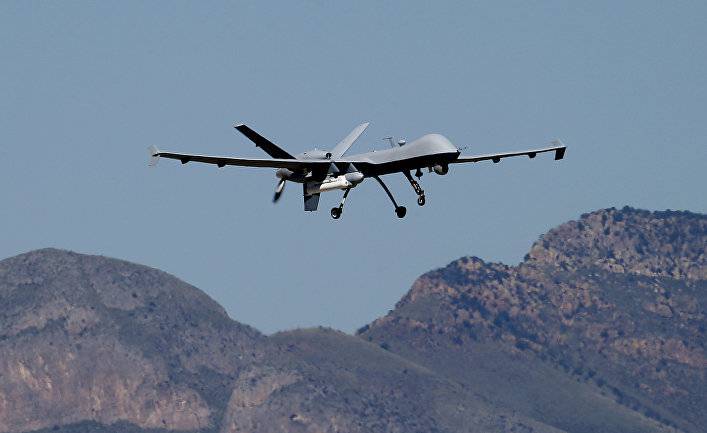 Recently, the White House admitted that as a result of air strikes from unmanned aerial vehicles to the positions of those suspected of terrorism in non-military zones, from 64 to 116 civilians were killed. Independent organizations — such as the New America Foundation and the Bureau of Investigative Journalism — talk about more civilians killed by drones, respectively, calling the numbers more than 200 and 300. Regardless of the exact number, these unintentional killings - the so-called collateral losses - are an important question.
Each of these dead civilians has a mother, father, brother, sister, or other relatives. And each of them now has serious reasons to hate America, because of which they are easier to radicalize and can take the first steps towards becoming terrorists. As the lieutenant colonel says
aviation
Andrew Brookes of the International Institute for Strategic Studies in London, "Kill your wife, children, mother, or uncle - and people get so furious that the terrorist cycle begins again."
And, nevertheless, the administration justifies and supports the application of air strikes using drones. In accordance with the presidential secret guidelines, "lethal weapons and fire will be used only to prevent or stop attacks on US citizens" when seizure is not possible. And such means should be used only when there is "almost complete confidence" in the "presence of a terrorist target" and in the fact that "local residents will not be injured or killed".
And how many air strikes were inflicted with the use of drones on terrorist positions that pose a direct threat to the United States, that is, such as Mohamed Atta, who was one of the ringleaders who organized the 11 attacks of September 2001 of the year? Do they really represent an immediate, imminent threat? Or are they, rather, local terrorist threats on the territory of foreign countries? The data does not include information on officially recognized war zones - such as Afghanistan, Iraq, and Syria - but they contain figures for Pakistan, Yemen, Somalia, and Libya. In other words, if we are not talking directly about US national security, how necessary were thousands of US airstrikes using UAVs? It is worth noting that, according to secret documents leaked to the press in October 2015, for just one five-month period of air strikes using UAVs in Afghanistan, the intended targets were not nearly 90% killed. Moreover, these unforeseen losses were classified as "opponents killed in battle" - regardless of whether they were civilians or participants in hostilities.
It is generally recognized that the Hellfire missiles, which are mounted on unmanned aerial vehicles, have a high-precision guidance system and belong to the category of ammunition much smaller than bombs dropped from airplanes (kilograms 45-50 compared to 230-250 kilograms and more), so they cause less damage. But - as the compilers of the FM 3-24 Counterinsurgency Guidelines for the US Army recognize - "bombing, even using
weapons
with the most accurate guidance systems, can lead to unintentional civilian casualties. " Consequently, "an air strike can cause collateral damage, which restores people against the authorities of the country where the troops are stationed and provides the rebels with a serious propaganda victory."
In other words, collateral losses are counterproductive, that is, they do not allow us to win hearts and minds - which is especially important in the Muslim world if we want to prevent Muslims from joining ISIS, Al-Qaida (terrorist organizations banned in Russia). ) or any other radical Islamic group that supports terrorist activities against the United States. According to Jeremy Scahill, who investigates journalism and is the lead author of The Drone Papers exposing the article, The drone strikes in Yemen have contributed to Al Qaeda's recruitment of several aircraft in the Arabian Peninsula. thousands of people. As one resident of Yemen said, claiming that many civilians died in his region as a result of airstrikes of American UAVs, "the United States considers Al-Qaida terrorism, and we believe that terrorism is UAVs."
Also known is the case when in December 2013 of the year in Yemen, an American drone struck a column of cars heading for the wedding. US officials acquitted this airstrike, claiming suspicions existed that al-Qaeda militants were in the convoy. According to Human Rights Watch, at least a dozen civilians were killed at that time. According to documents published later by the Yemeni authorities, there was a 29-year-old man among the dead, who, judging by his ID, was a member of a Yemeni organization dedicated to restraining Islamist militancy (his father survived the air strike).
So what is the cost of these collateral losses? The families of civilians who died from the attacks of American UAVs are supposed to pay compensation (the families of those killed in the wedding column during the air strike paid Yemen's 60 thousands of dollars - the United States did not confirm their participation in the payments). But the real price is not measured in money. Regardless of how many innocent civilians died from the strikes of American UAVs - a hundred or three hundred - hundreds of others will be the probable price, who will seek revenge for their loved ones. And these are such threats to the United States, which did not exist before.