The lengthy negotiations with the head of the Russian Foreign Ministry were very intense, and related not only to the Syrian conflict, reports
RIA News
Statement by US Secretary of State John Kerry.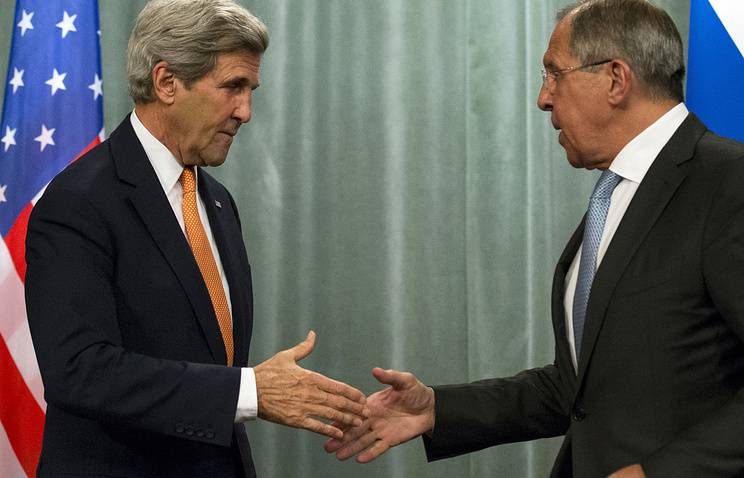 "We had a very busy agenda. We discussed bilateral relations, the situation with the implementation of the Minsk agreements and the settlement of the crisis in Ukraine, the situation in Yemen, the Middle East settlement, "Kerry told reporters.
The issue of resolving the situation in Nagorno-Karabakh was also discussed in sufficient detail. "It is obvious that it is necessary to avoid a new escalation in Nagorno-Karabakh, which will resolve the situation. We will continue contact with both sides of the conflict with Minister Lavrov in order to promote a stable peaceful solution, "he said.
As for Syria. "The steps that we agreed on will not be published, because we want them to bring results, and because they need to be worked through further," said the Secretary of State.
"We have jointly agreed on the steps that, if applied, can help solve the two main problems in Syria that I have identified," he added.
"To fully restore adherence to the cease-fire regime, significantly reduce the level of violence, as well as assist in creating conditions for a stable political transition," said Kerry.
He noted that these steps will not be based only on the confidence of the parties. "Our team of experts must work out the details, each of us knows what needs to be done," the Secretary of State said.
According to him, the fight against Assad cannot be an excuse for "Dzhebhat an-Nusra" in the eyes of the American administration; Washington has no illusions about this grouping.
"We need to do serious homework. The UN, the Security Council called the Islamic State and Dzhebhat en-Nusru terrorist, said the state secretary. If someone criticizes the United States and Russia, they attack IG and Dzhebhat-en-Nusre, although these groups are fighting with Assad, these people are mistaken. "
He stated that "Dzhebhat an Nusra" has plans to strike all over the world, and we have no illusions about this organization. "
At the same time, the state secretary noted that "representatives of the legitimate opposition are not terrorists, and that" the Syrian problem cannot be solved by military means, diplomatic actions are necessary. "
"There are two violators of the cease-fire regime - these are the regime of Bashar Assad and Dzhebhat-en-Nusra, they are fighting against Assad, but this is not an excuse in our eyes," said Kerry. - We are consistently working on the implementation of the ceasefire. The situation was not clear who is where in Syria and what to do with these groups. We want clarity on what to do with them. "