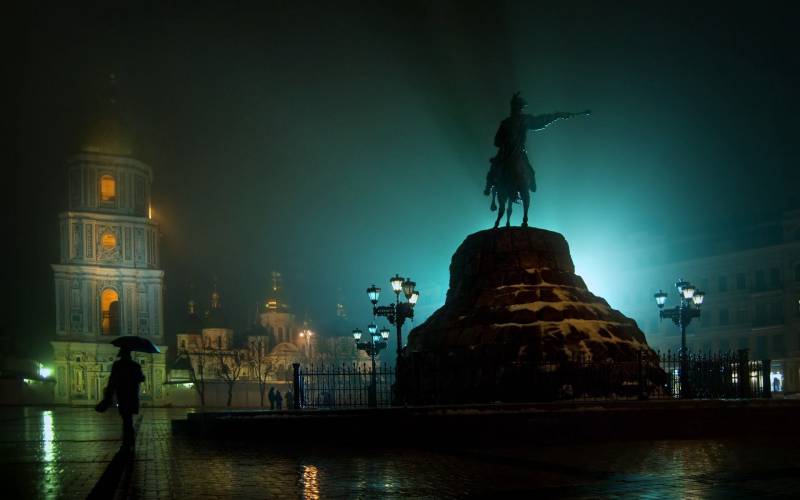 Yesterday, an excellent article by Dmitry Dzygovbrodsky, "A Letter to a Pro-Russian Ukrainian," appeared on the site "Antifashist".
And I agree with Dzygovbrodsky
My regular readers know how I feel about the work of this author, and therefore, probably a little surprised. And in vain. Ultimately, the question is not who writes, but what exactly he writes. When I read the last article of Dmitry, I sighed with relief and realized that this is it, something that I have long wanted to hear from him.
The author's sarcasm sounds in every line of his "letter" and he is directed towards those "Anti-Fascists" who are not used to fighting for their ideals, but are just waiting for someone to do all the dirty work for them. And they will return to everything ready and AGAIN will begin their advances with the Ukrainian fascists and ultimately lead Ukraine to a new stage of "anti-Russia".
After all, it was they, instead of creating a partisan detachment and fighting as Sydor Kovpak, fled from Kharkov 22 February 2014 of the year, justifying their actions by the fact that their life was in danger.
I can not imagine that Kovpak could do this.
With all the power of the state machine in their hands, Yanukovich and Co. fled under the cover of Moscow bayonets. We remember sentimental
history
about how Viktor Fedorovich almost killed. And how heartfelt that his wife almost died, did ex-premier Azarov tell? These escaped first, without even looking into the eyes of the enemy. And how many dozens of "Antifascists" smaller and more famous rushed after them in March-April 2014, as soon as Ukraine smelled gunpowder, and in Moscow - budgets? And all the stories, like a carbon copy: "We fear for our lives. We could be killed, crippled, But we are ready to lead the fight from here. "
And here I completely trust Dmitry and his experience - it was just at this time that I ended up in Moscow, and the "fighters" then saw many.
They understood the fight in their own way. Being safe, distribute the help of not indifferent Russians between themselves and those who remained in the occupied territory. And consider yourself the "salt of the earth" Ukrainian, and then Russian.
When the trend changed and it became shameful for Ukrainians to reckon in their cruises, they began to remember en masse that they were Russians. Well at least Alexey Mozgovoy doesn't hear them. Ukrainian, whom they consider to be a teacher, and so love to quote. And "the faithful son of the Ukrainian people, the flesh of the flesh of Ukraine", as it was customary to write after the war, Sidor Kovpak, also does not hear - and he would have strangled such "granddaughters".
Assistance centers, various rescue committees, etc. were established. And they were all the same. They all wanted to lead, distribute the assistance that Russia in one form or another provided in their hands. It was then that a handful of people were formed who demanded more and more and more actively from the Kremlin: "Give, give, give."
And Dmitry from the first days saw the "work" of these "rescuers" from the inside. It so happened that by the will of fate, he was being put into one or another such organization, and he could not only witness everything that was going on in them, but also take part in it.
And he (like me) has a legitimate question: "Is it possible to trust such" Anti-Fascists "?". After all, their way of life shows that they have never done anything worthwhile in their lives, but only parasitized them on the people of Ukraine, the Kremlin, and ordinary citizens of Russia. A mask of "anti-fascists" has always been just a mask.
They never disdained the help of those who are now called fascists themselves. Suffice it to recall the story of Oleg Tyagnibok and his party, Svoboda, which was known only recently. It was they, the "Anti-Fascists", who lobbied these outspoken Nazis and almost on their administrative resource they dragged the parliament members into the 2012 year. It was these "Anti-Fascists", being at the head of the Ukrainian government, turned a blind eye to the "art" of the Nazis, promoted the growth of Nazi ideas in society and created an atmosphere of impunity for the Nazis (recall the mockery of veterans in Lviv 9 in May 2010).
Moreover, these "Antifashists" in power were so desperately plundering that they were hated by the majority of Ukrainians. And it is precisely this that warmed up the Maidan. While in the most senior government positions (president, prime minister, etc.), these "Antifascists" prepared the Nazi gang, hoping that they would be able to control them. It was believed that the Nazis in power would set off their "anti-fascism", make the people love them and support them out of fear of the Nazis. And so they somehow keep the Nazis. And they were mistaken - they did not keep
Could they, like Sydor Kovpak (who was a state man, head of Soviet power in the city (today they would say the mayor), and responsible for the creation of a partisan movement in the province), create peace in partisan units to combat the "burdens"? In my opinion, the question is rhetorical and we have already received an answer to it.
And Dmitry is absolutely right, branding them and making fun of clumsy attempts to build "Anti-Fascists" out of themselves today, demanding that Russia do everything for them.
"After all, the normal formula worked for twenty-three years - we give you love, you give us money and gas" according to pisat. "Russia, why did you start to hurt? Do you have little love for you?
Do you want a business? Well, let's be businesslike. We grind, as they say.
In business, this is called monetization. Euromaidans wanted to monetize their love for Europe. And we, the pro-Russian Ukrainians, want to monetize our love for Russia. Yes, nobody wants to do anything. But we are ready to love passionately. No, not to death - this is something else, tea is not the time of Shakespeare and the families of Montecchi and Capulets.
You come, you do everything, we love you. "
Shine! Briefly and essentially. 23, these "anti-fascists" parasitized on Russia and Ukraine, robbed and stolen not even themselves, but at the same time Yushchenko and his gang, but now they want this to continue in the future. Only now, before Moscow returns power to them in Kiev, do they want to get everything in the form of a "government in exile" and various "rescue committees". And they are all cowards who have done nothing in 2,5 of the year on the territory that they "want" to release, absolutely nothing.
I absolutely agree with the author that after bringing such "Anti-FASHISTS" to power on the remnants of Ukraine (God forbid), they will continue their "games" again. And therefore, I completely agree with Dmitry that these scumbags and scumbags should not be helped. In general, helping healthy peasants, some of whom are also millionaires and billionaires, festered the fascists in Ukraine, and now crying with crocodile tears, is ridiculous. Like the new shoots, which, cowardly fled in the spring of 2014, to get close to the feeders and still trying to sit on the neck of Russia. And now many of them are doing everything to make this music eternal and "enough for their age". And they continue to say that Russia owes them something.
As usual, the real struggle does not require PR or fuss. Those who are fighting, and not beating themselves in the chest, do not take pictures with machine guns and do not talk about how, after ascending into power, "they will come to the Donbass through Kiev". They just quietly and systematically do their work, not paying attention to the noise around.