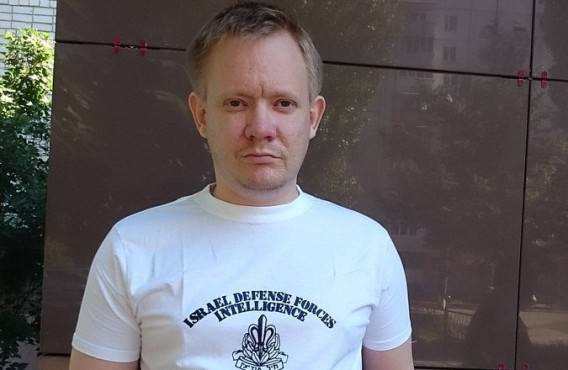 "Russia, do you hear me? I am a pro-Russian Ukrainian with like-minded people who decided to write a letter to you. Polite, and not as a Turkish sultan. I am your greatest value, Russia. You don't know it yet. You know it more precisely, but you ignore it. And it offends me, pro-Russian Ukrainians, especially.
Chu, do you hear how the protracted moans of the pro-Russian Ukrainians are heard from all sides of Ukraine - like in Carlson's when he pulled a sheet over himself and introduced himself to the robbers as a kind ghost with a motor. And you see, Russia, the longer you don't realize what honor you have with our love, the groans of the "pro-Russian" citizens of Ukraine will be less and less kind. I'll tell you honestly, Russia, some of my pro-Russian like-minded people in Odessa, Kharkov, Spain and Dnepropetrovsk have already started cursing you for not coming, not saving, not feeding, not showered with gold, not doused with free oil and not perfumed, as if with expensive French perfumes , free gas. After all, the slogan of Gazprom "Dreams come true" is practically our mystical formula - even though Euromaidan, even Antimaydan. All of us, Ukrainians!
Russia, come! Fulfill all our dreams! Get rid of bad ones! Reward good! Slap those involved! Lift the uncomplicated! Every anti-fascist on the farm! Every Nazi on a wooden mac! Generously reward, and then offended and again we will not love you! Because without our Ukrainian love, how can you live, Russia? And besides love, we have nothing to offer. And besides, how to love, we fucking do something and do not know how.
After all, a normal formula, it worked for twenty-three years - we give you love, you give us money and gas "according to the letter." Russia, why did you start to hurt? Do you have little love for you?
Do you want a business? Well, let's be businesslike. We grind, as they say.
In business, this is called monetization. Euromaidans wanted to monetize their love for Europe. And we, the pro-Russian Ukrainians, want to monetize our love for Russia. Yes, nobody wants to do anything. But we are ready to love passionately. No, not to death - this is something else, tea is not the time of Shakespeare and the families of Montecchi and Capulets.
You come, you do everything, we love you.
Russia, the normal formula of the contract - do not be angry. You have a lot. But there is no clean, like a bench hammer, and a big, like a Ukrainian woman's feed, Ukrainian love. Sorry for the tautology.
Listen, Russia, as the pro-Russian Ukrainians groan under the yoke. You did not send us "Javelins" ... oh, forgive me ... "Calibers" and "Iskander". I didn't unload the evergreens into the yard of each hut. Not sent. Not commanded. I ignored our contractual love.
Russia, are we talking to you, Sidor Kovpak, or what?
"In the early autumn of 1941, when German troops approached Putivl, Kovpak, who was already 55 years old at the time, together with his comrades, organized a detachment in the nearby Spadshchansky forest area of ​​10 kilometers in size. Kovpak organized a warehouse with food and ammunition in advance. In late September, they were joined by the Red Army men, surrounded by soldiers, and in October, a detachment led by Semyon Rudnev, who became Kovpak's closest friend and ally during the Great Patriotic War. The detachment is increased to 15 people and becomes quite combat-ready in armed clashes with the enemy - despite the lack
weapons
. Kovpak for himself personally declares war with the Nazis "to the bitter end."
October 19, 1941 the Nazi broke into the Spadshchansky forest
Tanks
. In the ensuing battle, the partisans captured 3 tanks. Having lost a large number of soldiers and military equipment, the enemy was forced to retreat and return to Putivl. On December 1, 1941, about three thousand German soldiers, with the support of artillery and mortars, launched an attack on the Spadshchansky forest. This episode of the war was a turning point in the combat activities of the partisan detachment of Kovpak. S.A. Kovpak, being a subtle psychologist and a man "from the people", carefully monitored the partisans, took into account their opinions and perfectly understood how much the success of the battle means to raise the morale of the fighters and rally the squad. The battle was unequal, lasted all day and still ended in a partisan victory. Inspired by the example of the commander and commissar, who fought along with everyone, the partisans did not step back a step from their position, and all the attacks of the enemy were repelled. "The enemy lost about 200 soldiers and officers, the partisans obtained trophies - 5 machine guns and 20 rifles."
It was he, the Soviet scumbag, could begin to fight with the occupiers with a shortage of weapons and ammunition, without contact with the mainland. Well, bzik he had a hatred of Nazism. And courage was over the edge - so it is from old age, dementia. 55 yo though.
We are not scumbags, Russia. We are anti-fascists. Thugs only in the DNI and LC. It was they who had enough time to get up with oak and double-barreled guns at checkpoints, when the Kiev punishers decided to walk through the lands of Donbass.
We, the pro-Russian Ukrainians, live and live. To love and to love. Kiev already demands same-sex love from us. Russia, if you do not do us well and immediately, we will give up and will love each other. And it will be on your conscience.
We, the pro-Russian Ukrainians, are smart. If you do not come, we will not love you. Also, "la-la-la" will be buried in such a way that Goverla will rock.
What prose you do not hear us? So we can in verses ... We are talented. We are a treasure. Look, Russia, for the sake of you right now composed.
I am writing to you - what more?
What else can I say?
Now, I know, in your will
I despise punishment.
But you, to my miserable share
Although a drop of pity storing,
You will not leave me.
From now on I give you,
Before you I shed tears,
I beg your protection ...
Imagine: I'm alone here,
Cumming! It is terrible to count ...
Shame and fear fade ...
But your honor is my bail,
And I boldly entrust myself to ...
Dmitry Dzygovbrodsky