A population leader, China is becoming an increasingly attractive target for foreign migrants. If before the Chinese were traveling in search of a better life in the USA and Russia, to the countries of Southeast Asia and Latin America, now people from other countries travel to China. And this is quite understandable: the Chinese economy is one of the strongest in the world, and China has great potential in the sphere of education, science and culture. With all the uneven distribution of the population in China itself, the large cities of the PRC, located in the east of the country, are facing not only the influx of immigrants from the backward inland areas of the country, but also the growth in the number of foreigners.
It is very difficult to become a citizen of China - for this you have to make a big contribution to the development of the economy, science or culture of China. And it makes no sense to get a Chinese passport for those who want to maintain maximum freedom of movement. It's more difficult for a Chinese citizen to leave China than a foreigner to enter China. At the same time, China has created quite good conditions for attracting foreigners, be it students and scientists, or businessmen and skilled workers. However, now on the streets of Chinese cities there are enough marginal migrants familiar to European eyes who are busy with unskilled labor or do not work at all, but are interrupted by some dubious earnings.
In the first half of the twentieth century, our compatriots were one of the largest groups of foreign migrants who moved to China. About
stories
Russian emigration in China there is a large amount of literature - and scientific, and fiction, and journalistic. The centers of Russian emigration were Harbin and Shanghai. In China, various Russian cultural and educational societies, political organizations, and even Cossack organizations with a military hierarchy operated. By 1930, in China there were 125 thousand Russians, thousands of 110 of whom lived in Manchuria. But by 1953, the Russian population in China had shrunk to 23 thousand people. Most of the Russian émigrés left for the United States, Australia, Canada, and the countries of Latin America. In 1954-1961 The centralized repatriation of the Russian population of Manchuria to the Soviet Union was organized. About 20 thousand Russians returned home from Harbin and the nearest regions only. The census conducted in 1982 showed that 2933 Russians remained at that time in the PRC.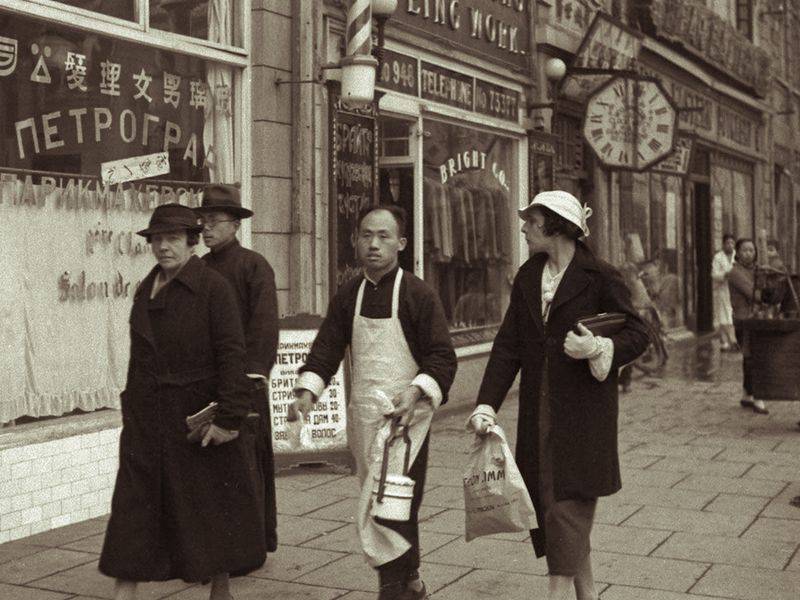 In recent years, there has been a new surge in Russian emigration to China. First of all, students, businessmen and qualified specialists go to China. Despite the fact that in China it is almost impossible to obtain Chinese citizenship, the country has very cheap housing by Russian standards. The same can be said about food, about many household services to the population. It attracts Russians, especially residents of the Far East. Among them there are many pensioners, for whom it is strange to live in China, oddly, cheaper than at home. Pensioners are also attracted by the possibility of obtaining qualified medical care in China, which also costs less than in commercial clinics in Russia. Her one category is the Russian spouses of Chinese citizens. As a rule, these are women who have married Chinese citizens.
In addition, the developing Chinese economy is experiencing the need for qualified specialists of various profiles, and they are ready to pay well - often significantly more than they could receive at home. Of course, we are talking about real experts - programmers, engineers, teachers. The main thing that is required is knowledge of English and, preferably, the basics of Chinese for household communication. It is not by chance that Chinese language courses are being opened in many cities of Russia, and specialists with its knowledge are widely in demand in many firms.
Interestingly, absorbing qualified personnel, China does not stop supplying its own migrants to Russia - as a rule, these are people without education and qualifications working in the field of trade, agriculture or hard physical labor. Interestingly, in China, they are unclaimed due to lack of qualifications, but in Russia they can get a decent job, and if we talk about merchants, they can even get rich.
Another large group of migrants from the former Soviet Union are immigrants from the republics of Central Asia. To begin with, Uzbeks, Kyrgyz, Kazakhs and Tajiks live in China, so it is to some extent even easier for people from the republics of Central Asia to adapt to life in China. Another thing is that it is primarily about the representatives of the educated part of the population of the Central Asian republics, the "elite children" and businessmen. Unskilled workers in China have enough of their own, and therefore there is no need for visiting janitors and construction laborers. But this does not mean that Central Asians of the most different sex and age do not go to the PRC. Many of them have long been accustomed to work as "shuttles", transporting cheap goods from China to the markets of the Central Asian republics. A large number of visitors from neighboring Mongolia, as well as from North Korea, also arrive in China.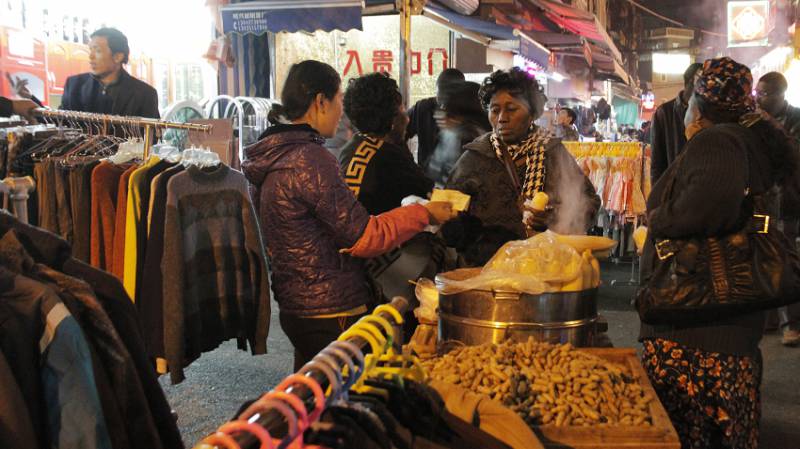 The development of China's economic and political ties with African countries, which began in the 1960-1970-s, led to the emergence of diasporas from the African states in the PRC. Today, no one will be surprised by Africans on the streets of Shanghai or Guangzhou, as well as the Chinese - engineers or workers at industrial sites in the countries of the African continent. China has gained access to the most valuable natural resources in many African countries, and in return has provided African governments and companies with impressive loans and written off debts to the poorest African countries. Today, Chinese builders and specialists in various industries are going to work in Africa, and citizens of African states are entering China en masse.
Initially, immigrants from African countries were represented in China, first of all, by students who received education in Chinese universities. Then businessmen reached out, and then people without specific occupations. Most Africans are temporarily in China - there are many "shuttle traders" among them who come to buy goods and go back to Africa. For African entrepreneurs, China is an incredible storehouse of cheap goods that can be taken home and sold there at an exorbitant price.
The most "African" city of China - Guangzhou, since it is located in the south of the country, where the climate is much milder than in the north. The African diaspora in Guangzhou has at least 300 thousand people, and every year the number of the diaspora is further increased by 30% - due to newly arrived migrants. The areas of compact residence of Africans in Guangzhou are called "Chocolate City", while Africans themselves feel quite at ease in this South China trading city. Sometimes they even lose their sense of reality and start behaving in China not at all as a guest. So, in June, 2012 in Guangzhou, Africans organized riots. The reason for this was the death at the police station of a detainee from Nigeria. Naturally, such bold behavior of migrant youth did not at all contribute to strengthening the confidence of the Chinese to visitors from Africa. Many indigenous people belong to African migrants with a certain degree of caution, and this attitude is reinforced by numerous rumors about the increased criminalization of the African diasporas.
Although there are many students and entrepreneurs engaged in honest business among visiting Africans, the impression about the mores of the diaspora is formed when you look at its most visible part - and this is usually street vendors and idlers, striking their eyes by their noisy behavior. Among Africans in Guangzhou there are many illegal migrants who have long overdue documents, but for fear of the police, they prefer not to change them. Illegal migrants join the ranks of marginal and semi-criminal layers, among them there are many prostitutes and drug traffickers, which also cannot be welcomed by the local population. At the same time, many guests from Africa emphasize that they have never experienced negative attitudes from the Chinese. Chinese people are generally very friendly towards foreigners - but as long as foreigners do not cross certain boundaries and do not begin to strain the Chinese with their behavior.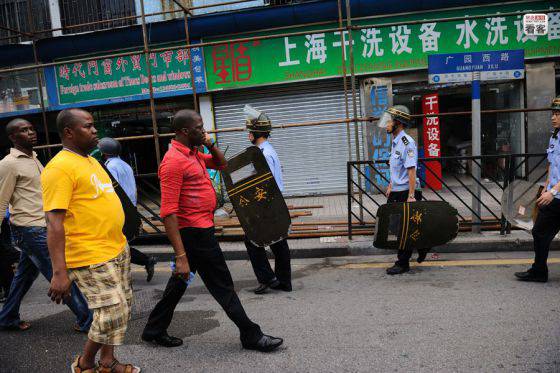 Africans are perceived by the Chinese along the lines of their own Chinese migrants from the villages - as out-of-date and poorly educated people, moreover, they are not aspiring to learn Chinese. Let's be fair - most of the "Chinese Africans" are to blame for their position. Relative success, primarily as entrepreneurs, was achieved only by no more than 10-15% of the African diaspora. The rest of the Africans are engaged in unskilled labor, working, as a rule, on their own countrymen. They live in isolation, forming African enclaves. Visitors do not like to communicate with Chinese outside of business contacts, although there are also Afro-Chinese marriages. The reluctance to integrate into the host society leads to numerous conflict situations between visitors and local residents, to accidents while fleeing from the police.
The groups of migrants from South and Southeast Asia — Indians, Bangladeshis, Vietnamese, Thai, and Cambodians — are numerous in China. But if people from Southeast Asia are close in mentality and not very striking, then Indians and Bangladeshis attract attention, as do African migrants. Immigrants from India and Bangladesh come to China to work in factories and in agriculture. If earlier the Chinese themselves were considered to be cheap labor, workers and peasants, it turned out that the Indians and Bangladeshis were generally ready to work practically for free — if they were fed. Now even low-income Chinese peasant families in the southern provinces hire workers from among the Indian and Bangladeshi migrants, which is to say about the enterprises, which are also very pleased with the free labor from South Asia.
People from the Arab East are not happy to come to China - with the onset of the destabilization of the political situation in the countries of North Africa and Mesopotamia, even Egyptian, Libyan, Syrian and Iraqi migrants who chose to call themselves "refugees" got to the Middle Kingdom. Unlike immigrants from South Asian countries, Arab migrants are not going to work for pennies in factories or in agriculture, but prefer to engage in trade. Some of them, especially young people, are looking for work in a semi-criminal area, which is about the same as in Europe - drug trafficking, the organization of dens for prostitution. Although, of course, there are among the visitors from the Middle Eastern countries and specialists who simply had to leave their countries, fleeing from wars and riots.
China takes migrants from Arab countries especially seriously. The fact is that in China the problem of Uygur separatism is very acute. The Uighurs, a large Turkic people practicing Sunni Islam, inhabit Eastern Turkestan, now called the Xinjiang Uygur Autonomous Region of China. Supporters of the national independence of East Turkestan appeal to the centuries-old traditions of Uyghur statehood, cultural and religious differences of Uygurs and other Muslims of the XUAR from the rest of the Chinese population. In turn, the religious-fundamentalist foundations and organizations from Turkey and Arab countries consider the Uigur population of China as fertile ground for propagating their ideas. Therefore, the Chinese authorities are concerned that, under the guise of students or merchants, emissaries of radical organizations from the Middle East may enter the country.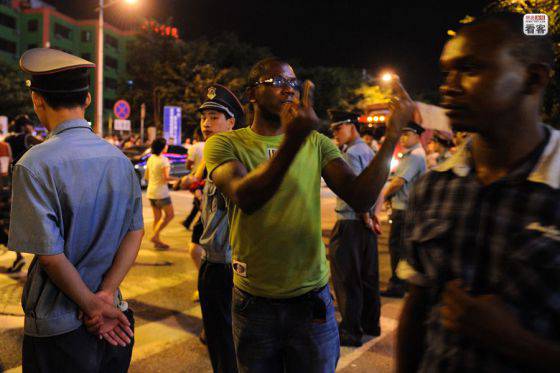 As in Europe, in China from time to time the police make raids on the places of work and residence of illegal migrants. Only the Chinese police are much tougher than their European counterparts. On average, Chinese law enforcement agencies deport up to 200 thousands of people from the country a year. There is a practice of material remuneration for the Chinese, who inform the police about the whereabouts of illegal migrants. In addition, Chinese authorities are strengthening border controls at the borders with North Korea and Vietnam, from where a large number of illegal migrants also penetrate. But tough measures do not become a significant obstacle to illegal immigrants - their number also increases every year.
At the same time, we should not forget that, fighting against illegal immigration, the Chinese authorities welcome foreigners - investors and qualified specialists who make a significant contribution to the development of the Chinese economy. The policy of restricting the birth rate, which has been implemented in China for many decades, combined with an increase in the standard of living of the population and life expectancy, has led to the aging of the country's population. This problem especially affects the educated strata of the population, who are the main supplier of labor resources for high-tech industries. Therefore, attracting highly qualified foreign specialists is becoming fully justified for China.