The Ministry of Defense considered it appropriate to continue work on the creation of the Sr-10 training aircraft developed by Sovremenny Design Bureau LLC
aviation
technology "" (KB SAT), reports
AviaPort
with reference to a source in the DIC.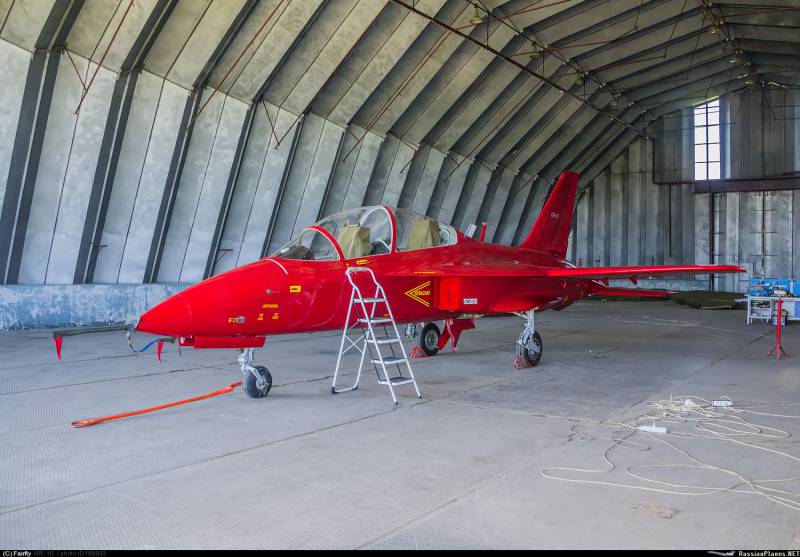 "At a meeting held in June, a decision was made on the feasibility of continuing to develop the promising light CP-10 training aircraft (CP-10 is a jet plane with backward sweep in 10 degrees). In pursuance of this decision, measures should be taken to provide scientific and technical support for the new development and to strengthen control over its implementation, "said a source.
State tests of the aircraft are scheduled for 2017.
The interviewee recalled that "on December 25 2015, the first CP-10 made first and second flights, having spent in the air 40 and 20 minutes, respectively."
It is assumed that the production of CP-10 will be established at the Smolensk Aviation Plant. Start of serial deliveries is expected in 2018.
Construction of the first prototype should begin in the current year (the aircraft flying today is rather a demonstrator). Next will begin the assembly of the second aircraft.
"It is the first prototype that will start the GSI. Moreover, it was decided that the first experienced CP-10 of Smolensk production will be equipped with a so-called "glass cabin" developed by the Ryazan instrument-making design bureau. Both cars will pass GSI with AI-25TL engines, "said the source.
"It was noted at the meeting that in the future (already on production aircraft), instead of Ukrainian AI-25ТL, which have a certain reserve, domestic AL-55 engines will be installed," he said.
The demonstrator, by the way, has an AI-25TL engine manufactured by the Ukrainian Motor Sich JSC.
Help resource: "
The AL-55I aircraft engine was developed at PJSC "Scientific and Production Association" Saturn ", produced at the same enterprise and at the engine-building enterprise in Ufa. The AL-55I is a double-circuit turbojet engine of the new generation, the leading model in the AL-55 engine family for training AL-55I is built on the order of the Indian Air Force for the HJT-36 training aircraft. The AL-55I engine has thrust on the take-off mode 1760 kg and weight 315 kg. Specific fuel consumption at the maximum mode 0,69 kg / kgf. h

The CP-10 aircraft is made according to the normal aerodynamic configuration with one turbojet engine. Take-off weight of the aircraft: the maximum - 2700 kg, normal - 2400 kg. The aircraft must have a maximum flight speed of up to 900 km / h and a flight speed of 700 km / h. Cruising economic speed - 520 km / h. The speed of separation - 190 km / h, landing speed - 185 km / h. The maximum rate of climb at the ground - 60 m / s; the minimum radius of the steady turn - 290 m; the maximum range is 1500 km, the practical ceiling is 6000 m. The CP-10 aircraft will be able to perform all aerobatics with a maximum overload + 10 / -8 ".