On the eve
press office
The Ministry of Defense of Ukraine spread the message that the American military delegation headed by the Secretary of the US Air Force Deborah Lee James visited Kiev. She met with the country's acting minister of defense, Ivan Rusnak. It should be noted that Rusnak performs the duties of the Minister of Defense of Ukraine while Mr. Poltorak and his family are in the "secret section" of the military hotel complex. The answer to the request about the location of Poltorak was given to Ukrainian journalists in the Ministry of Defense of Ukraine itself, adding that Poltorak is in the "secret section for security reasons related to the Russian aggression".
During the meeting, Ms. James and Rusnac stated that the United States would help Kiev in translating the Ukrainian army into NATO standards. In particular, it was declared its readiness to translate Ukrainian standards into NATO standards. Is it worth it in this case to consider the fire of the Su-25 aircraft in the Khmelnytsky region one of the steps for the transition of the Ukrainian Air Force to NATO standardization?
Ivan Rusnak thanked the representatives of the American delegation "for their support" and, of course, mentioning Russia, said:
We are grateful to our partners for understanding the threat to Ukraine from the Russian Federation. Evidence of this is the decision on a comprehensive package of assistance to Ukraine at the NATO Summit in Warsaw. There is a clear position of the president, the head of government and the head of the parliament: to contribute as much as possible in solving issues related to strengthening the defense capability of our state. We are interested in cooperation in the development of professional and leadership qualities of personnel, the development of airfields and infrastructure, as well as the training of flight and ground personnel in accordance with NATO standards.
Deborah Lee James, in turn, said that "the United States will not give up support for Ukrainian democracy," and added that "impressed with the pace of reform of the Ukrainian security system."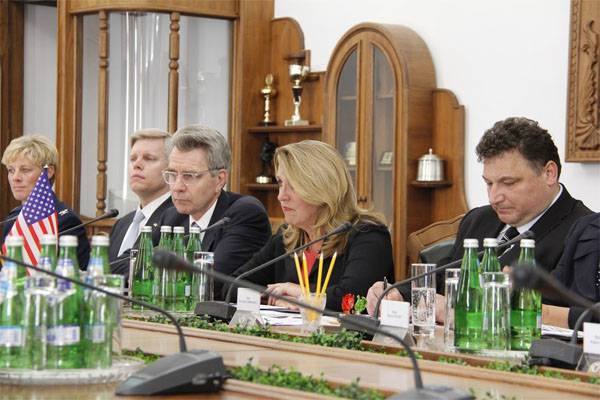 The role of moderator during the meeting, as usual for today's Ukraine, was performed by the American ambassador Jeffrey Payette.