Passions on the memorial plaque in honor of Gustav Mannerheim, who served in the Russian Imperial Army, which had served in the Russian Imperial Army, and then collaborated with Nazi Germany during World War II, do not subside. In the name of representatives of the St. Petersburg authorities are pouring letters asking for the dismantling of the scandalous signs on Zakharyevskaya street. In this case, the authorities of the city on the Neva are not in a hurry to dismantle. Information Agency
TASS
cites the statement of the head of the city committee on culture, Konstantin Sukhenko:
We did not consider the appropriate appeal (about the installation of a memorial) and did not take any decisions. How we will get out of this situation is not yet clear; the current legislation does not provide for any measures on our part. In an amicable way, a master should appear at the board, but in view of a certain status uncertainty, no one wants to take on expenses and relations with dissatisfied citizens. And as soon as someone says that "we have washed the board," it will become clear that this is the owner, and all the anger of the public will fall upon the owner.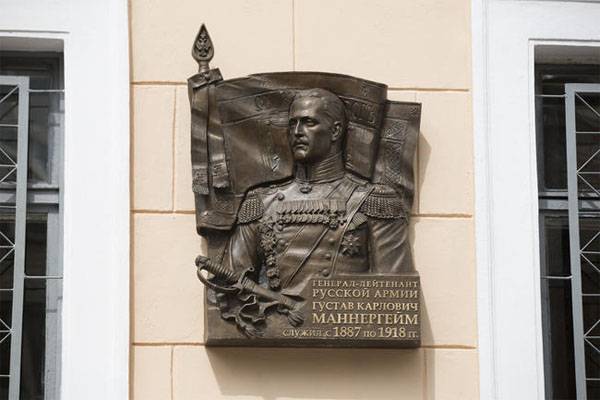 It should be noted that the board on memorial plaques and monuments of St. Petersburg declared the illegality of installing the board in honor of Mannerheim. At the same time, Sukhenko notes that "such arguments look convincing," but he added that there is no corresponding statement.
It turns out that no one of the official authorities is already ready to take responsibility for belonging to the group of ideologists of its installation in the Northern capital after spectacular posing against the background of an open board of Mannerheim. Does this mean that
stories
Russia and the memory of the victims of the blockade of Leningrad in this case irresponsible?